When going to Italy, you must spend a day in Cinque Terre.  Cinque Terre is a collection of 5 fishing villages built on the cliffs of the Mediterranean sea.  They are colorful and varied and gorgeous! Even though it is a bit out of the way of some of the other highlights in Italy, it is worth the extra time.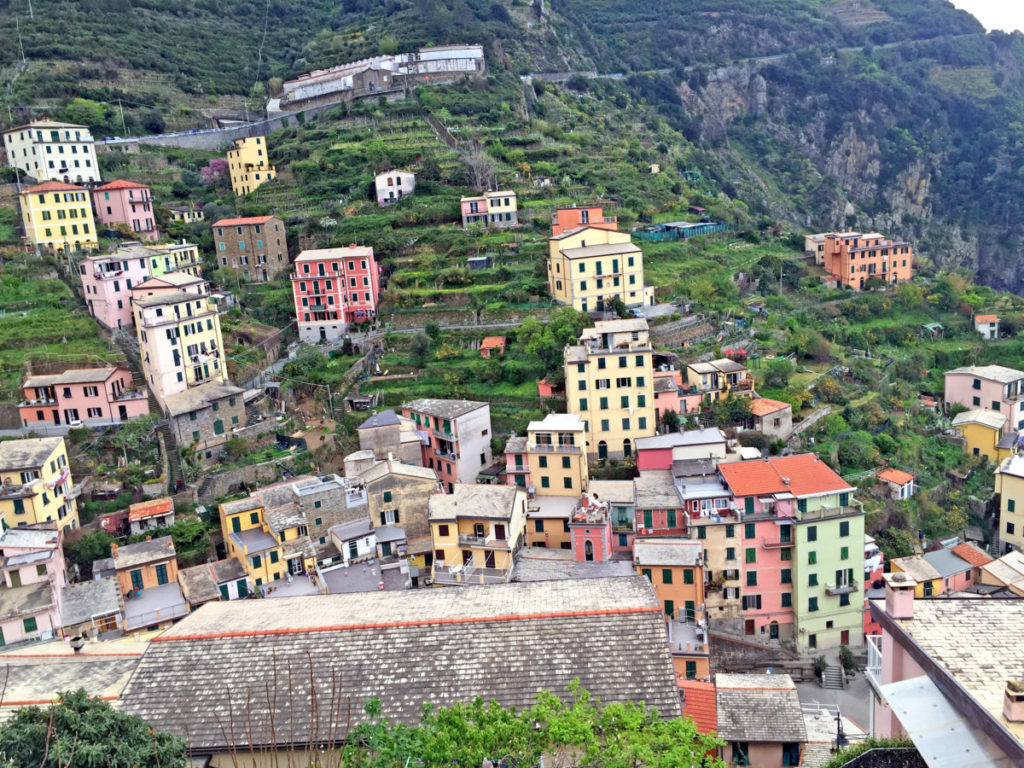 When I was researching what to do in Italy and a friend recommended this area, I had never heard of it.  After seeing just one photo of the area, I knew it was exactly the kind of place we wanted to see.  We love the small towns, hiking along the coast and colorful views.  We added a day in Cinque Terre to our itinerary, which also made it easy to see Pisa since it's only an hour away.
Our day in Cinque Terre was my favorite of our whole trip to Italy.  Don't leave this one out!
A few things to know about Cinque Terre
You cannot drive through or in the villages without a special permit.
A train connects each of the 5 cities.  You can buy a day pass on the train for 7.50 Euro.  With this pass, you can get on and off the train at all the villages all day. I believe the hiking trails are included if you buy the $10 euro card. But things are changing, so look into it once you get to the train station.
Since we went, they have implemented a policy to limit visitors on the paths connecting each city.  If you want to hike from city to city, you need to buy a Card that is 7.50 Euro for the day.
The names of the cities are Riomaggiore, Manarola, Corniglia, Vernazza, and Monterosso.  Each has a unique feel, and layout, but are similar in colors and beauty.
Where to stay
In my research, people suggested staying in La Spezia, but I was so glad we didn't!  La Spezia is a business town.  Driving through it, it seems old, dirty and industrialized. It didn't offer any sights to see.  But the hotels here are priced cheap.
That being said, the hotels inside one of the 5 villages were a bit out of our financial goals. Plus, we had a car to park (only residence's cars are allowed into the towns.)
We booked a random hotel from hotels.com that was just outside of the first city, Riomaggiore.
Because we got in late and it was dark, we didn't realize our gorgeous location and view until the sun rose the next morning on a stunning sight.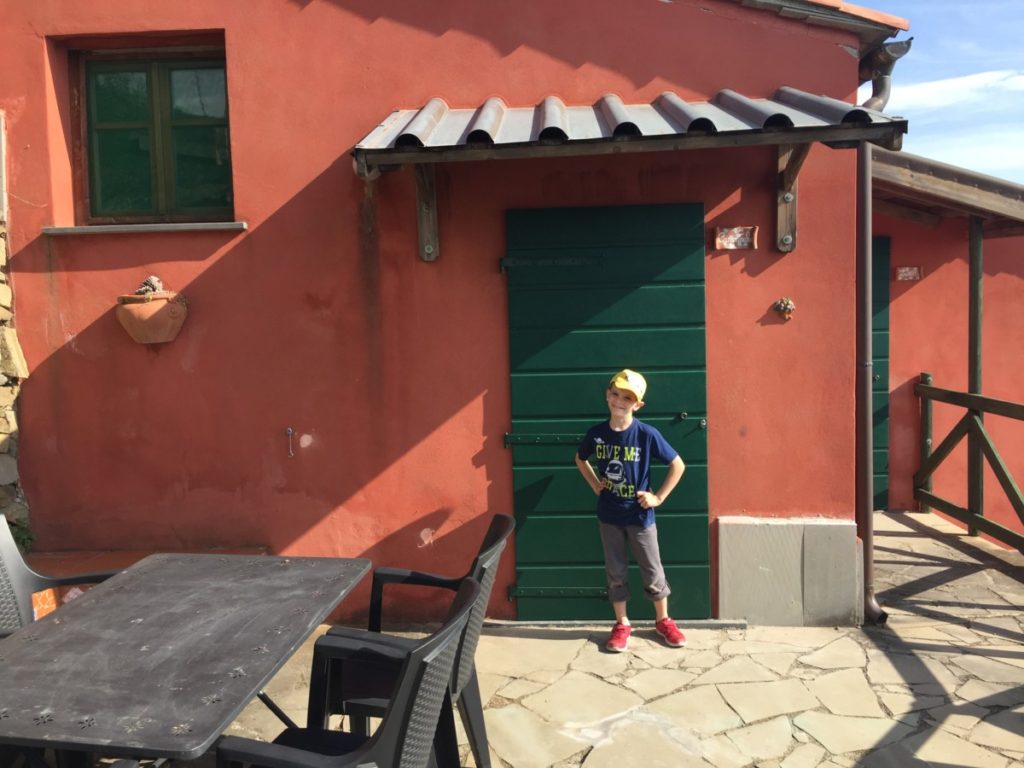 Borgo di Campi was the name of our hotel.  I loved it!  It was 5 minutes from the first city in Cinque Terre. The hotel we got was affordable ($98/night), spacious, entertaining and had a gorgeous location. Jackpot!
Our room had 2 twin beds on the main level and a queen in a loft room.  Since our son was with us, this was perfect for a bit of space.  Free parking, wifi, a room with 4 sleeping beds and even a kitchenette were great accommodations. But for my son, the game room, playground, ping pong and air hockey were his favorite. My husband enjoyed our personal sitting area just outside our room door with table and chairs while he worked.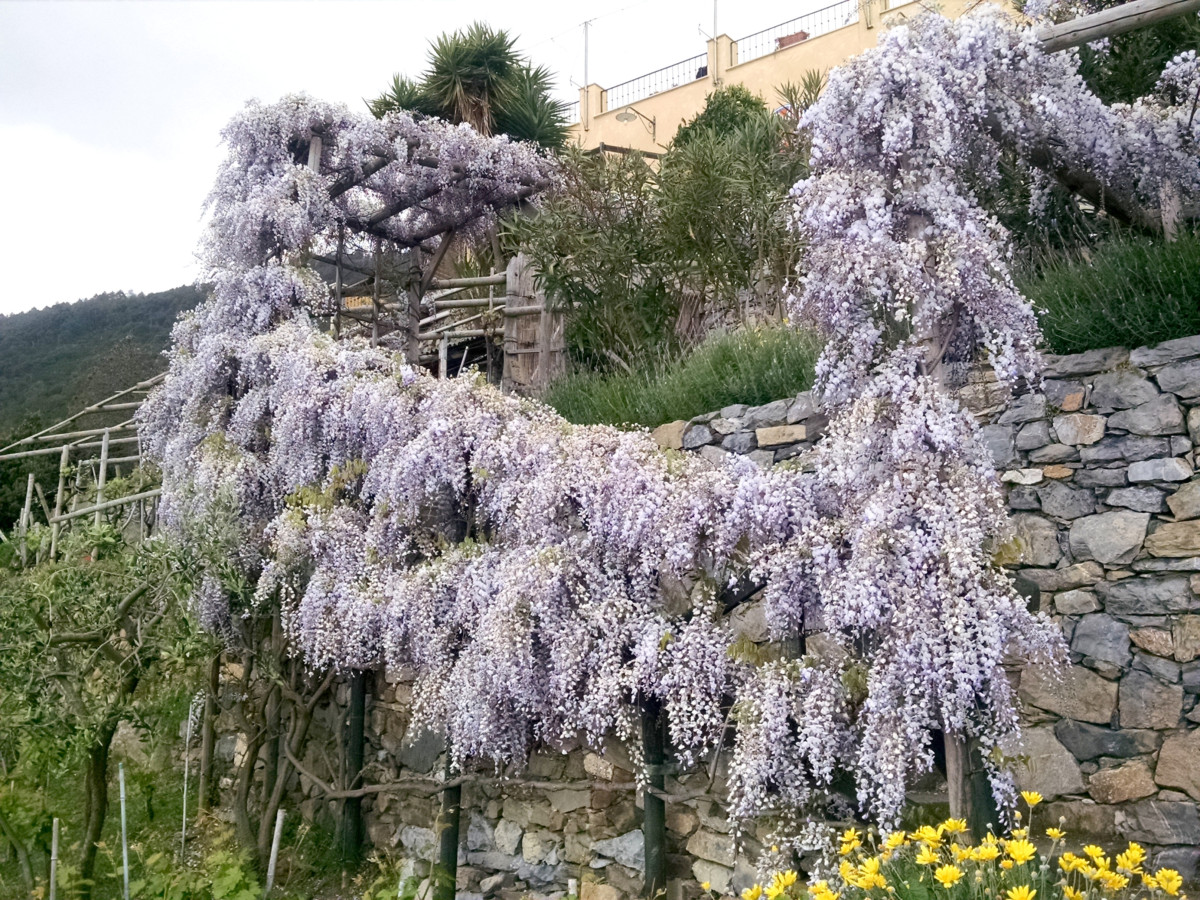 The little cabins/condos are spread over and build into the hill, so it is quite a walking distance down and up hills to get to the rooms.  This makes it all the more enticing and exciting! The trails are adorned with vines, flowers, and cobblestone.  The walk is part of the pleasure!
There was also a restaurant full of ambiance and the view, but we didn't arrive in time to partake.
Read more about the Hotel Here.
Transportation
We drove our car to the beginning of the 5 cities on the cliffs, but you aren't allowed to drive in.  Pay for parking!  We didn't because we couldn't read the signs and we got a $75 parking ticket which was difficult to figure out how to pay.
We bought a day train pass so we could ride as much as we wanted.  The train ride is right along the coast.  Parts of the ride is so gorgeous.  However, a lot of the ride is in a tunnel so it is just dark.
You'll be doing a lot of walking, and probably some getting lost.  You'll be doing stairs  and climbing hills
Trying to find the train station around towns can be difficult. Marking them on a map or on your phone prior to visiting can be helpful. But, personally, I liked exploring and getting a little lost. They are small towns so you won't be lost for long.
Hiking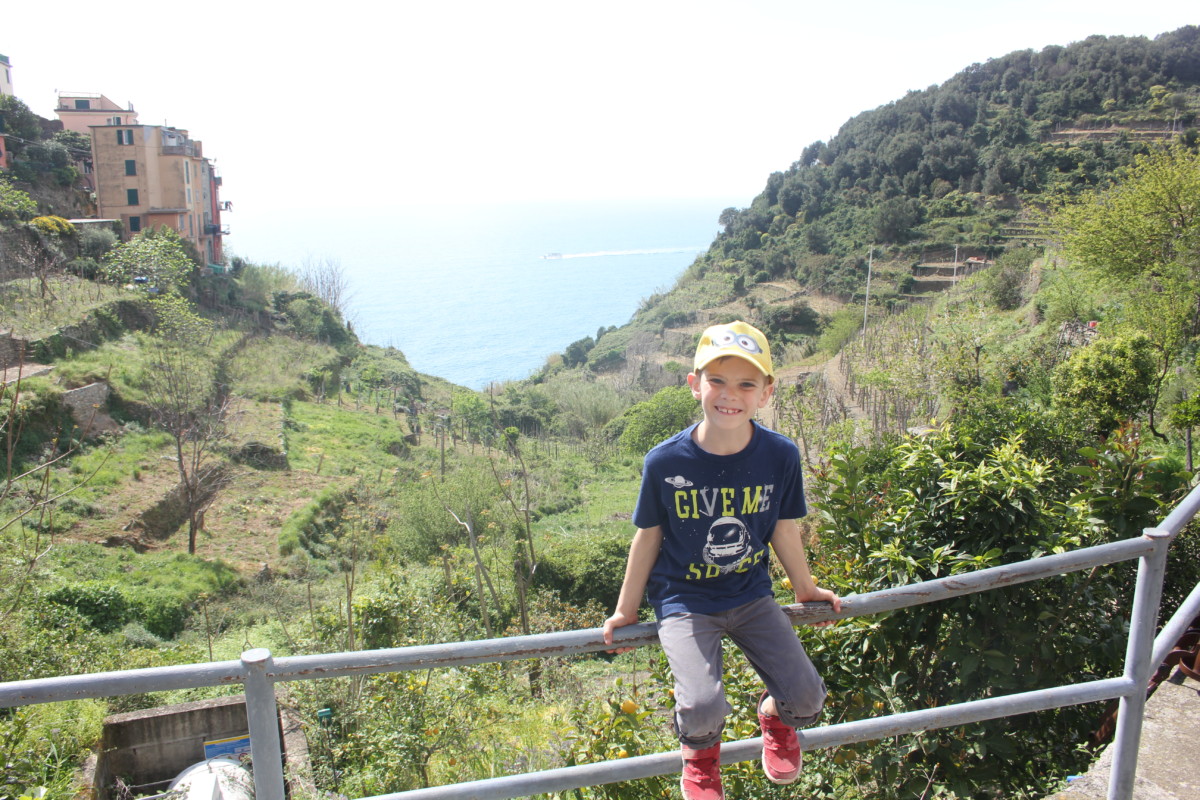 There is a coastal trail connecting each of the 5 cities.  It is called the Sentiero Azzurro, or Blue trail.  You can start from any city and hike in either direction.  However, parts of the trail may be closed, like we experienced.
#1 The trail between Riomaggiore and Manarola (Lovers Lane) is the most popular since there are gardens and statues to see along the way. It is only 1.2 miles and is a fairly easy stroll without much climbing.  This trail was closed when we went in 2016.  Check for availability.
#2 From Manarola to Corniglia is 1.5 miles and is still an easy trail with gardens and sea views. This trail has damage and has been closed for sometime.
#3 Between Corniglia and Vernazza is a 2 mile moderately strenuous hike.  It climbs and descends quite a bit. (This is the trail we did with our 7-year-old starting in Vernazza. See below)
#4 Between Vernazza and Monterossa is not quite the longest (1.8 miles) but is the most strenuous trail.  It is narrow in places with quite a few stairs. But with every difficult path comes the greatest rewards, so the view of all 5 cities along the coast will be the highlight of this hike.
We hiked in April when the weather was mild.  If you are going in the summer, be prepared for hotter tempuratures and hiking in the sun.
Itinerary
Start in Riomaggiore
Start your day in Cinque Terre in Riomaggiore.  Find the castle and get lost getting to the train station.  Getting lost here is actually a treat because you are walking in these amazing corridors up steep steps and along a beautiful coast.  It is unreal how these cities are built!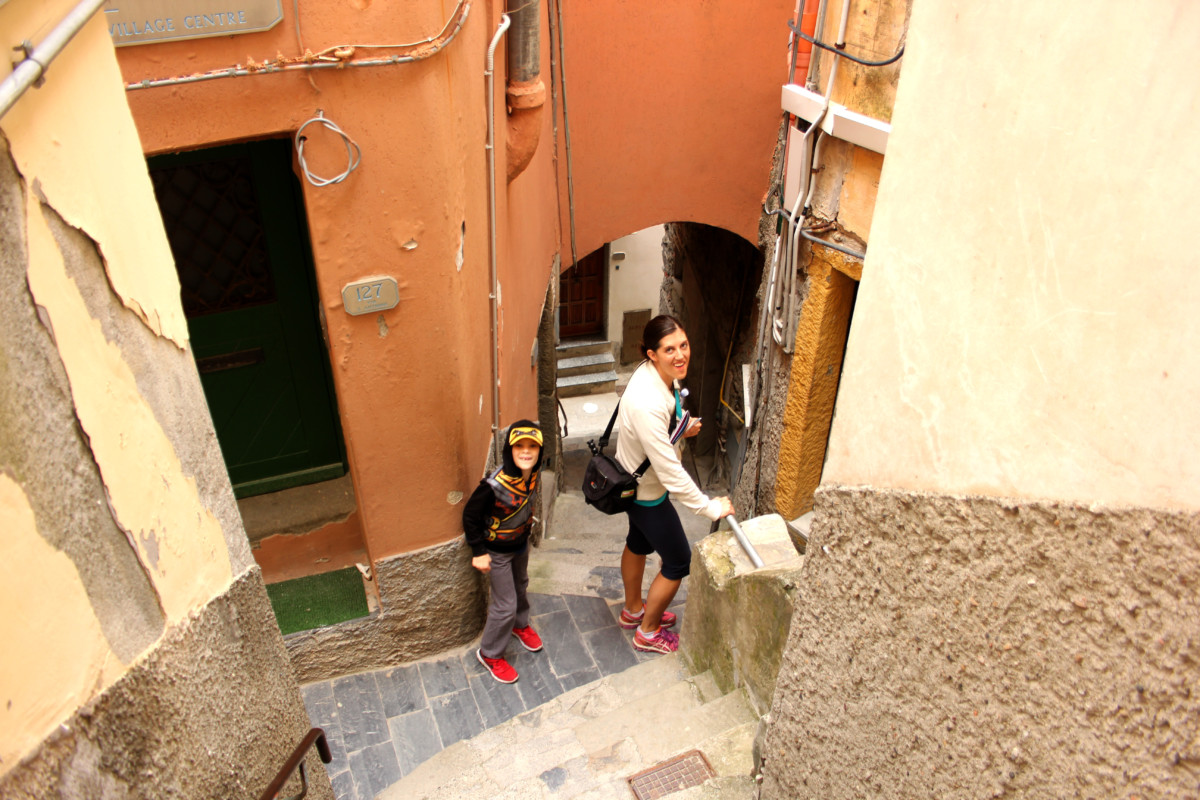 This is us 'lost' in the city! Do we go up or down?
Ride the Train to the last city, Monterosso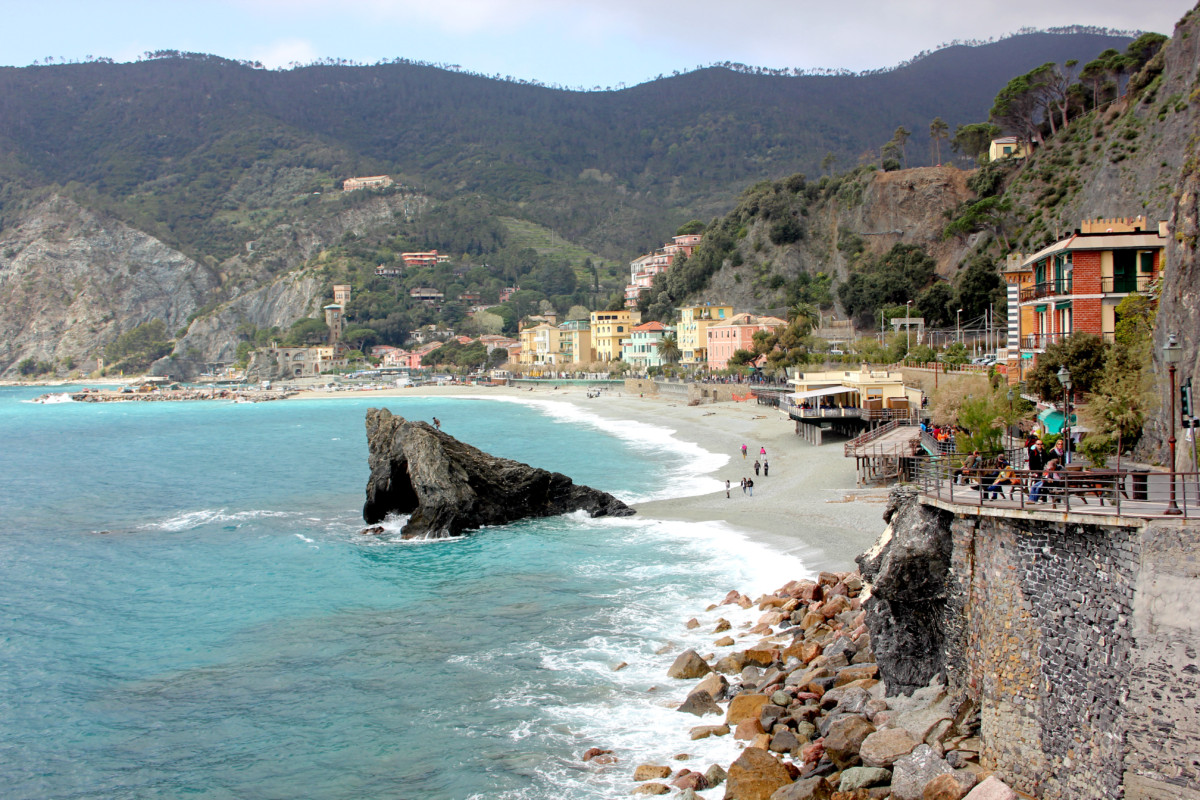 When we got on the train in Riomaggiore, we rode to the last city, Monterosso. Right outside the train station is a beach that can be lively and entertaining for a full day when the weather is hot.  We were there when it was too cool to swim but still enjoyed the views, the beach, skipping rocks and the atmosphere.
We wandered into town and ate lunch.  Souvenirs are plentiful here.
Enjoy the beautiful Vernazza
Head back to the train station and stop in the next city, Vernazza.   This is a beautiful harbor with pastel houses and sea views around every corner.  Vernazza is hailed as being the most beautiful of the cities. The city center here is a U around the harbor.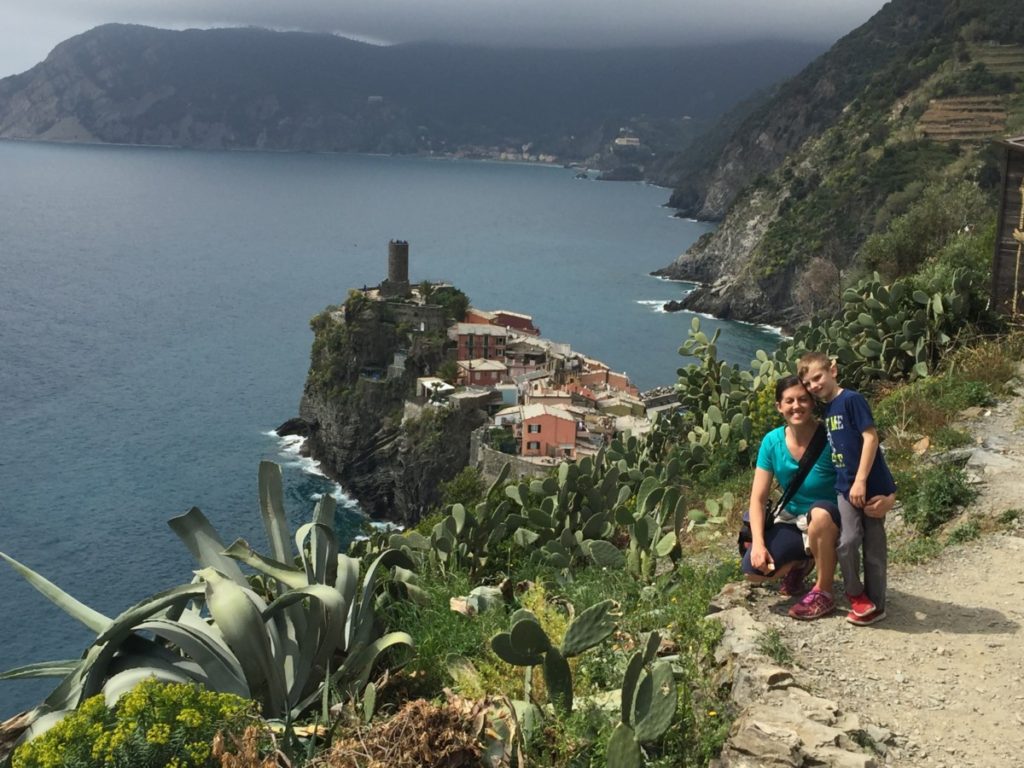 Hike to Corniglia
We started our hike to the next city here.  It was difficult to find the trail. We asked around and kept rereading the instructions.  It just starts up a very narrow alleyway and you feel like you are just walking in between buildings and homes.  But eventually, the trail will open up and follow along the coast. Between Vernazza and Corniglia is a 2 mile moderately strenuous hike.  It climbs and descends quite a bit.  We worried that our son wouldn't make it, but doubting him was all the motivation he needed.  He hiked ahead of us most of the trip.
Because we really wanted to experience the coastal hike, we bribed our 7-year-old with gelato and started our 2-mile trek.  We were not disappointed.  Gorgeous views looking back on Vernazza!
When the next city Corniglia came into view it was stunning.  The closer we got, the more the colors popped and the beauty revealed.
It is definitely better to hike from Vernazza to Corniglia. Hiking the opposite direction you don't get the view of Corniglia as you hike along the coast. Also, from the Corniglia train station to the trail there is a steep uphill trail with many switchbacks.  Even having to hike down this steep slope after our 2-mile hike was difficult. Hiking up it would be exhausting!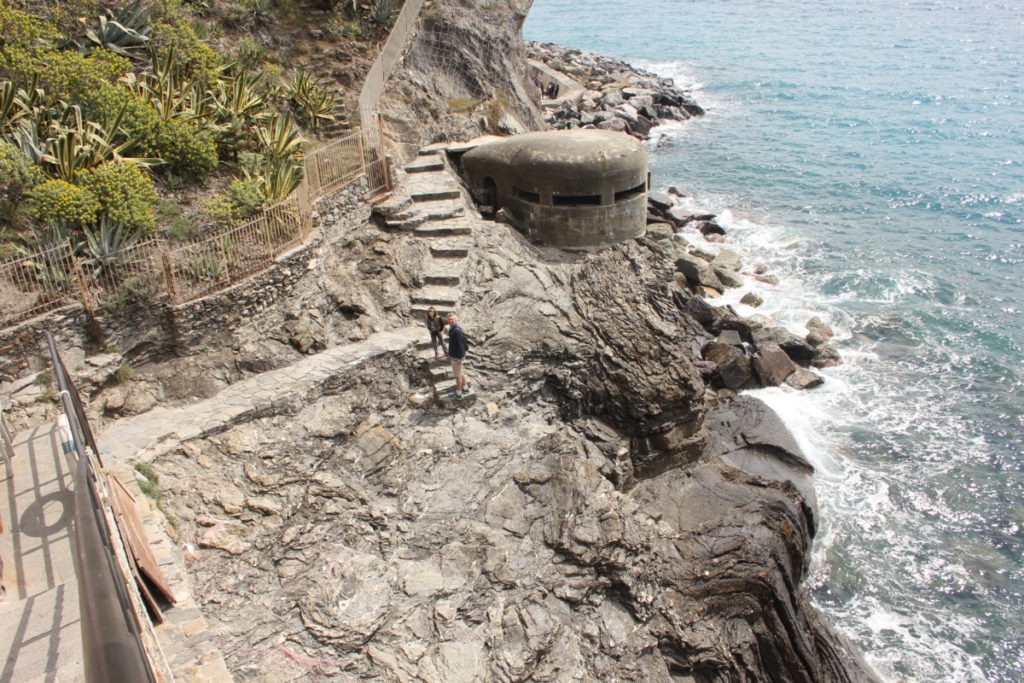 If you are not hiking and are just stopping in Corniglia, be aware that from the train station there is a steep hill and you have to climb many switchbacks and stair to get to the city.  I saw a bus or shuttle in the main town, but I don't know how to catch it or how much it costs. If you have to skip a city, I would pick Corniglia, since the village is such a steep climb from the train station.
See the Sunset in Manarola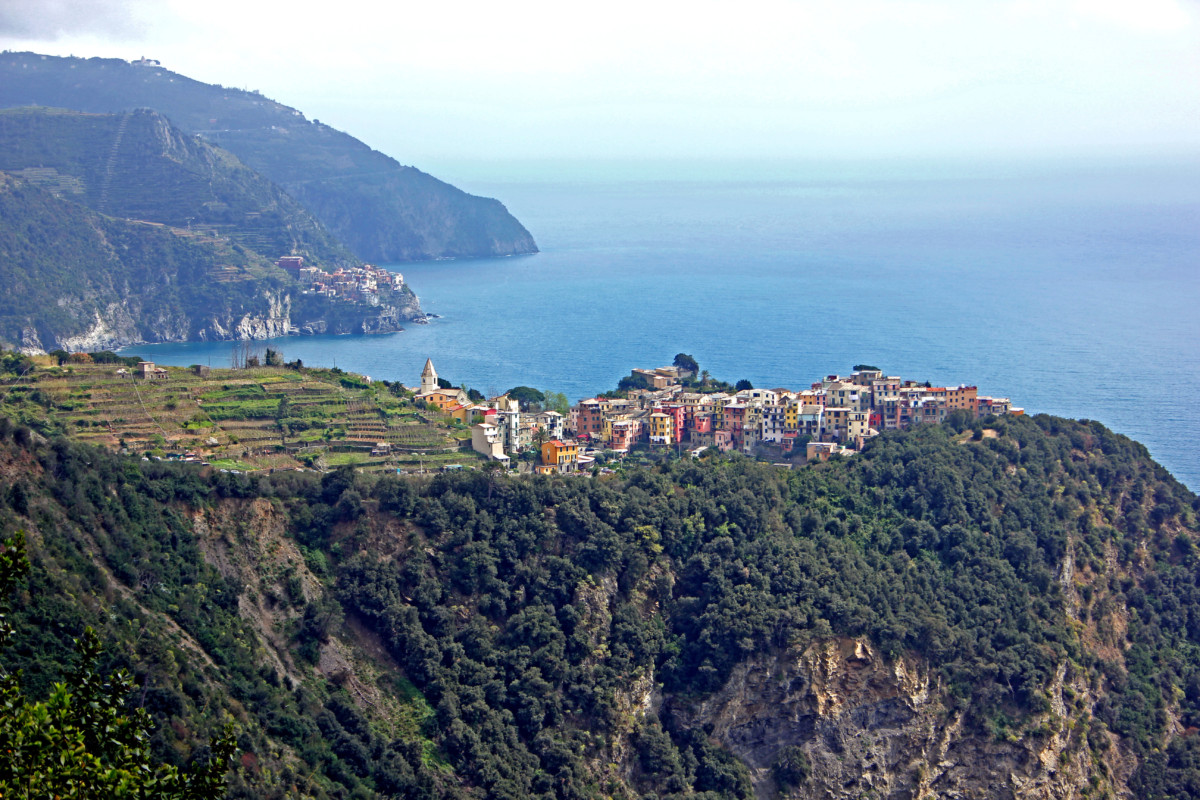 After gelato and a very long trail down to the train station, we decided to skip the next city of Manarola.   The train station in Manarola is really close to town.   And the sunset view from here is amazing (at least that is what pictures tell me!)
Your Day in Cinque Terre ends back where you began in Riomaggiore.
Cinque Terre is a MUST SEE in Italy.  I am so glad we went off-the-beaten-path to these 5 cities!
This one-day itinerary fits perfectly in our  Ideal Itinerary for a week in Italy.
Fly by the Seat of our Pants contains affiliate links. When you buy through the links it helps keep this website running, at no extra cost to you.