Olympic National Park is absolutely incredible.  Perfect for the kids.  I will tell you exactly what to do with kids in Olympic National Park.
This park has a variety of things to see and experience.  We went from the sandy beach to the highest peak with an overlook of the mountain range.  Then two hours later we hiked in a rain forest to a waterfall.   I loved the mixture of water, overlooks, and forest!
How long? We spent 2 full days in the park (starting and finishing near Seattle.) I could see adding another day for a slower travel, time at Sol Duc or more hiking.
Weather? We came from a hot and humid summer in Texas, so it was difficult to imagine anywhere being chilly in July, but we used our jackets every day so bring some warm clothes!  That being said, it was beautiful weather
Getting There? The National Park has only one main highway circling the entire area.  Most of the sights I describe here were 15 mins to 45 min drive off the main road and back again.  There were no loop roads from what I saw.   We started from the North side of the of the park and worked our way all the way around and back to Seattle.
Our family woke up in a hotel a few hours from the park, but since we were too tired for the pool last night we had to take a short morning dip and have the hotel breakfast (Free buffet breakfasts are always the highlight of my kid's day).  Around 10, We headed out for a day of driving and seeing.  We split up the trip so that we had a stop every couple of hours and it was a perfect itinerary!
Dungeness Spit
This is not an actual part of the national park, but was so interesting and beautiful (once we found the correct location…don't trust GPS on this, navigate to Dungeness National Wildlife Refuge).  There is a $3 fee per party to hike out to the Spit and we didn't have cash (how do you go on vacation without cash you ask?  I don't know, but somehow we survive every time).  We picked up an envelope and promised to send it later as we started hiking. 
To be honest, there was a moment one of the kids was throwing a tantrum and dad and the 'perp' when back to the car while the rest of us meandered slowly waiting for them.  Travel with kids is tricky sometimes!
We originally brought kites and were asked had to leave them behind.  This place is a refuge for animals so no playing allowed.  (There are great beaches to use kites later on so hold on to them! )
The hike was so beautiful.  The trail split into two trails: One is paved, wide and easy sloping, the other trail is a natural hiking trail, narrow and through more brushes.  The natural trail was longer in mileage, but still not very long.  We sent our slower 3-year-old with Daddy and Mommy hiked faster with the older kids and the little girl still beat us.  Once you get to the actual spit it extends 5 miles out into the ocean. 
There is a great view from the end of the trail, along with binoculars to see the lighthouse near the end of the spit.  You have to hike down a fairly steep dirt hill to get to the spit.  Some people were walking further out, but we just got to the sandbar and started playing with the smooth stones, the driftwood, and the sand.  It was really windy and cold, but there were places of refuge where we played with the kids and hid in driftwood 'forts'.   It was quite a bit wider than I thought it would be, so it's not like you could touch or see both sides of the ocean at the same time.  
Our kids imagined and created with the rocks and driftwood for nearly an hour, while daddy skipped rocks into the ocean and I soaked in the relaxing sounds of the ocean and delightful giggles of my children.
Hurricane Ridge
We stopped at a visitors center at the base of the ridge and got a Junior Ranger program, as well as info about what we were going to see.
 The drive up Hurricane Ridge was so foggy and it began raining.  I thought we were wasting our time driving, but my little one was napping (and even I grabbed a short nap) so I tried to be ok with driving through fog just for the sake of driving.  The older kids were listening to an audiobook… car sanity saver!  However, as we continued to climb and climb we emerged on top of the fog and there was a spectacular view of many, many mountains and valleys and glaciers.  I was so happy that our 45 min drive was worth it.  
The visitor center showed a short video about the area and had a topographical map showing us the different mountains we were looking at. The view from the lodge was spectacular.   Then behind the center, we hiked to up a small hill (felt like a giant mountain with no oxygen).  My children wondered aloud if we would possibly see a deer just as we turned a corner to have a deer within feet of us crossing the path.
This would not be the last deer (or elk) we saw and the kids were elated.  We reached the top of the 'hill' a bit out of breath but in awe of the perspective and grandeur of it all.
Apparently, on clear days you can see the ocean, but our views were somewhat diminished by the lower fog.   We encountered a marmot (thank you visitor-center-movie for teaching us what a marmot is) on our path and saw several more deer, squirrels, and birds.  As we drove down the ridge, I thought surely the fog had lifted since we had such great views, but it was still waiting for us as we dropped down in elevation.
Lake Crescent
Lake Cresent is right along the road we were traveling so we just stopped and jumped out of the car, dipped our toes in and took in the views.  Traveling right along the shore gave us many amazing views.
Sol Duc Waterfalls
It was getting late as we arrived to Sol Duc, so we opted to hike to the falls and not to soak in the water at the little resort.  The cost for the hot tubs was $14($10 for kids)  to swim (although we were late enough to get twilight $10 for 2 hours).   It looked less glamorous and more like a dirty swimming pool than the website would have you believe.  Still, I wish we could've experienced it.  
Despite being late and tired, our kids did great on the hike.  They got into their own little world playing with each other and walked along with no complaints.  The falls were pretty.  It was beginning to get dark so we were rushing to get back to the car but also didn't want to ruin the magic of kids enjoying themselves in the wild outdoors.
City of Forks
Made famous by the vampire series, Twilight, this little sleepy town was just as written about.
I loved exploring a little.   We found a 2 bedroom motel (6 beds!) and our kids immediately went into the second room, closed the door and got some alone time without mom and dad. 
The kitchenette was great for any cooking we needed to do.  Sometimes eating out is such a hassle and it is nice to eat in a place where we can be comfortable (not to mention the cost-effectiveness). Breakfast was also from the local grocery store and we got some of the best donuts I've ever had!  I discovered that our kids love the hard boiled eggs you can buy at the deli.
Hoh Rainforest 

Our first stop the next day was the rainforest.  We had a taste of the rainforest moss hiking the previous night, but this Hoh rainforest was even more covered than Sol Duc.
This is the only rainforest in the continental US.  We've been to the other rainforests (Hawaii) but this was so different and interesting.  We hiked the Hall of Mosses.  It was quiet and dense.  The sun was almost completely hidden.  The huge trees created many logs to crawl into or on top of. The kids LOVED this hike and I thought it was so interesting and different.  Definitely go on this one, just out the back door of the Hoh Visitors center, no slope, peaceful.
Ruby Beach  
We ate lunch on the shore as we flew kites, dug in the sand and played with smooth, round stones.  The views here were incredible. 
Have I mentioned that I was 5 months pregnant on this trip? My energy was low and I relaxed and took in the view as often as possible.  My husband did more playing around with the kids.
This beach had big boulders in the ocean that gave this such a unique beach feel.
Lake Quinault 
Our last stop was a little hike around Lake Quinault.  The map was a little hard to decipher and I'm still not exactly sure where we hiked, but it was beautiful and enjoyable.  
We spent another few moments soaking in the crystal waters with the giant mountains surrounding it before calling it a great trip and heading to the airport back in Seattle.
The thing that stood out to me in Olympic National park was it VARIETY.  Every stop was something new and different and we never got 'bored' with too much of the same sights.  This National park is worth getting to!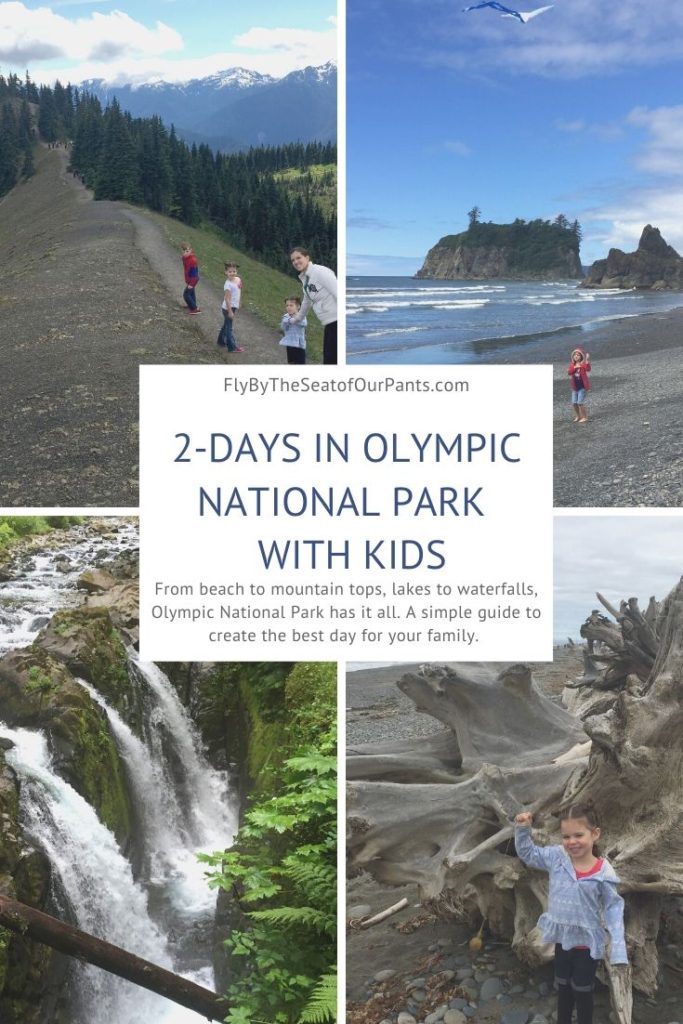 If you are near Seattle, you must make a stop, even if it's just for a day! One Day in Seattle with kids.