What to do in Sequoia National Park
When I first heard about this park near Fresno California I had no idea what to do in Sequoia National Park. After visiting with our 4 kids, I have the perfect itinerary to hit all the must-see sights in an efficient itinerary.
One of the most awe-inspiring, magnificent views is at Sequoia National Park. It is unbelievable how big, beautiful, unique and bright the Sequoia tree is. No wonder people in the early 1900s called it the 'California Hoax' when they were told of the giant forest. It really isn't something that can be described or photographed. The massive trees are best observed with wonder and amazement!
If you have a full day in the park, here is a perfect itinerary.
Foothills Visitors Center
Overlook stop
 Auto Log
 Moro Rock Hike
 Parker Group and Tunnel Log
 Crescent Meadow Hike, including Tharps Log and Chimney tree
 Giant Forest Museum
General Sherman Tree


1. Foothills Visitors Center
Get advice for hikes and a perfect itinerary for your time and group abilities. Get up-to-date information. Pick up Junior Ranger books for the kids. Learn a bit about the 4 different elevations and habitats that exist at each one. This is a small place but will get you started on the right track for a great day.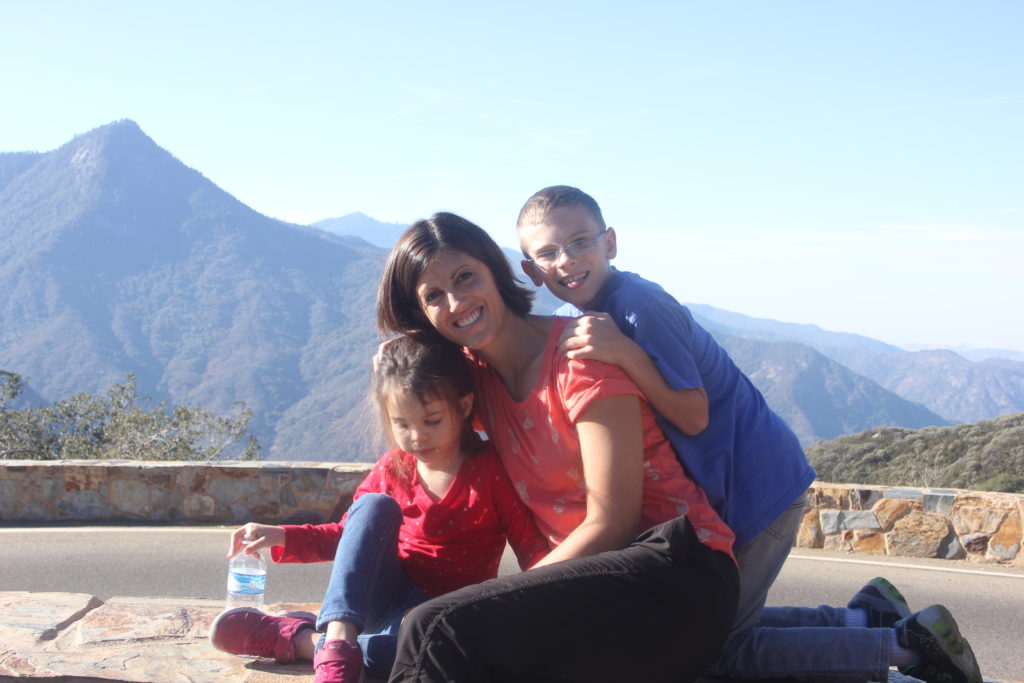 2. Stop at the overlook
The road through the park is very winding and climbing elevation quickly. In about an hour, you climb from 1000 feet in elevation to 6000 near Moro Rock. Part way through the climb, there is a u-turn in the road that has a parking lot. Behind you, there is Moro Rock and in front is great vast views of the valley and the mountains in the distance. This is a great place to rest if the kids are feeling a bit motion sick (ours were!)
3. Auto Log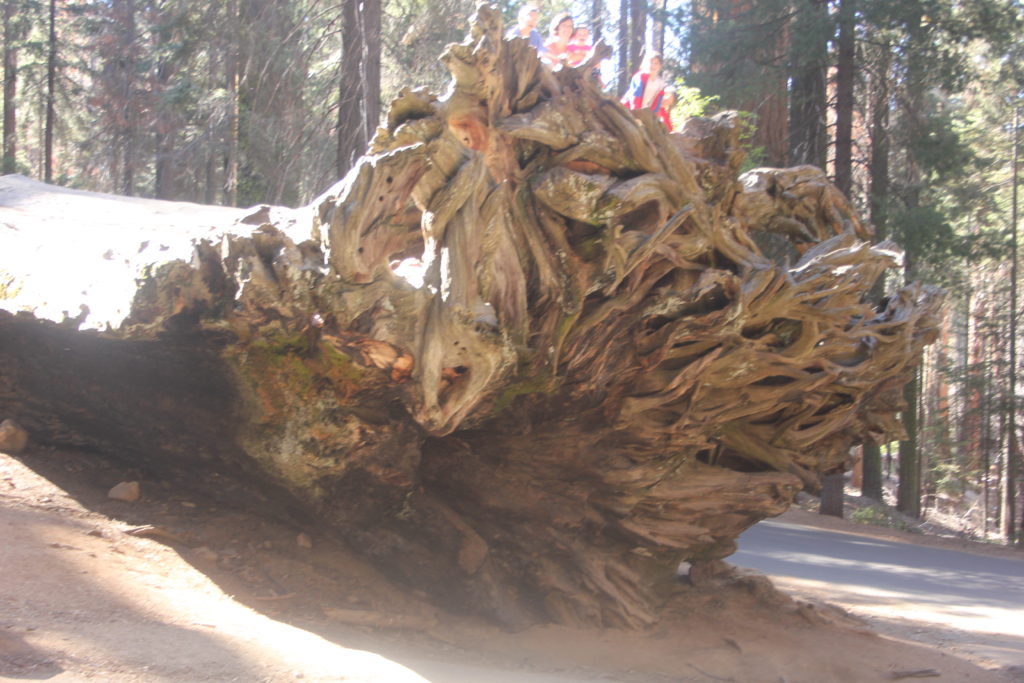 This log is only a few hundred feet off the main road out to Moro rock, but not to be missed!! Make sure you turn off the road to Moro Rock and see this. The first thing you see as you drive up is the root system fully exposed. The roots are about 25 feet high! Park and walk on top of the giant tree. In the past, cars were allowed to drive onto this giant felled Sequoia tree. It is now blocked off, due to the tree crumbling in places. The kids and I loved walking over the log and seeing just how high off the ground we were. At one point, I walked in a crack of the trunk and the kids were still more than an arm's length above me as they jumped over the crack!
4. Moro Rock Hike

Parking is limited. This hike was just perfect for kids. Not too long or too steep, but just long enough. It is very narrow in places, so we had to wait our turn. But I felt safe with all the rails in place. If I had a toddler, I would stay very close to them though because the rails wouldn't keep a little guy in!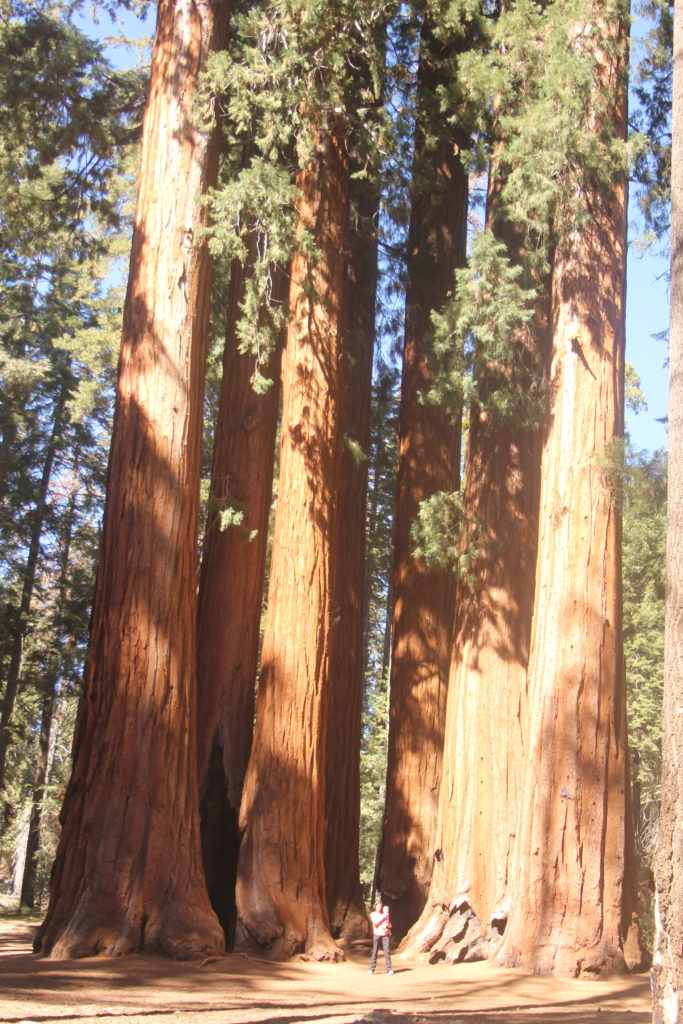 5. Parker's Grove and Tunnel Log
One of our favorite stops wasn't even listed on the Park's map. Right after Moro Rock, you'll find a clump of giant trees with the name "Parker's Group" The kids were complaining of hunger, so we got out and ate in the shade of these mighty trees. We found hollowed out trees, burned out areas, fallen logs to climb and rocks to scale. The kids loved the giant pinecones, sticks, and rocks and their imaginative play went wild. It was nice to have a place for them to play freely while we loved the scenery and their giggles.
Within a few minutes of Parker's trees, is the log that is fallen over the road. As long as your vehicle is under 8 ft tall, you can drive right through it. My son even touched the sides of the tree as we crept through it.
6.Crescent Meadow Hike, Including Tharps Log and Chimney tree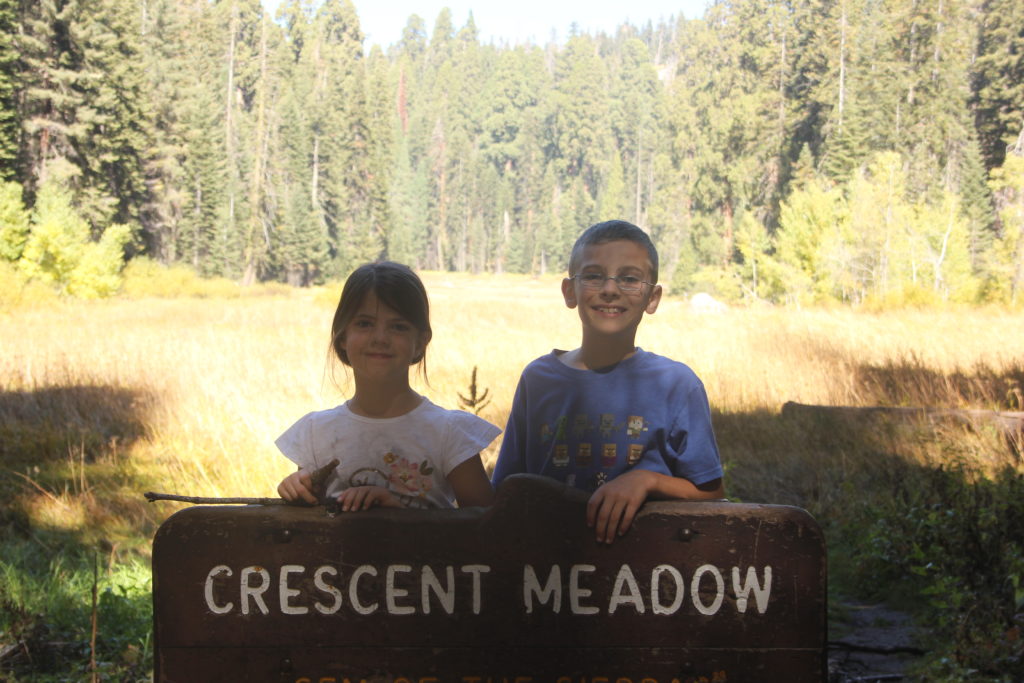 Crescent Meadow is at the end of this road. I read that the hike around the meadow was a mile. I'm still not sure which path I read about because we hiked nearly 2 miles! Luckily, it was a level mostly paved area.
You start on a paved trail and head out to Tharp's log which is .8 of a mile. It was a gorgeous mixture of forest, giant sequoias, and a peaceful meadow on the side. One of our first sightings was two deer eating peacefully as we walked within a few feet of them.
Tharp's log is a fallen sequoia hollowed out into a log cabin with a door. You can enter the cabin, but the table and beds are blocked off and the kids were disappointed they couldn't play there.
We then continued off of the paved trail and onto a dirt path toward Chimney tree (.3 mi away). Chimney tree is a standing sequoia that is completely hollowed out. You can enter the middle of the trunk and look up for over 100 feet out to the sky above. It is an incredible sight.
We continued on for another .6 mile back to the parking lot. We were pretty worn out after hiking a mile further than planned (with no water!) but the kids were still energetic enough to climb all over the rocks near the parking lot.
7. Giant Forest Museum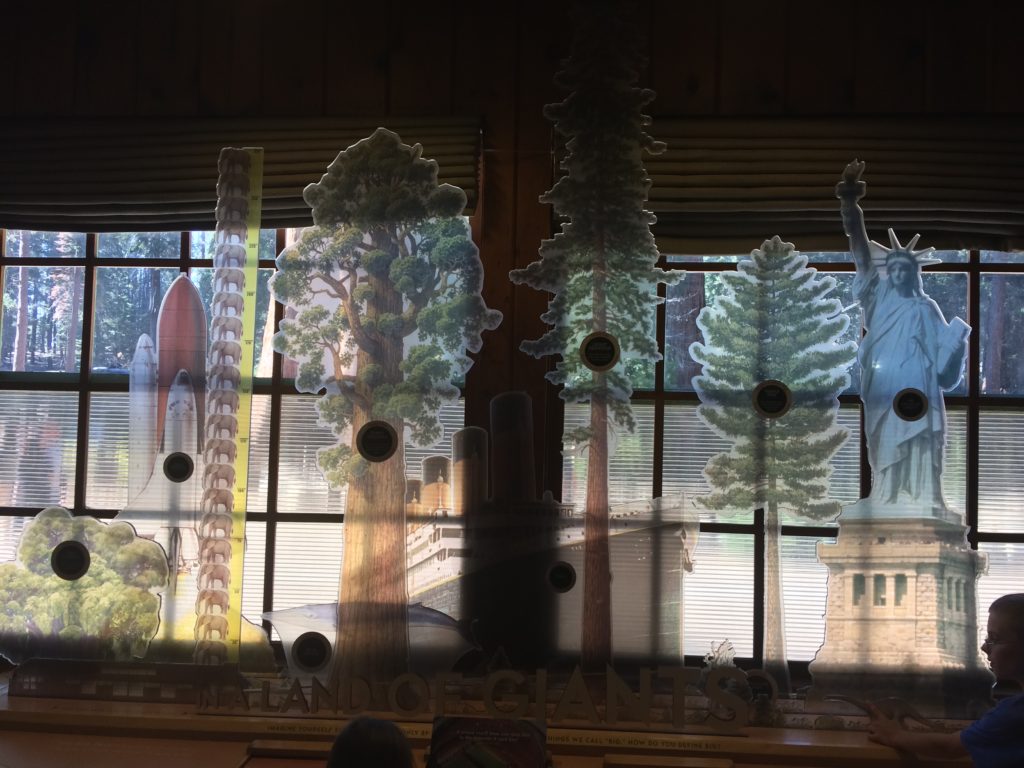 After heading back to the main road, the Museum is just a few feet up the road. You can do this before turning off to Moro rock if it fits better in your itinerary. The name of this place is a bit deceptive. I wondered if there was an entrance fee and expected a much larger museum.
It is just a visitors center! It's free but there is a gift shop). You'll find answers to so many questions like what the tallest, widest and thickest trees are. The kids loved the cave with a fake fire burning. They liked the seed spinning wheel to see if their 'Sequoia' seed would survive and grow into a mature tree. I like the map of the park showing the many different groves of Sequoia and learning why they only grow in this area.
8. General Sherman Tree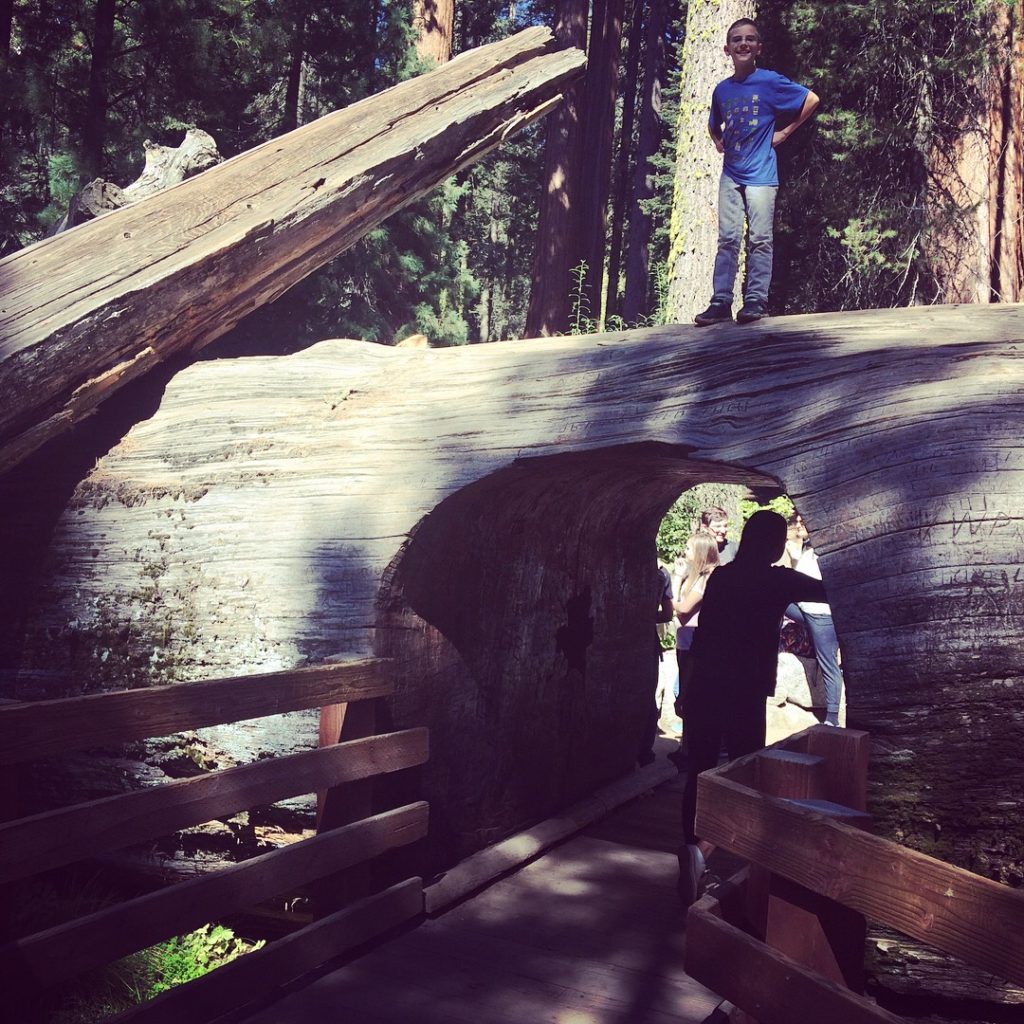 This is the highlighted sight to see in this park. It is the largest tree in the world. However, because of its popularity, it is crowded. Even in October when we visited the parking lot was SO packed.
There is an accessibility route, which is nice for the stroller. However, the parking lot is about 2-3 miles of driving away and 1/2 mile of walking. My husband dropped the kids and me off and then we met up and hiked back to the car together. I don't know if I would recommend this since there is no cell service and it is a bit difficult to know how long it takes to do it all, but it worked out for us. The kids loved playing on a fallen log at the accessibility entrance.
Climbing back up to the car was pretty steep and the kids were really exhausted and winded (that being said, they had already hiked Moro Rock (.5 STEEP mile) and Crescent Meadow (2 miles).
Other stops if time permits
If your schedule permits, it would be perfect to stay at Wuksachi Lodge or Lodgepole Visitors Center and then spend the next day heading up to Kings Canyon (another 1 hours drive from here). We drove nearly 2 hours back to Visalia and ate dinner there and still had time to hit the pool before bedtime. (We started our journey to the park at 7:30 am from Visalia).
If you have 2 Days in the park I would spend more time at each location mentioned above and add these excursions as well.
Crystal Cave ($16/ adults $5/kids) 13 years and older 1.5 miles and 1 1/2 hours. Buy tickets at the visitors center prior to heading to the cave.
Big Trails hike (just outside of the giant forest museum)
Hike from Crescent Meadow to General Sherman (2 miles)
Drive 1 hour from General Sherman to Kings Canyon National Park to see the 2nd largest tree, General Grant. Read more about Kings Canyon Here.