My best friend and I took a quick trip to San Francisco.  Since I had been 11 years previously, I assumed we would visit most of the same sights so I didn't research things to do in San Francisco. 
I ended up being surprised and delighted by the variety of sights, delicious food and adventure excitement we found in San Francisco. It was a perfect trip for 2-3 days.
While we didn't have our kids with us, this can certainly be adapted to include kids if they are able to bike (or be pulled along).
1. Bike across the Golden Gate Bridge
Since public transportation isn't extensive or cheap in San Francisco, I believe the best way to experience the city is by bike.
We bought a 24-hour bike rental from Bay Area Bike Rentals on Groupon for $20. The bikes had gears shifts to help us up and downhills. They were perfect for finding all the things to do in San Francisco. We used them for the full 24-hours!
San Francisco offers so many great biking paths, especially from Fisherman's wharf out to the Golden Gate Bridge. Don't miss the Chrissy Fields path right next to the coast with outstanding views of the bridge. Most of the things to do in San Francisco are easily accessed via bikes.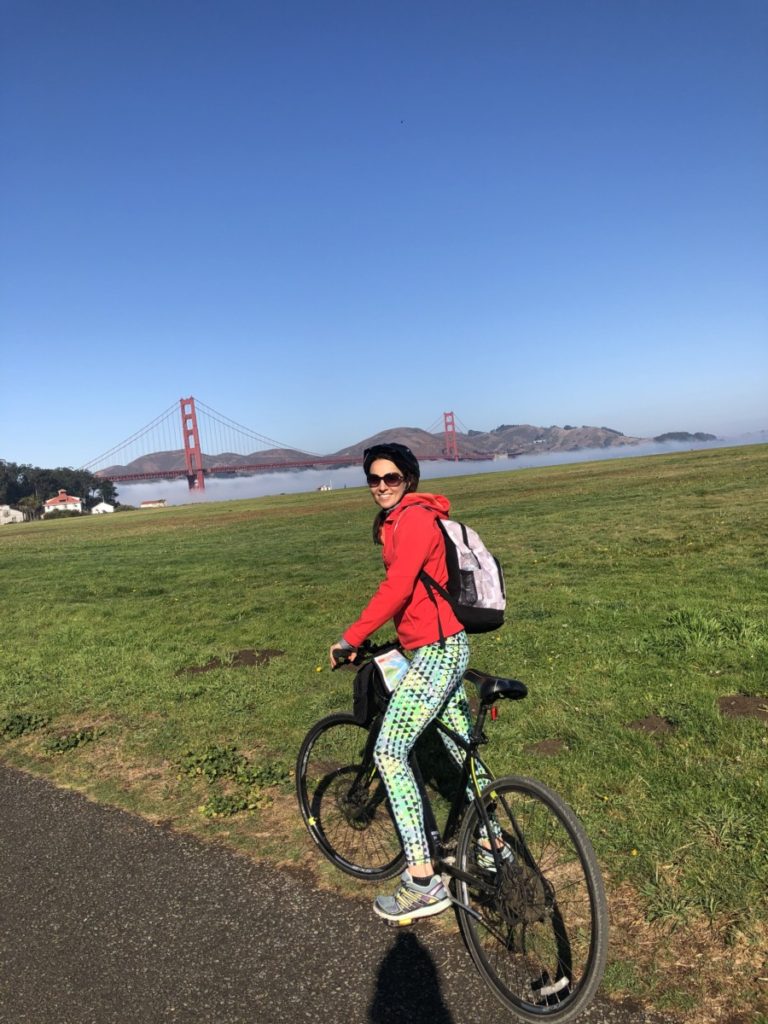 You may find yourself huffing and puffing as you get up the hill to cross the bridge, but besides that, it is mostly flat. Plus, if you ride into Sausalito you'll have an exhilarating downhill section. Ride the Ferry back to Fisherman's Wharf. (See #7)
2. Walk Up and Down Lombard Street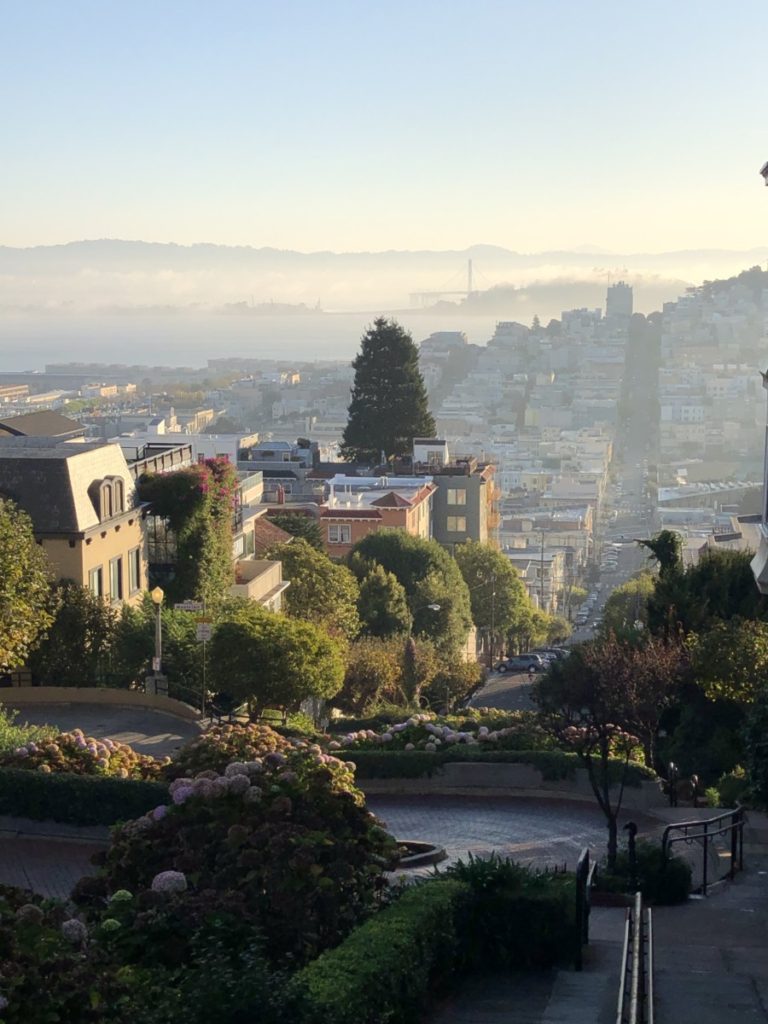 Since we were on central time, we were up early. This was the perfect time of day to visit Lombard Street. It was completely empty. Since this road will always come up as one of the top things to do in San Francisco, you'll want to find it when is it less crowded.
There is a nice walking path on the side of Lombard street giving you beautiful views of the homes, gardens, and skyline of San Francisco. At this hour, we also got to step out onto the road for the same views you would get in a car.
I've driven Lombard street and I think walking is much more rewarding! It's not far from Fisherman's wharf and its right next to the perfect breakfast spot at Pat's Cafe.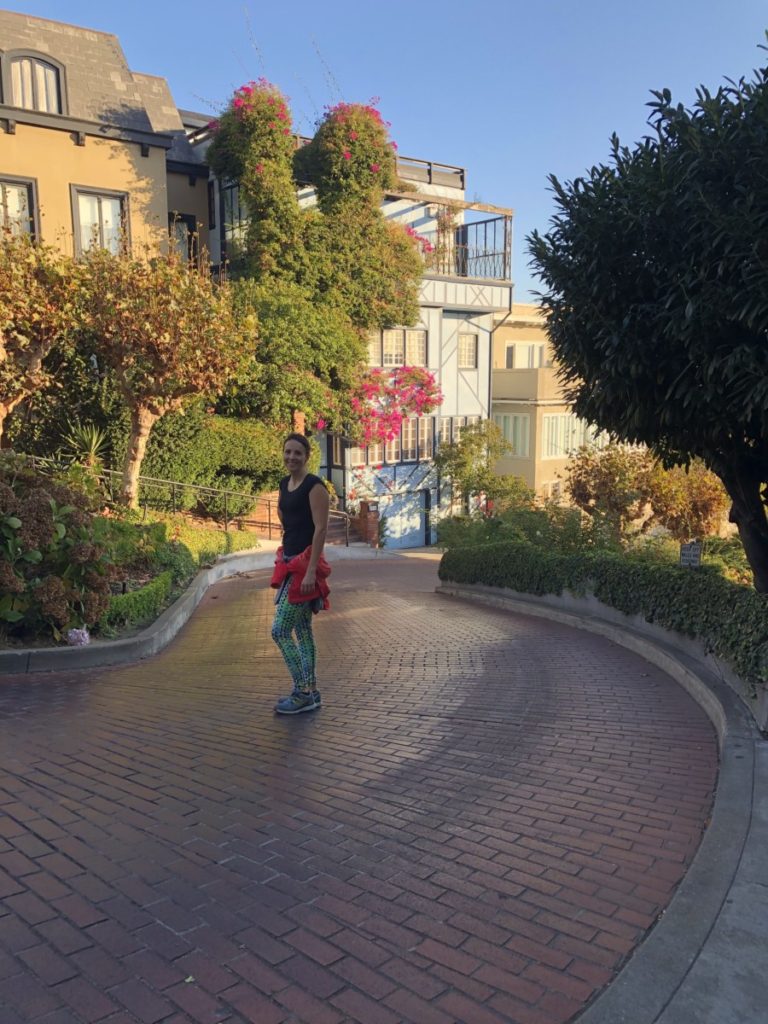 3. Stand on the Cable Car Ride
The $7 one-way cost to ride the Cable Car was almost enough for me to cross it off my to-do list. I'm so glad I did it anyway. A cable car is such a unique way to travel and get up and down the hills of San Francisco.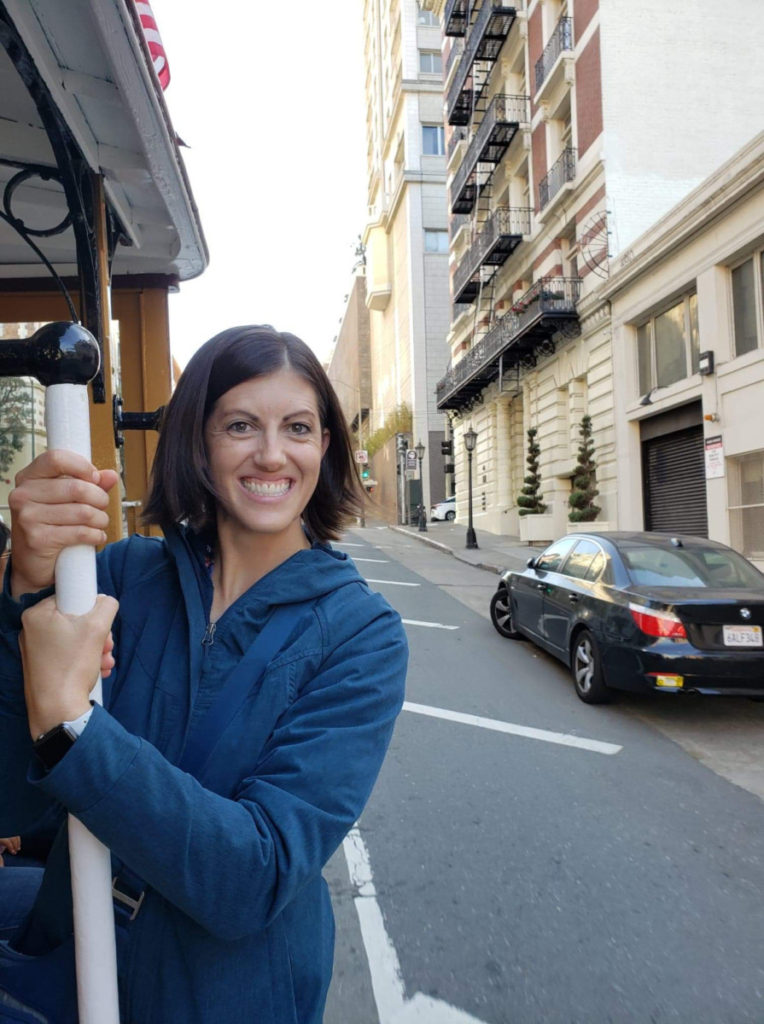 Ask the drivers how it works and look at the tracks to be fascinated by the technology (and how it STILL works today).
We rode the cable car on our way out of town. You can bring luggage on your ride even though it is a bit crowded. The cable car stops at the Powell-Market crossroads which is right where you can hop on the BART subway to go to either airport.
If I could do it again, I would probably ride the cable car from the BART stop INTO Fisherman's Wharf since it is such a great tour and introduction to the hilly city.
4. Hike at Land's End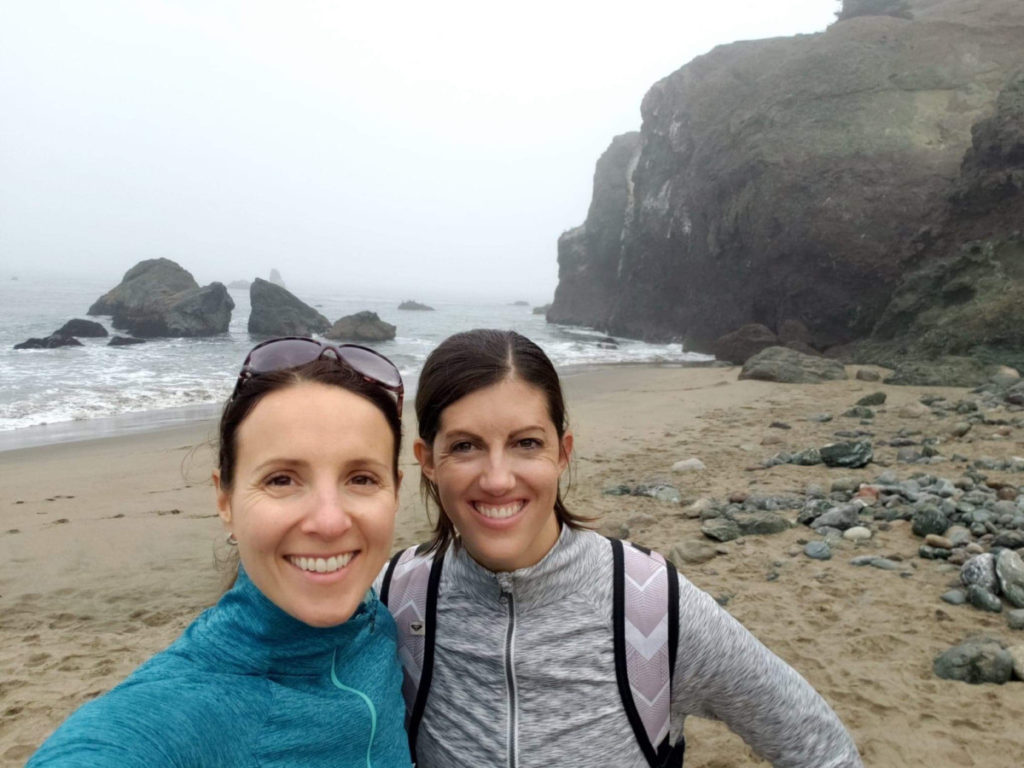 Even though our views at Land's End were completely obstructed by fog, our hike through the forest along the coast was still amazing. I imagine on a clear day it would be even better. Regardless of weather, this hike should be on every list for things to do in San Francisco.
The fog added to our senses in noticing the sounds of the ocean crashing on the cliffs and the fog horns blowing in the distance.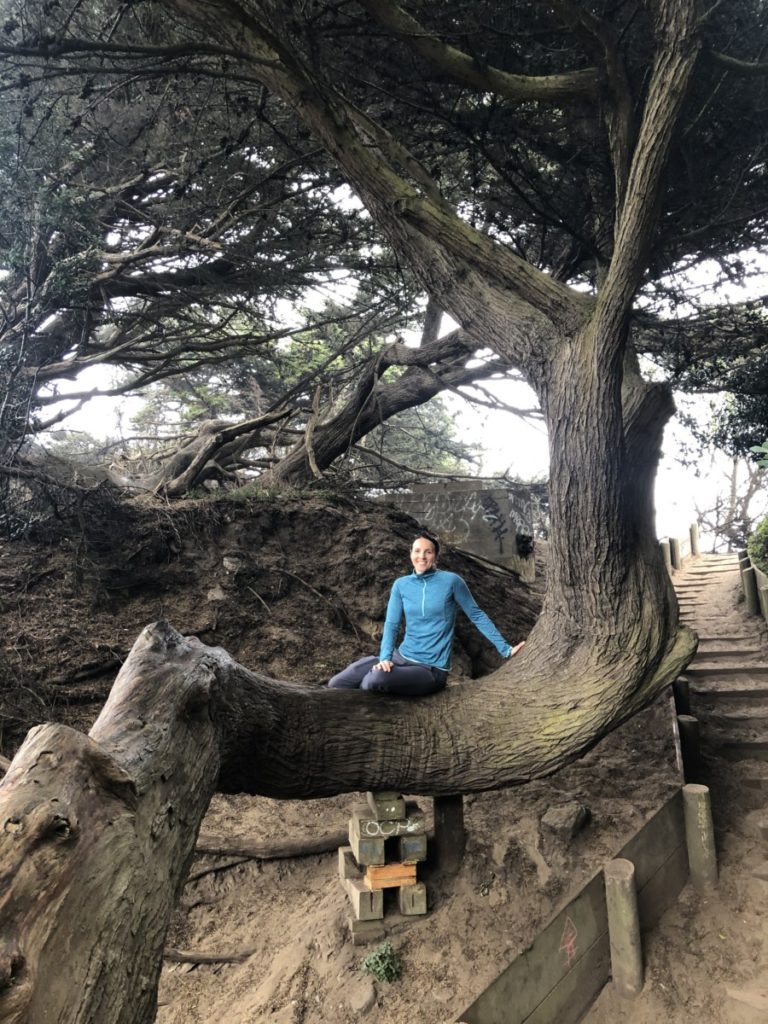 There is a visitor Center on Point Lobos Avenue. Most people started from here, hiked up to Mile Rock beach and the Labyrinth and back. But I recommend starting at El Camino Del Mar on the other side of the park and hiking one-way until you get to the visitors center.
There is a bus stop at 32nd and California which takes you very close to these steps before starting your Coastal Walk. Walking out the labyrinth and mile beach will take you down a few steps, that you will have to come back up, but most of the hike is mostly flat.
5. Bike through Golden Gate State Park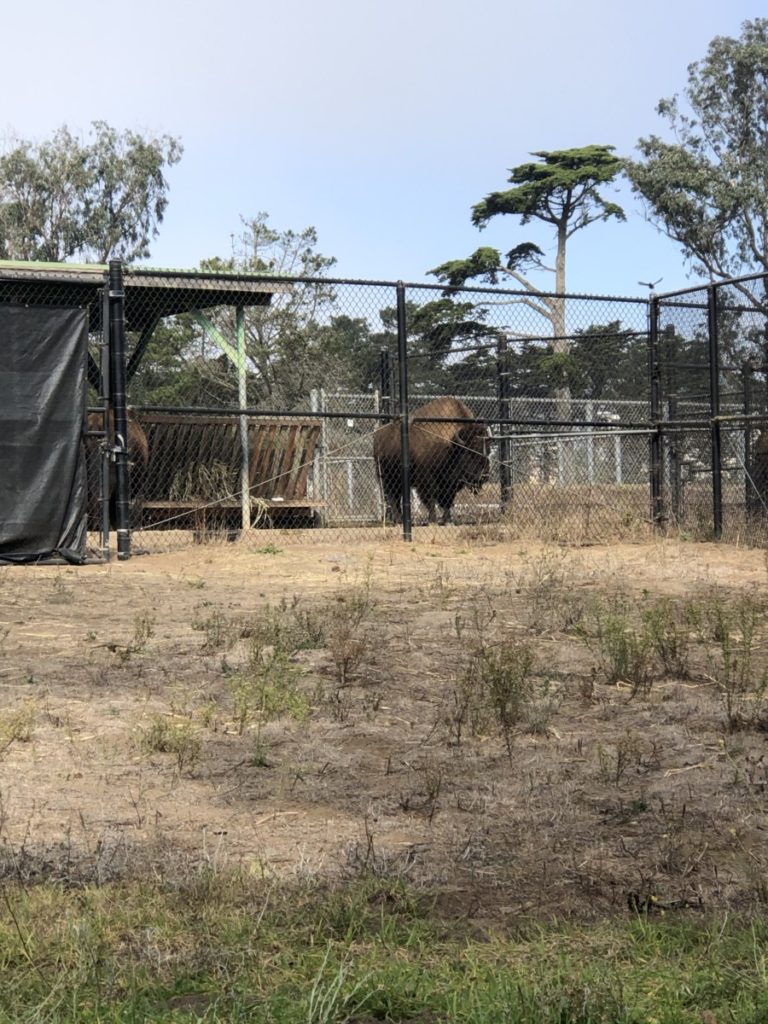 Golden Gate Park is only half a mile wide but 3 miles long. There are ponds, windmills, a bison paddock, a conservatory, and Gardens. Will all of the beautiful options in such a long space, you will want a bike to explore it all.
6. Find Some Fun at Pier 39
The pier offers lots of shopping and food, but even when we went early in the morning, we enjoyed looking around. Find the Sea Lions barking and pushing each other off the docks. The Musical Steps are fun to walk up and down on.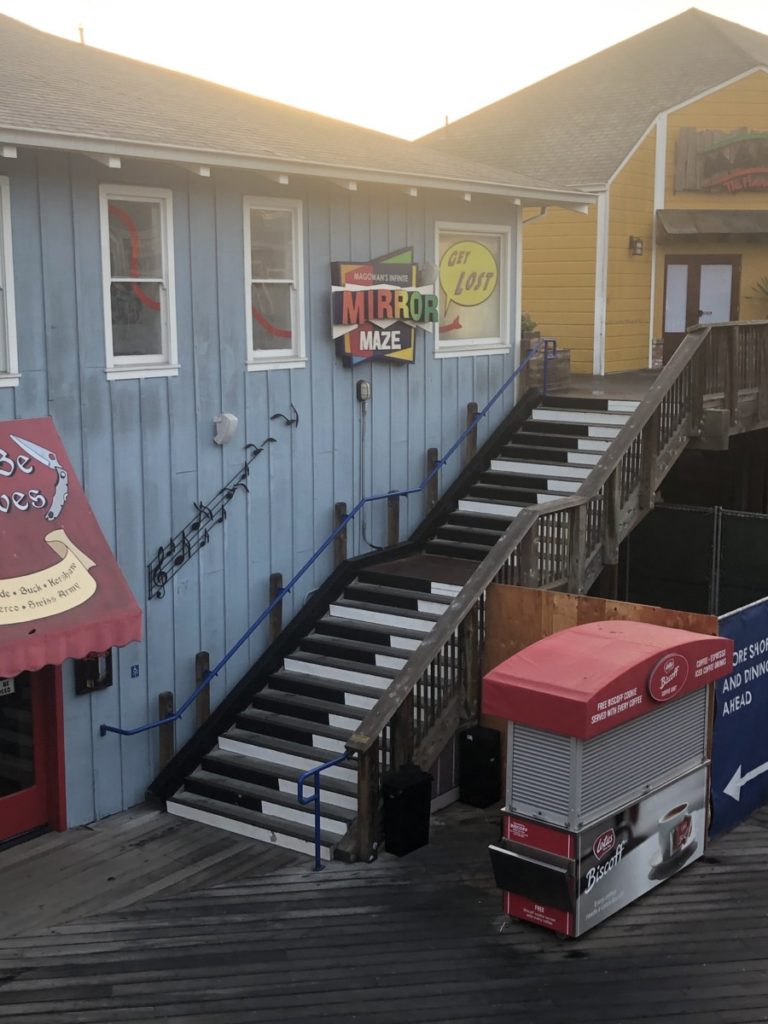 There are various performances, concerts and acts happening throughout the day. My favorite store was the Christmas shop… All year round!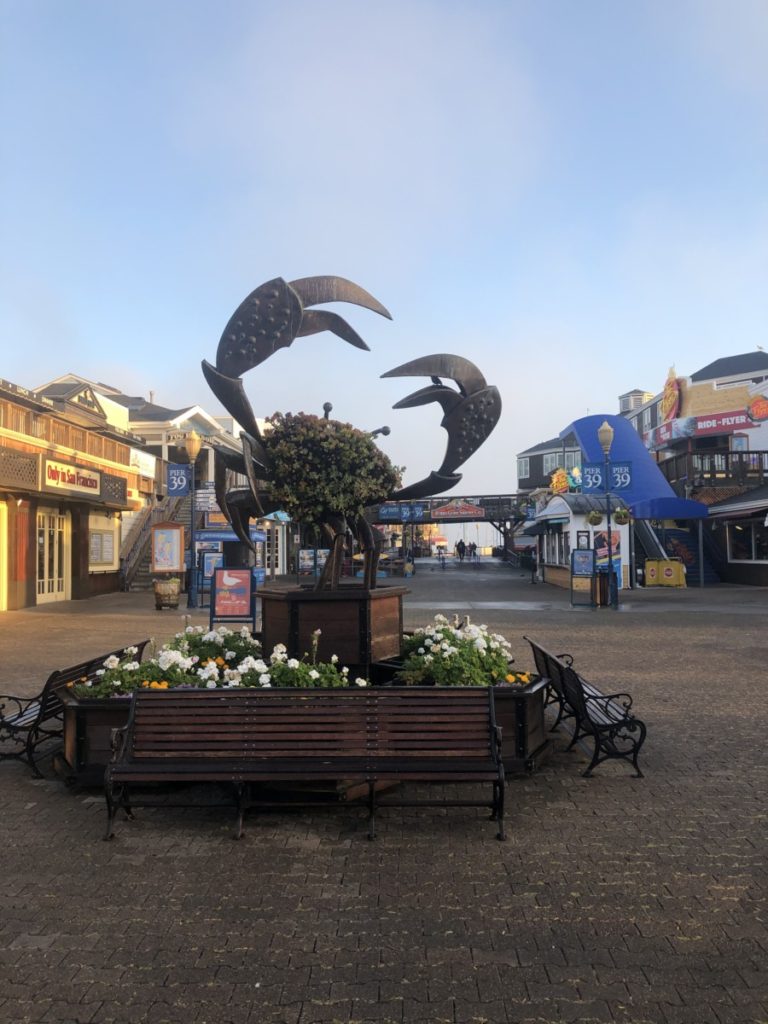 7. Ferry From Sausalito or Tiburon to Fisherman's Wharf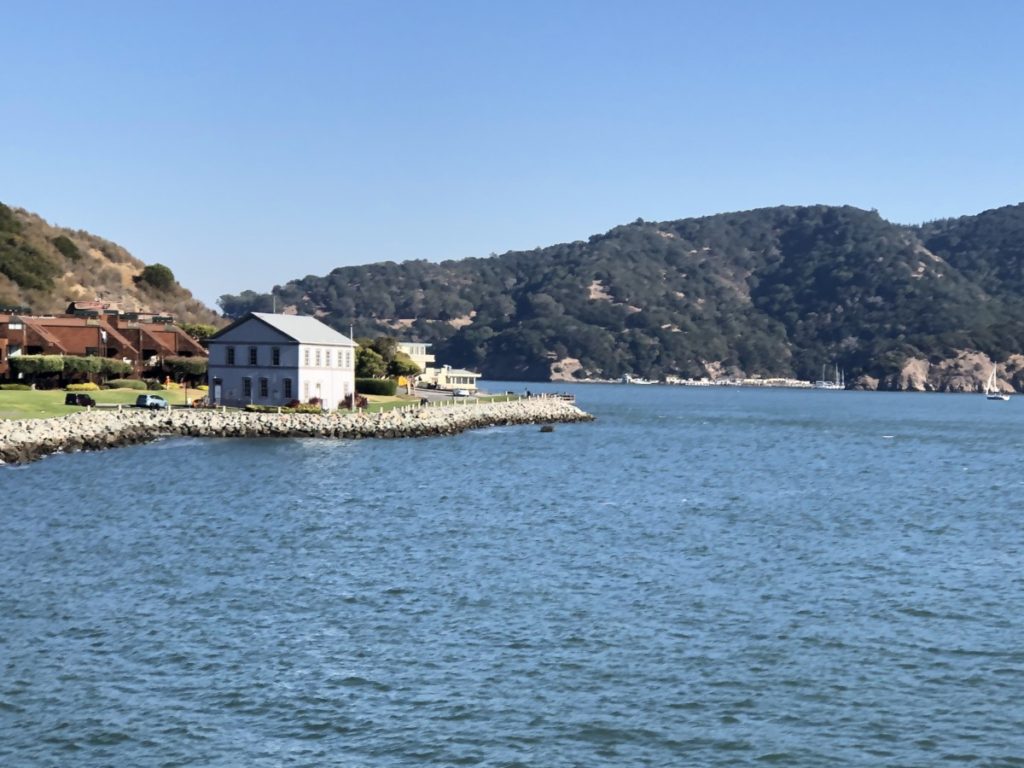 If you bike across the Golden Gate bridge, I highly recommend going to at least to Sausalito. It is a beautiful small town with a perfect biking path. Its all downhill from the Bridge so its an easy add. From Sausalito, you can take a Ferry ($14) back to Fisherman's wharf. The view of Alcatraz, the Golden Gate Bridge and the Bay is incredible.
If you make it all the way to Tiburon, you'll be rewarded with views of Angel Island as well. The ferry to Angels Island is seasonal only on the weekends in the fall. The Ferry's make it very easy to get on and off with a bike.
Even if you don't bike to these gorgeous towns, a ferry ride across the bay to get lunch out of the big city is still a good idea.
Make sure to check the Ferry schedule as sometimes there may be breaks between rides.
8. Chow down on a Sourdough Bread Bowl Filled with Clam Chowder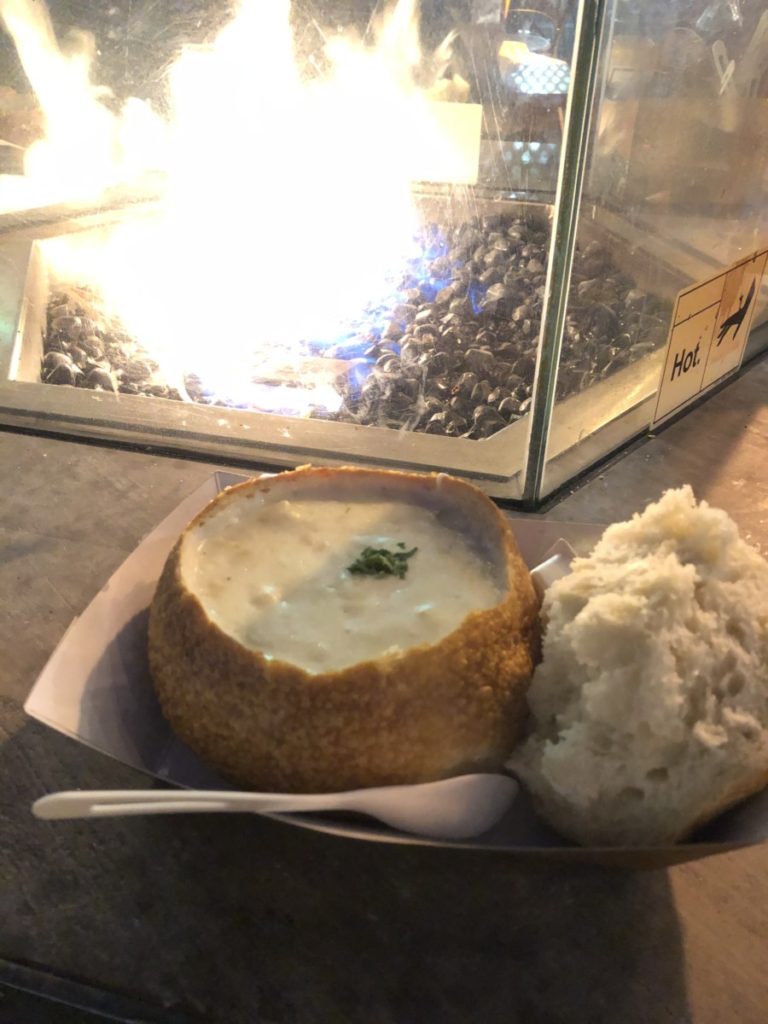 I may be biased to this soup because we visited San Francisco on a chilly November day. But I think the sourdough bread smell wafting through the air in any season will have you desperate to eat it in some form or another. As a bread bowl is the best way in my opinion.
Bourdin has a restaurant or a cafe so you can get your fix quickly or a slow and enjoyable meal. Fish and Chips is also a popular menu item for the Fishermans Wharf area.
9. Hug a Redwood in Mill Valley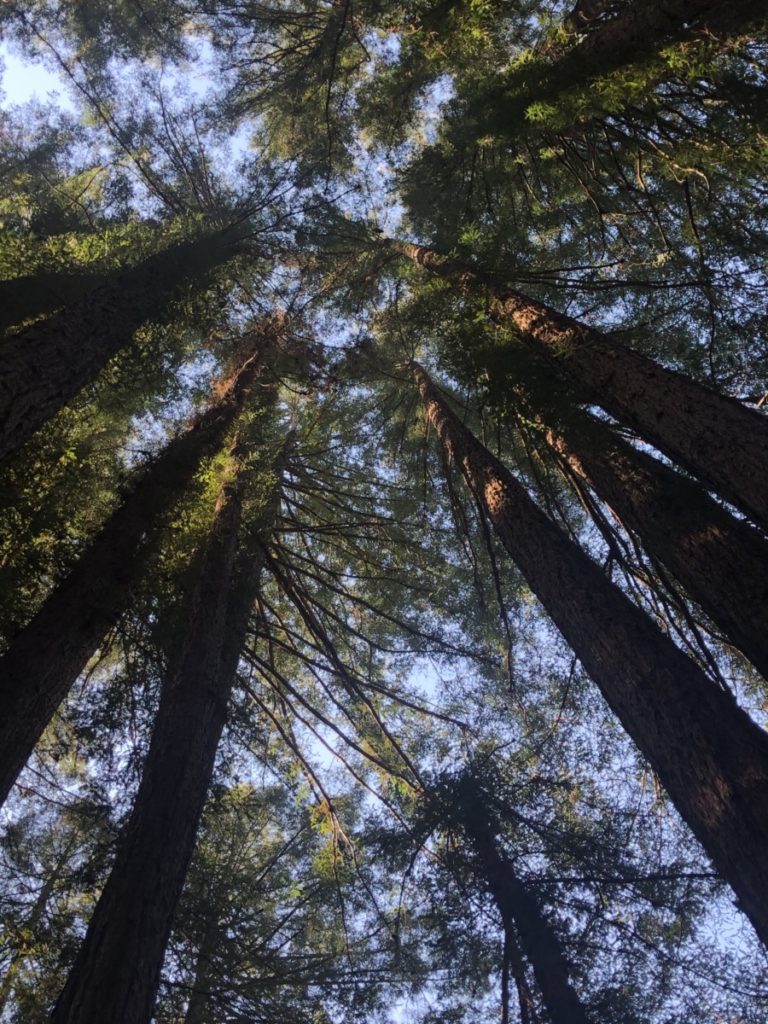 I recommend this place because we ate incredible Indian curry burritos from Avatar's Punjab burritos in Mill Valley (not to be confused with Avatars in Sausalito). Since we were willing to bike 20 miles to get these burritos they must be delicious! But cash only so be prepared. We almost couldn't afford it!
Right up the road, find Old Mill park. You'll feel like you were transported to Redwood National Forest. Of all the things to do in San Francisco, I didn't know getting into the woods would be one of them! I love that I can be in the middle of a huge city and hours later feel secluded in a grove of redwoods. It was my favorite atmosphere for enjoying an amazing lunch.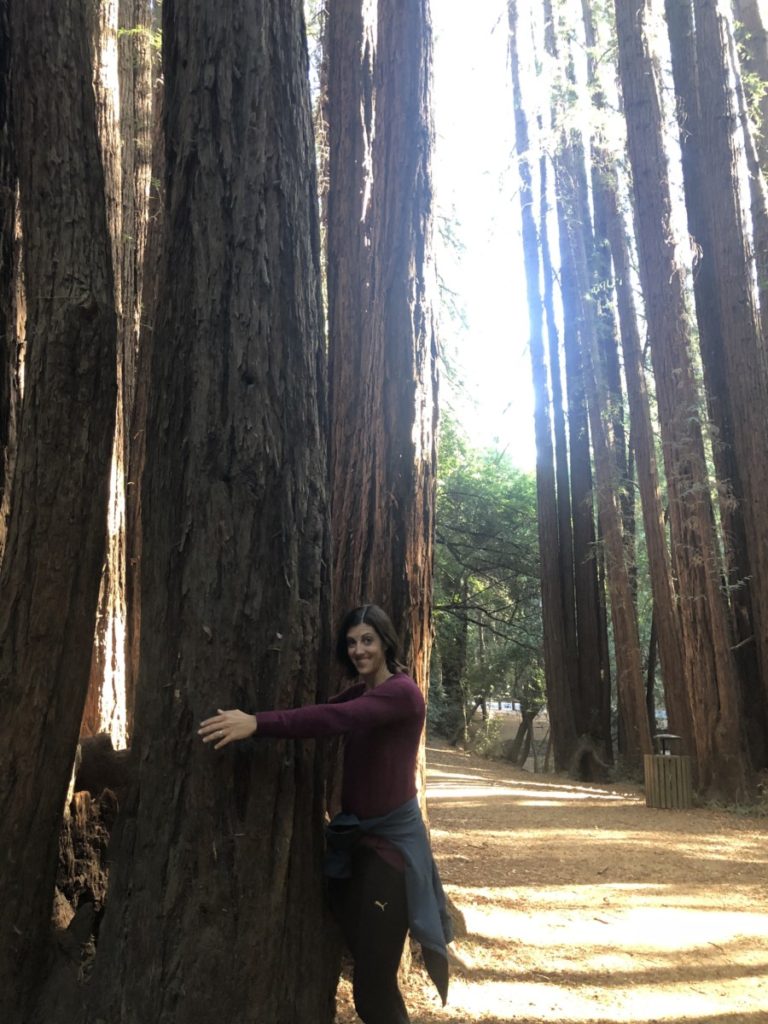 10. Soak in the Views of the Bay Bridge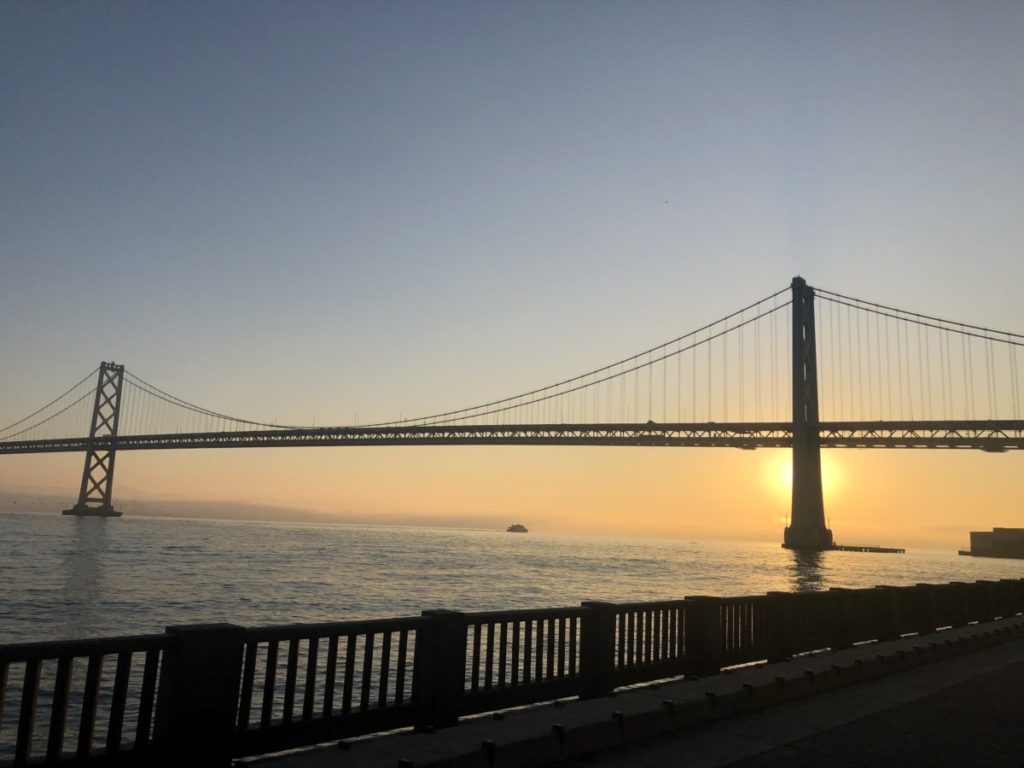 While the Golden Gate Bridge is the iconic tourist attraction, the Bay Bridge is just as spectacular. Ride, run or walk along the piers to enjoy the Bay. This photo shows the sun rising behind the bridge. What an uplifting and inspiring way to start the day!
11. Sit in Awe at the Palace of Fine Arts Theatre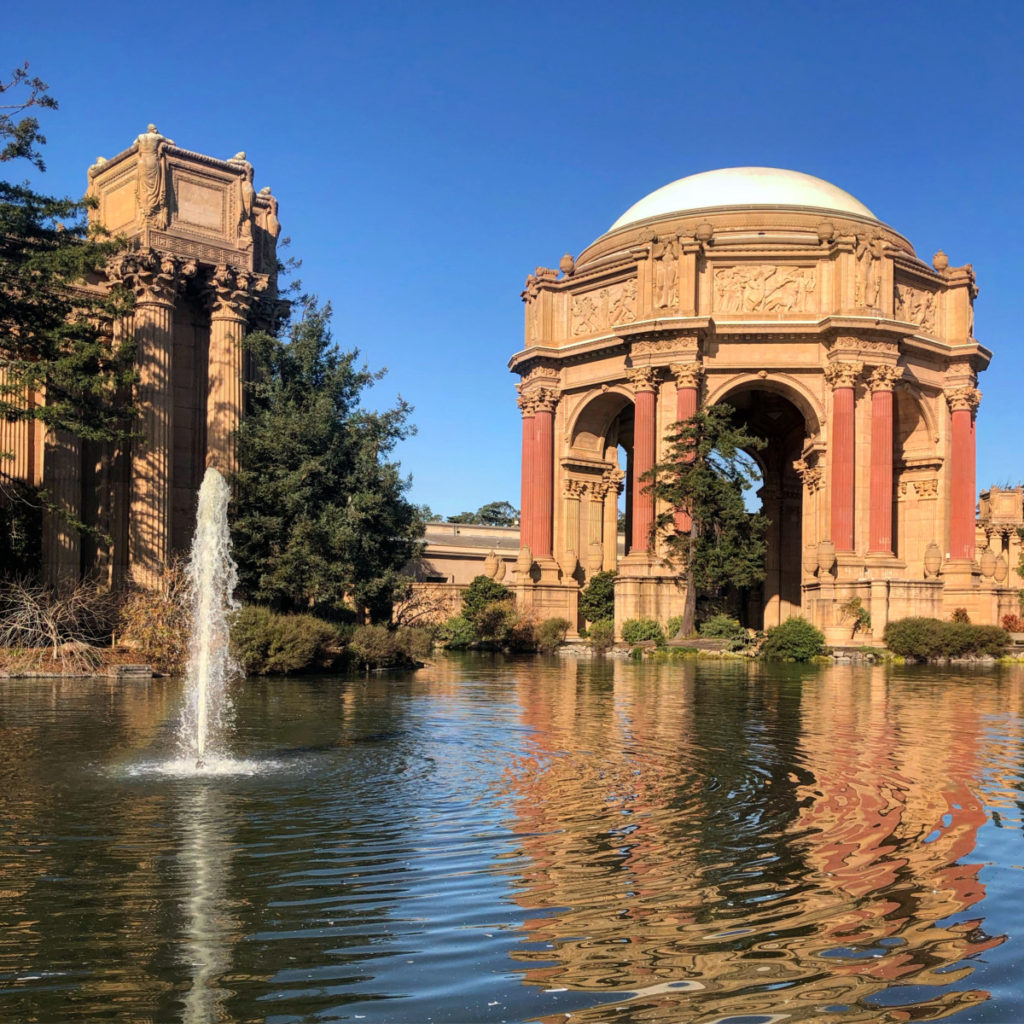 This article was going to be a nice, even 10 things to do in San Francisco. But after I finished, I realized I left off one of my favorite spots of all!
The Palace of Fine Arts is located just off the coast on the way to the Golden Gate. It's a little taste of European Architecture and atmosphere in the middle of a California city. With a fountain, walking path and option to go under the dome, you won't regret spending time in this beautiful location.
If you are biking from Fisherman's wharf, look for Baker street. Although it's only a couple of blocks off the beaten path, it is worth it.
More Great Things to do in San Francisco
After my 2-day trip in San Francisco, these are my favorite experiences. With all of our extra time, we also love Giradellis square, Alcatraz Prison Tour, Chinatown, Coit Tower, Fisherman's Wharf, and Ferry to Angel's Island.
Places to Eat
Breakfast at Pat's Cafe before or after walking Lombard street is a perfect start. I can't recommend Avatars Punjabi Burritos in Mill Valley enough! (See #9) . Sweet potato was sweet with chunks of apple, but the pumpkin curry was amazing!
Lampert's Ice Cream in Sausalito has unique and interesting flavors. My favorite souvenir to bring to the kids was Sourdough shaped like turtle, gators or teddy bears at Bourdin's Sourdough Bread Cafe in Fisherman's Wharf area.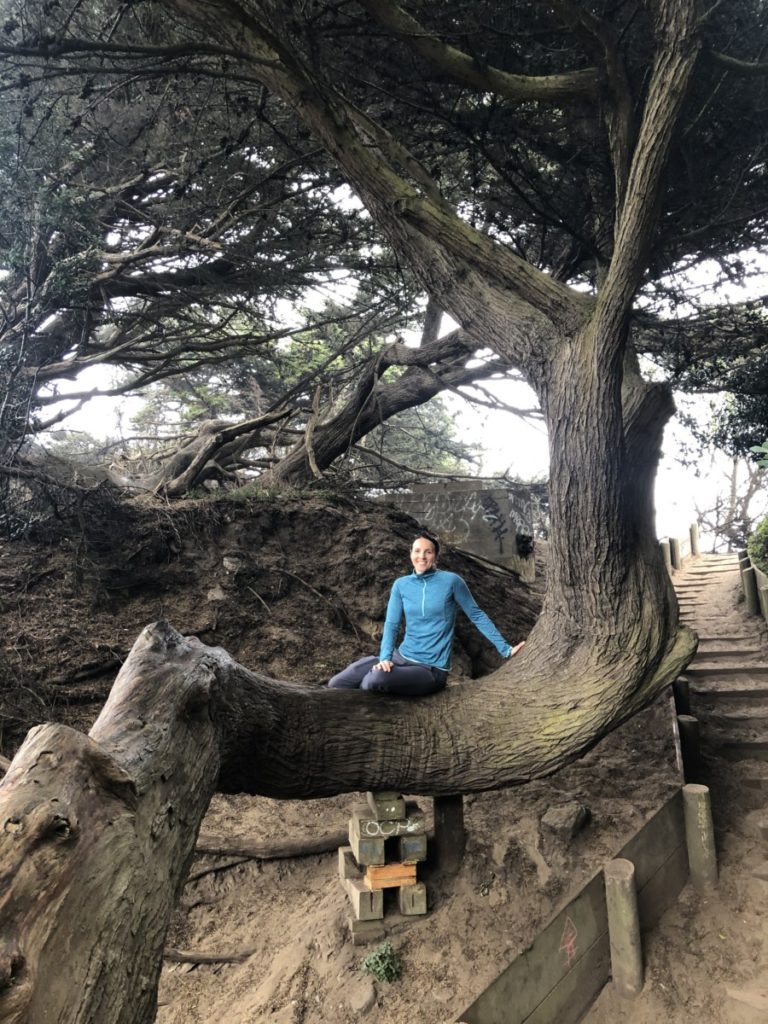 Where to Stay
I highly recommend staying in Fisherman's Wharf area. It is close to everything so you can walk late at night or early in the morning.
If you can, stay at the Sheraton. It is relatively inexpensive for the comfort and location. They even provide bikes to use (but they were beach cruisers so you probably can't take them too far!) and luggage storage for a later checkout. And Gummy bears. They give a large canister of gummy bears upon check-in. Perfect treat for all the biking.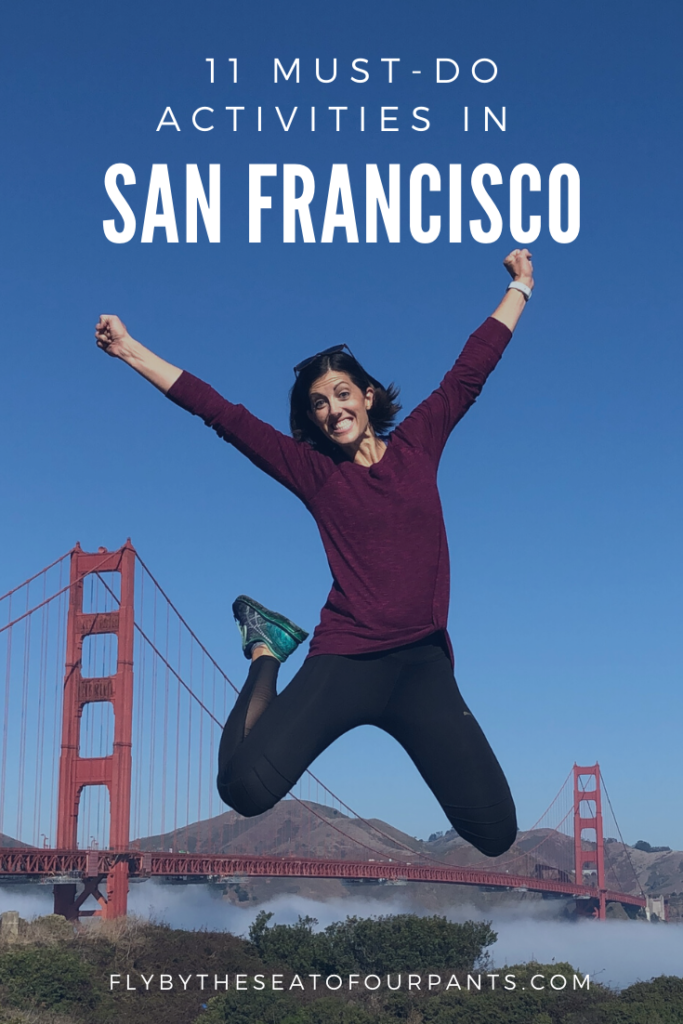 What did you love doing in San Francisco? Any other must-do activities to add to this list?
Since you are in the area, you will definitely love Sequoia National Park!
Or even closer is King's Canyon National Park
If you liked this city guide, you may be interested in Colorado Springs 5-day Itinerary.
Fly by the Seat of our Pants contains affiliate links. When you buy through the links it helps keep this website running, at no extra cost to you.