How far would you be willing to travel to stay a day in Hawaii?
We often like to go stay a day in Hawaii for just one night. From DFW, the flight is 7 hours each way and we spend about 30 hours with our feet on the island.
Why go to Hawaii for only 1 night?
I heard what you just said in your head, "YOU ARE CRAZY!!" And while I don't need to explain myself to you, I will because the world could use more understanding.
This post is for people who fly free with standby flight benefits. If you are paying for tickets to paradise, you will want to stay for multiple days (or weeks!) to make the cost of your ticket worth it. But being in Hawaii will cost you!
If you are able to snag free or super cheap flights and you are wondering if it is worth it for only 1 day on the islands, I say YES! and here is why you should go today!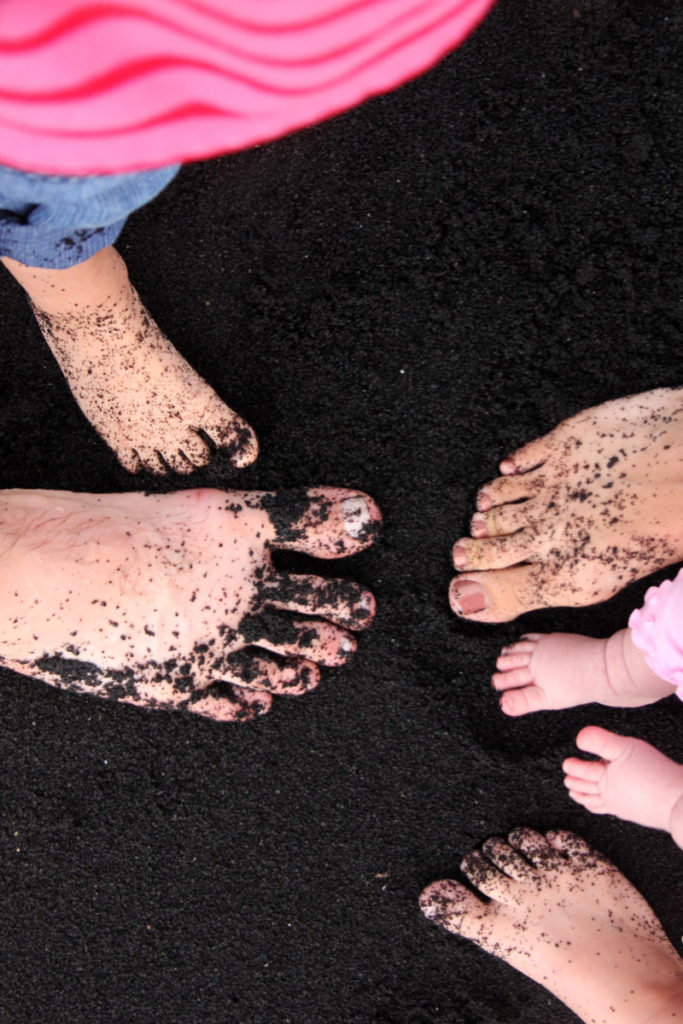 Here are the reasons we fly to stay one day in Hawaii.
It's a Free Flight for a Day in Hawaii
Because my husband works for the airlines and we fly standby, we fly free within the United States. (We pay taxes and fees internationally.)
Closer tropical options that are international, such as Mexico or the Caribbean can be costly for a family of 6. We want to stay longer to make it worth our money.
But since Hawaii is part of the United States we can travel in and out for absolutely free. This means we only have to pay for transportation and accommodations once we arrive. This makes it similar to flying any other place in America.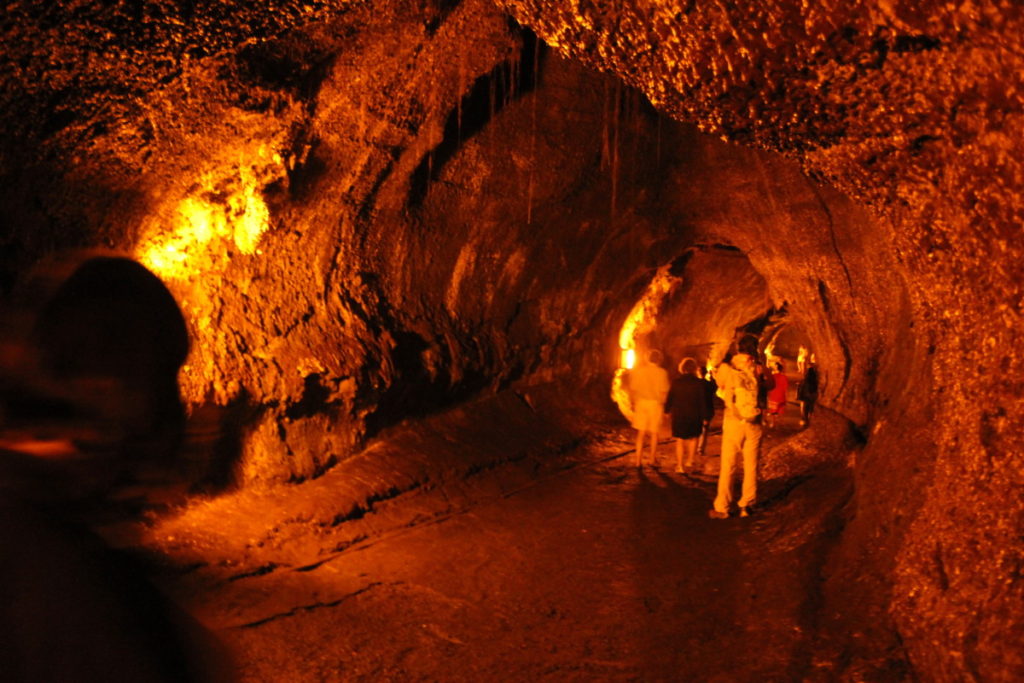 Save Money on Accommodations
We calculate that every day we spend in Hawaii costs us about $300-$500 in hotel, car, gas, food, etc. We are budget travelers, so if we happen to be splurging on a resort or excursion it would cost even more. Every day we are on the island costs significantly more from our travel budget.
Even with getting free flights, our travel budget can quickly run away from us if we aren't mindful of transportation, lodging, food and entertainment expenses.
When we stay only one night in Hawaii, we enjoy the comforts of a hotel for two days but only have to pay for one stay.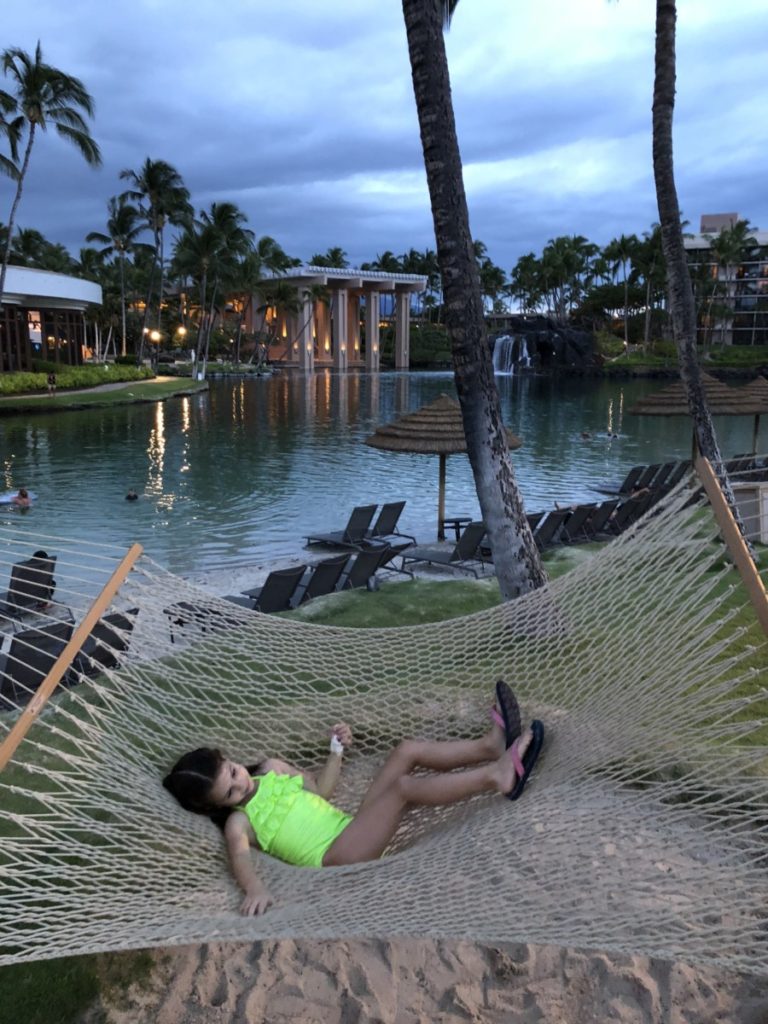 Time Change is Exhausting
In Hawaii, we mostly just love hanging out at the beach and pool all day long. After 2 days of this, kids and parents alike are all exhausted. With the time change and staying up to see the sunset in Hawaii, we are so tired that we all sleep soundly on the red-eye coming home. (But don't forget the Melatonin!)
It's easy for kids to change their schedule for a day or two. But ask them to stay up late and try to sleep past their biological clock for days on end, and you will be setting your family up for an all-out meltdown. Maybe even a tantrum from mom and dad, too! Sure they will eventually get use to it, but we like to get home to our regular routine before our clock completely resets to Hawaiian time.
When we stay in Hawaii longer than a day, Day 3 is usually filled with fighting, tantrums and melt-downs. I'd rather be at home to endure those!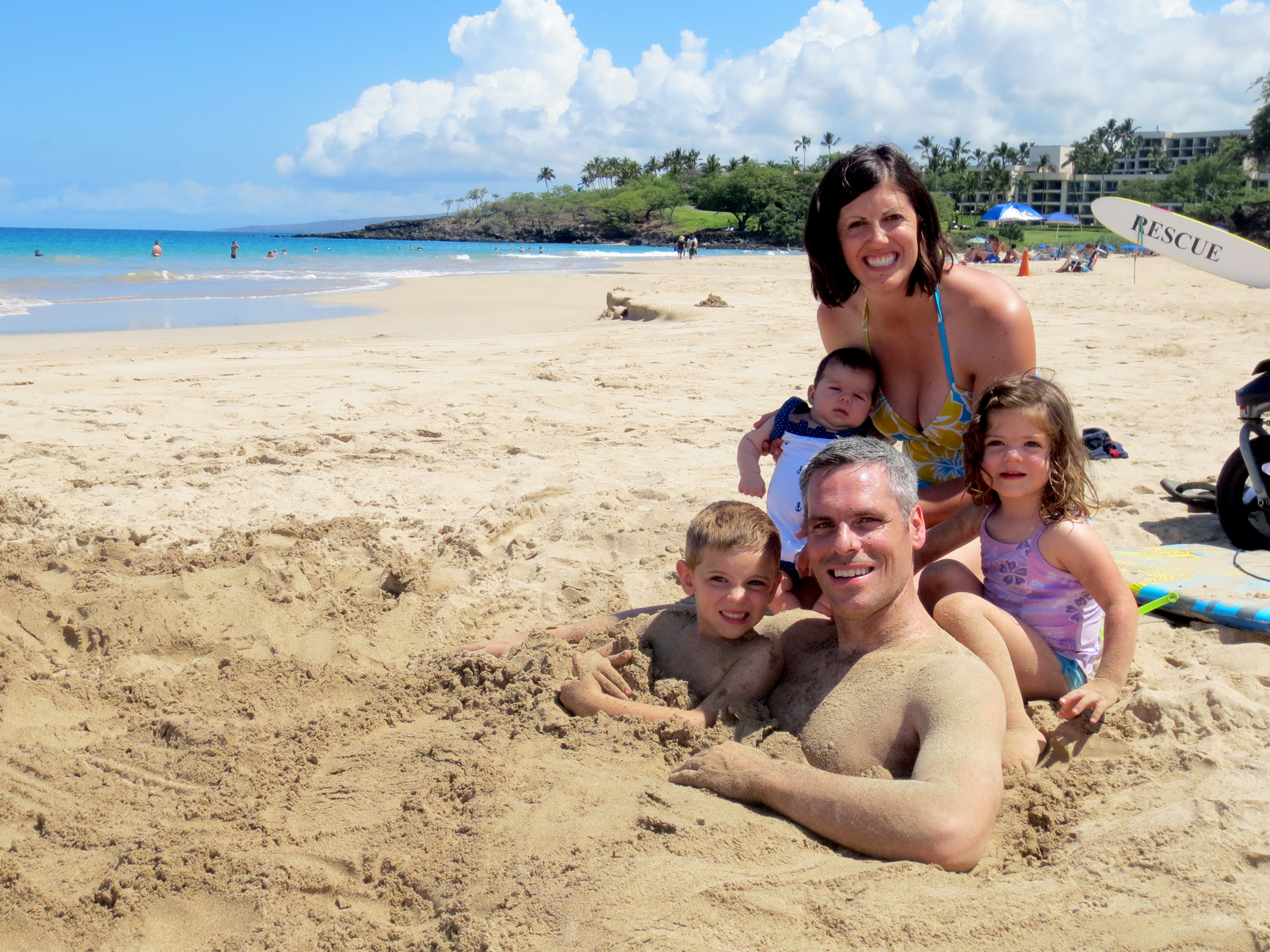 Hawaii is Easy
Because Hawaii is part of America, there is no money to exchange or customs.
Renting a car rentals is easy. Most of the roads are safe and driving is comfortable.
Anything you forgot at home is easily purchased at the local Walmart or Costco.
Preparing for a trip to Hawaii is a breeze, just remember swimsuits and flip flops. Period.
Sure, the baggage claim can be frustratingly slow…we ARE on island time! But if you only go for one night, don't check a bag and you'll be the first one to the rental car and won't have to wait at all.
Consistent Weather
If we want to find perfect weather on a beach any day of the year, the most affordable option is Hawaii…despite its distance from us.
Hawaii is always between 75-85 degrees. It rarely goes above 90. It is humid so even getting out of the water you don't feel cold. The water is warm year round!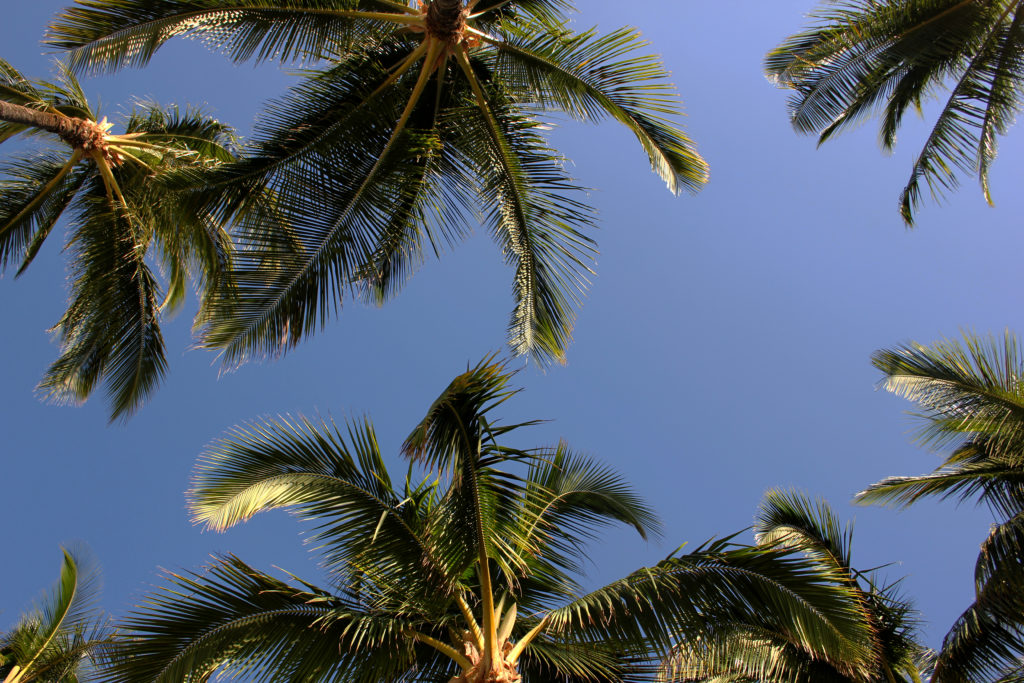 The Best Beaches in the World
The sand on the beach is clean and heavenly. No, it's not white sand, nor is quality sand-castle building sand, but it is lush and soft and run-through-your-fingers-and-toes sand. Although each beach has its own kind of sand, I love it all in Hawaii.
Plus, there are so many beaches! With a small island, you can explore the beach after beach and never get bored! There are large public beaches and others where you'll be completely alone.
The small islands make the best beaches simply accessible. No mater where you go, you will be close to the coast.
Here are all my favorite beaches on each island.
Endless Variety of Outdoor Adventures
Besides relaxing in the sounds of the waves on the beach, Hawaii has a variety of adventures to experience. Our favorite is hiking through lush jungles or exploring the rainforests. Hawaii doesn't have any predators so you don't have to worry about a thing (except maybe a wild chicken or jumping toad scaring the *** out of you)
Finding gorgeous waterfall, canyons, idyllic pools and bamboo forests are just some of the adventures we love to mix things up on Hawaii. Try on some snorkeling gear to get a peek under the water.
Within a few hours, you can go from a warm, dry beach to a mountain top with snow! You'll never get bored in Hawaii.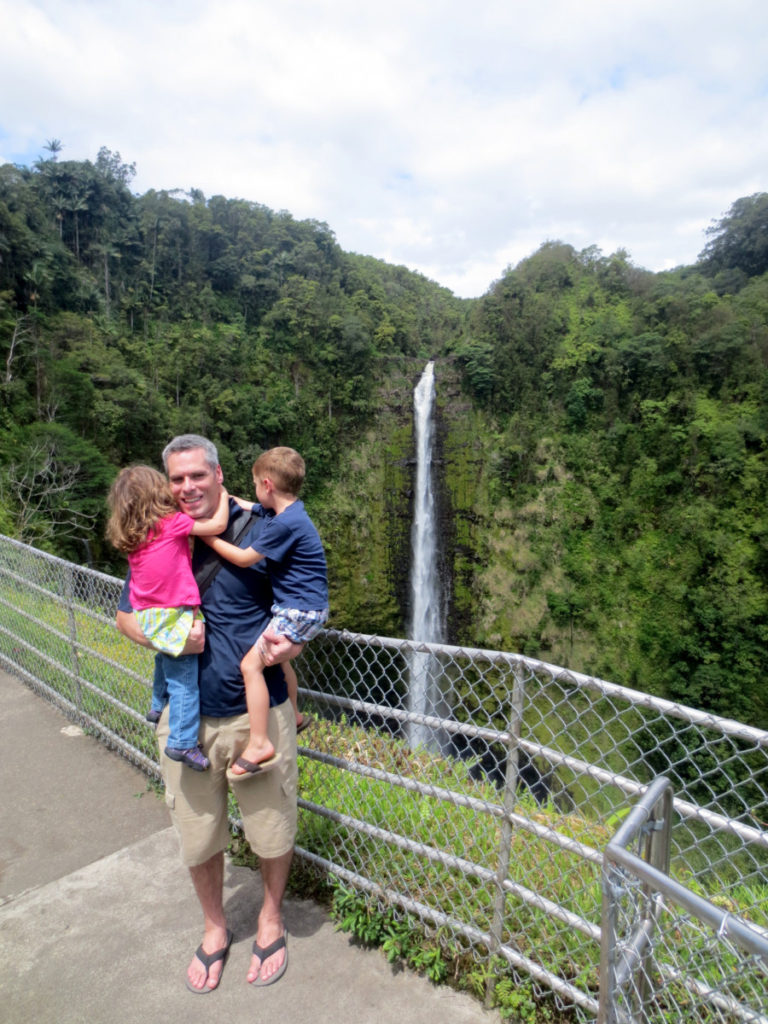 Click Here for my top sights on each Island
Easier to Anticipate the Flight Load Coming Home
Finally, it can be really tricky to get home from Hawaii. (as you will see The Long Way Home from Hawaii) Flights are often very full and have many standbys on them. When going for only one day, we can easily see the coming home flight loads.
Less Time off School and Work
We travel quite a bit as a family. With limited days off school and work, we use Hawaii as a long weekend getaway and save our days off for international trips.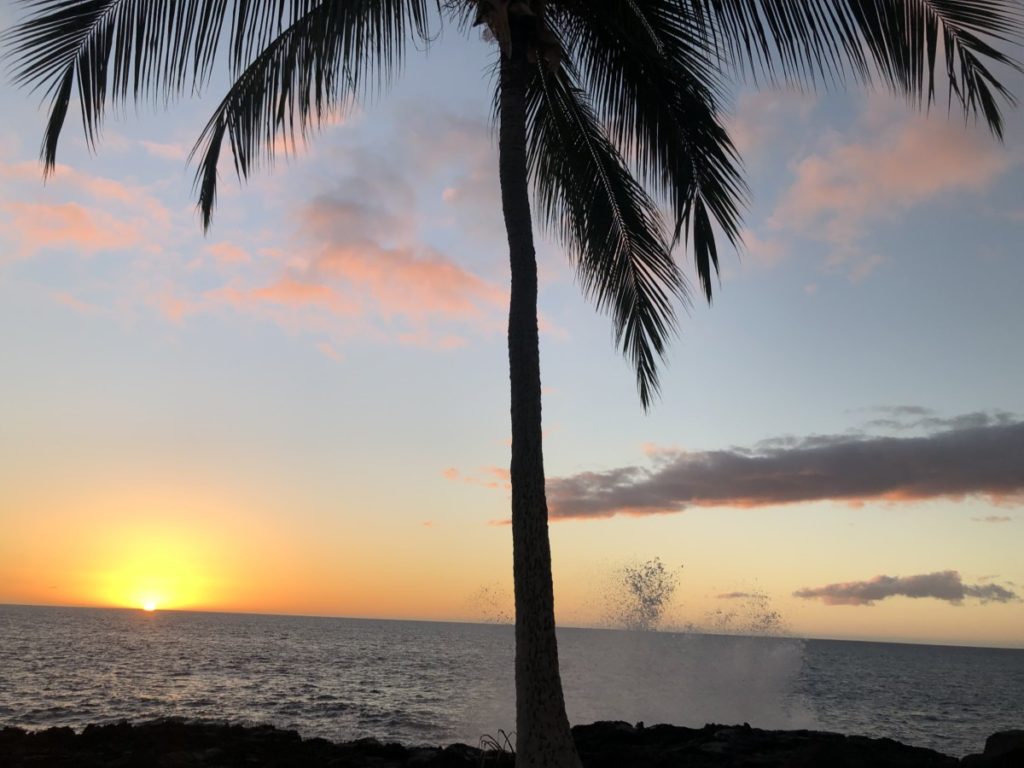 Hopefully, that justified our one day trips to Hawaii for all you nay-sayers. If you still don't believe its worth it, you obviously haven't experienced the pleasure of Hawaiian Paradise. It is always worth it.
Don't head to Hawaii without a guidebook! The "revealed" series is our favorite.
Hawaii Guidebooks
If you are headed to Hawaii, you'll love these posts.
Fly by the Seat of our Pants contains affiliate links. When you buy through the links it helps keep this website running, at no extra cost to you.