A day on the beach is the perfect relaxation for a family vacation. With so much coastline, don't miss visiting the best beaches in the US. These seaside adventures are compiled from frequent travelers who share all the details you need to know before you go.
**This post contains affiliate links. If you purchase through the link, you can support this blog at not extra cost to you.
East Coast Best Beaches
The Atlantic Ocean creates gorgeous white sand and family-friendly beaches. The best beach in the US just might be along the East Coast.
Wrightsville Beach, North Carolina
Contributed by Anna Cook from Paddling Space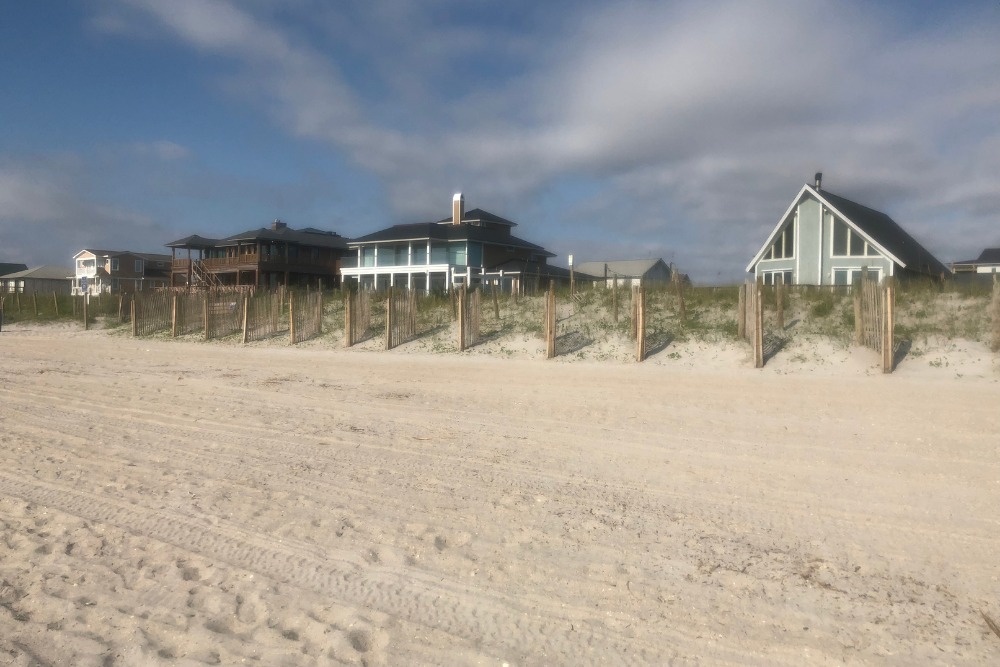 Wrightsville Beach is right outside of Wilmington and one of the most lively beaches on the NC coast. Students at UNC Wilmington spend most of their time outside of class at this beach so don't be surprised to see lots of college students.
Most people drive to Wrightsville as it's easily accessible being so close to Wilmington. If you do choose to fly the nearest major airport is about two hours away in Raleigh, NC. There is also an airport in Wilmington, but you'll definitely pay more to fly in here.
Once you arrive, there are many lots to park in that are right by the beach. If you arrive early enough, park in the lot beside Johnnie Mercer's Fishing Pier. All of these lots are paid parking between March 1st and October 31st. If you can stay at a condo or hotel on the beach you'll at least save on parking!

Wrightsville is the perfect beach to visit because it offers the amenities of a larger beach city but with the small town feel that NC beaches are known for. Enjoy oceanfront dining, kayaking or SUP with a local outfitter, or listen to some live music on the weekends. Don't forget the fishing opportunities!
Sand Beach, Maine
Contributed by James from Travel Collecting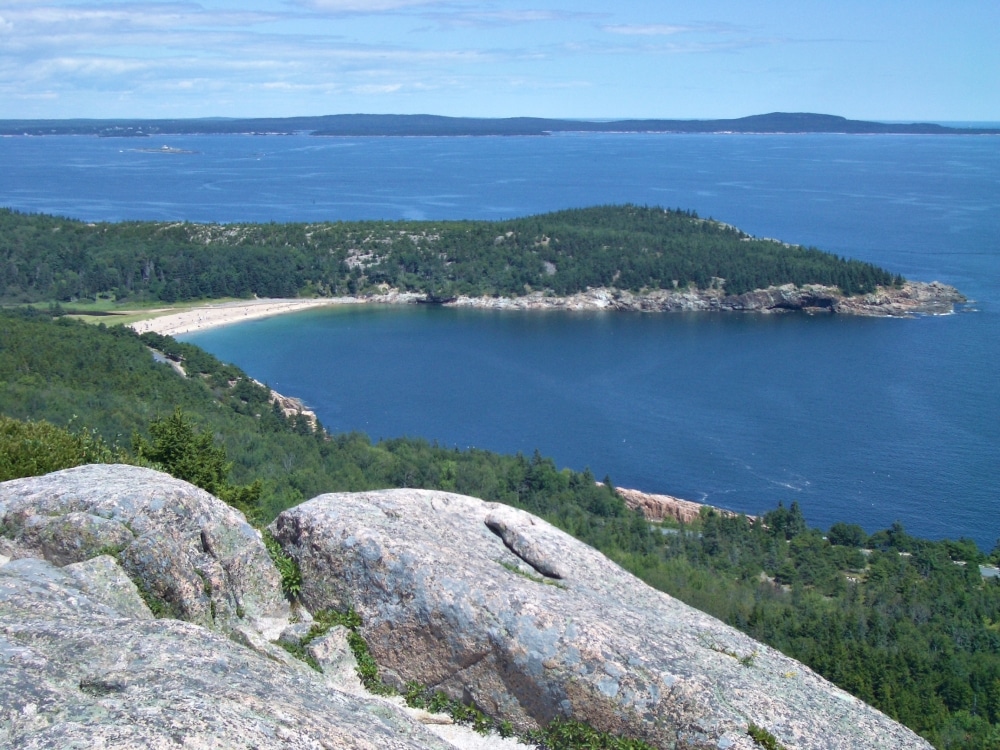 Sand Beach in Acadia National Park is the main ocean beach in the national park. The 290-yard long beach is a beautiful stretch of soft sand between rocky outcrops on both sides and framed by forested hills behind. It is hard to imagine a more beautiful setting.
The beach is perfect for families.  This is the north Atlantic, so the water can be chilly even in summer.  Consider bringing a swimsuit coverup to use outside the water. However, kids generally don't mind the temperature and they will feel very comfortable in the calm water. 
Sand Beach is also the starting/ end point for the Great Head Trail. Cooling down in the ocean here is the perfect way to end the hike.
The beach is on the Park Loop Road just after the northeast entrance to the park on Mount Desert Island. There is a $25/ vehicle fee to enter the national park, but no additional fee for the beach. There is a parking lot at the beach and there are changing rooms and restrooms adjacent to it. The beach is patrolled by a lifeguard between Memorial Day and Labor Day.
Driftwood Beach, Georgia
Contributed by Nichola from Globalmouse Travels
Driftwood Beach on Jekyll Island is mesmerizing! There's something otherworldly about this stretch of sand.
There is a charge to get on to Jekyll Island if you drive (currently $8) although nothing for pedestrians or cyclists. Once there, you're transported back in time, it feels like the whole place is out of another century somehow.
Tucked away on the northern end of the island, Driftwood Beach feels like an undiscovered gem with far less of the crowds you'd expect from somewhere so spectacular.
As well as having particularly beautiful sand, the whole area is covered with the bleached out trunks and branches of pine and oak trees. The huge limbs are scattered like art work across the sand and perfect for clambering over or stopping to watch the sun set whilst resting on. Bring some beach shoes for you and the kids to enjoy climbing. There's something very evocative about this beach and it really is unlike any other.
Some of the best family resorts in Georgia are nearby so you can certainly make a weekend or longer of a visit here.
Virginia Beach, Virginia
Contributed by Meghan Starr from Virginia Travel Tips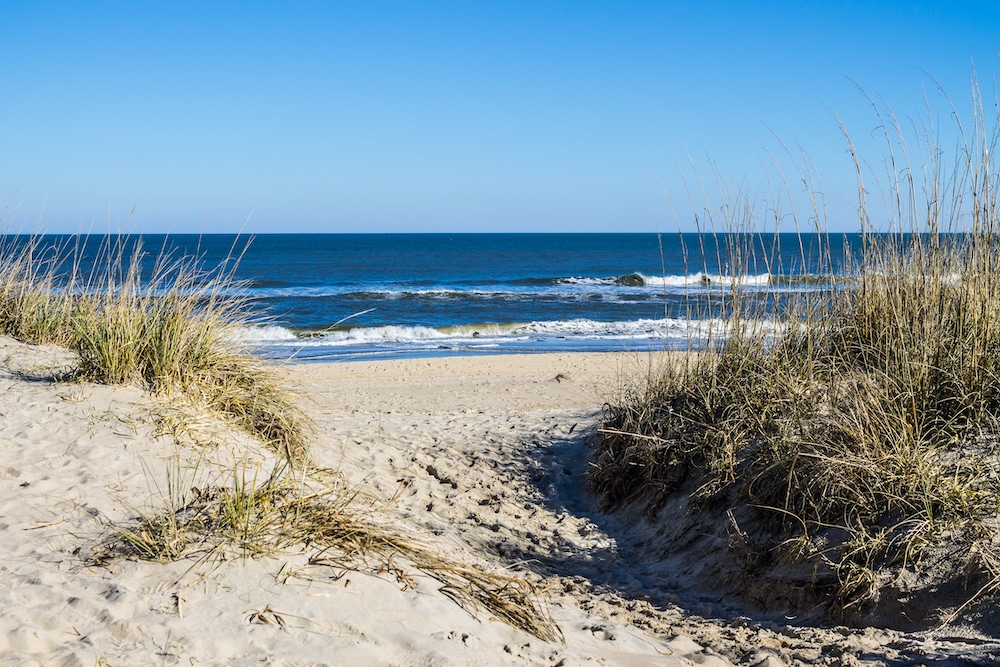 One of the most popular and vibrant beaches in the United States is Virginia Beach. This east coast beach receives millions of tourists during the summer months and is one of the most visited spots on the east coast.
There are hundreds of fantastic things to do in Virginia Beach, including miles and miles of uninterrupted shoreline, local craft breweries, and delicious seafood restaurants.
If you're a relaxing traveler, you can visit the many beaches in Virginia that are located within the city's limits. The most famous is "Virginia Beach" but Sandbridge and Chic's Beach are two lesser-known ones that locals will typically opt for instead of the crowded ones.
If you're an active traveler, the most famous state park in Virginia, First Landing State Park, is located in Virginia Beach and is a worthwhile stop. It is 2,888 acres and there are hiking and camping opportunities within the park and it is an unbeatable place to spend an afternoon (or night!). If you're already around Sandbridge, you can visit another famous state park, False Cape State Park, a VA park that is technically part of the Outer Banks.
Virginia Beach is home to the East Coast Surfing Championship, the world's second-oldest surfing championship that has been continuously held each year. Bring your boogie board to get in on the wave action. There are many things to do in Virginia Beach, making this one of the best beaches in the US.
Race Point Beach, Cape Cod National Seashore, Massachusetts
Contributed by Shoba George of Marthas Vineyard Tourist
Cape Cod is known for the variety and quality of its beaches from the approximately 44 acres of the Cape Cod National Seashore to the small town beaches that dot Cape Cod's coastline. For even more beaches, take a ferry over to the islands of Martha's Vineyard or Nantucket which lie off the coast of Cape Cod. Both the Martha's Vineyard beaches and Nantucket beaches are less crowded than the Cape Cod beaches during the peak summer season. If you want a Robinson Crusoe experience even in the height of summer, charter a sailboat and head over to Naushon beach on the Elizabeth Islands.
The Cape Cod National Seashore was the first of the 4 national seashores to be so designated. The best beach on the Cape Cod National Seashore is Race Point Beach near Provincetown in Cape Cod. Race Point beach is a wide beach protected by sand dunes on one side and fronting onto the Atlantic Ocean. Due to its location, the beach is sunny all day which makes it ideal for sunbathers and for children. Don't forget the sunscreen and sunglasses!
From the beach, you may be able to see whales and dolphins in the sea. The sunset at Race Point is spectacular. Bike trails go pas Race Point Beach as well as its famous lighthouse. The lighthouse is not open to visitors and still a functional asset of the Coast Guard.
Race Point Beach has lifeguards on duty and restrooms for public use. Race Point beach is subject to the Cape Cod National Seashore beach permit fee from June to September. Vehicles and bicycles are subject to a daily $25 or $10, respectively fee. Children under the age of 16 are free. If you will be using the beach regularly, it makes sense to buy an annual pass for $60.
West Coast Best Beaches
Cannon Beach, Oregon
Contributed by Clarissa Sidhom from Modern Hipster Mama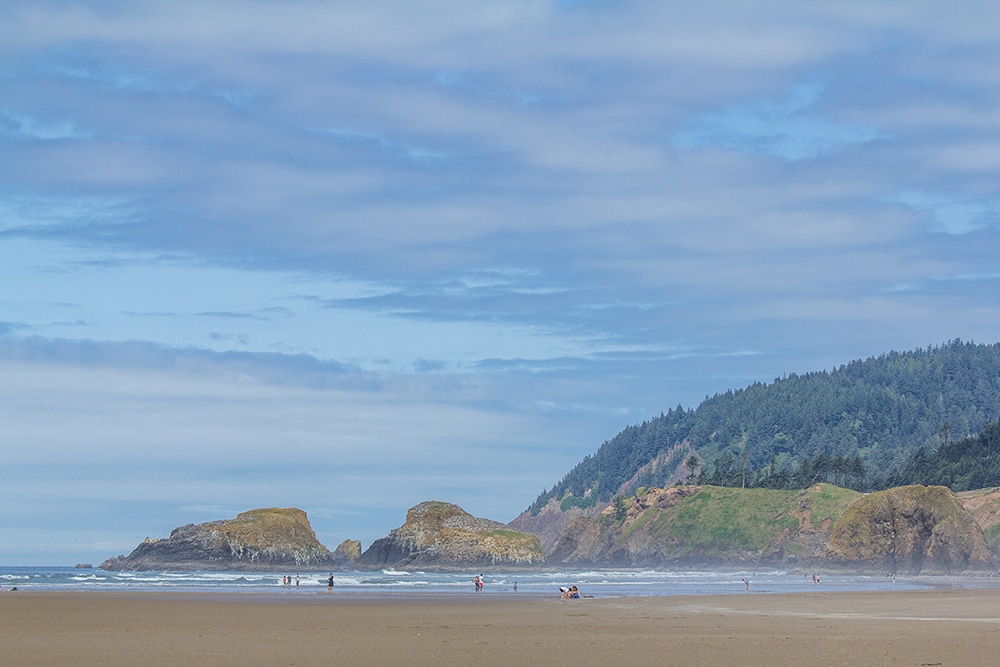 Cannon Beach, Oregon is one of the prettiest beach towns you'll find, even though you'll never end up swimming there! The Oregon Coast, nicknamed "The People's Coast," is 100% public, so you won't find any parking or entrance fees. Instead, you'll find captivating mountain views at every turn.
You can get to Cannon Beach in just 90 minutes from Portland, but if you prefer the scenic route, take Coastal Highway 101, filled with turnoffs and photo opportunities that will blow you away.
The most iconic part of Cannon Beach is Haystack Rock, where you'll find over one hundred tufted puffins. When the tide is low, you'll also find hundreds of sea anemones and starfish as tide pools are revealed. Cannon Beach is also very popular with families because the northern side of the coast has a natural shallow pool that allows kids to play without being caught in the tide. Don't forget a few buckets and tide-pool-hoping shoes.
This city is filled with the best toddler educational activities found in nature! For even more memories, visit the local kite shop and enjoy an afternoon of flying.
Jenner, California
Contributed by Allison Green of California Crossroads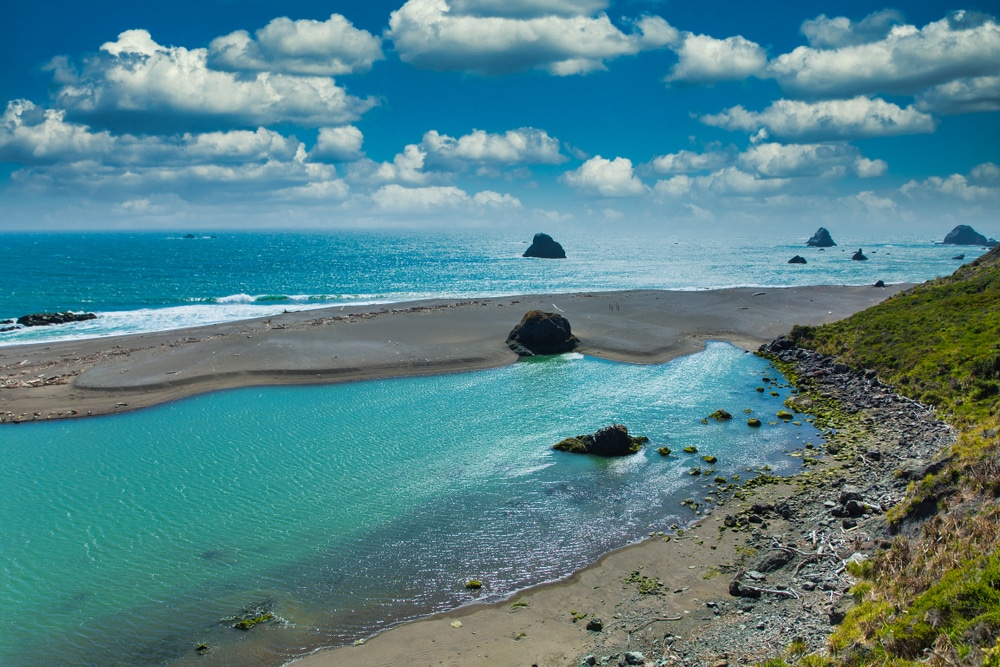 One of the best beaches in the USA is a little known beach in California along the famous Pacific Coast Highway Jenner Beach! The town of Jenner actually has two beaches because the Russian River meets the Pacific Ocean in the middle of the beach, creating two distinct beach areas.
One is Jenner Beach, which is wild and beautiful with tons of driftwood, whereas the other, Goat Rock State Beach, is all about the stunning sea stacks and rock formations — it looks more akin to the Oregon Coast than California.
Northern California beaches are beautiful, but they tend to be more wild and rugged than other beaches in the US, and they are definitely more foggy! Bring some nice warm layers and while you can definitely enjoy a day out at the beach, you likely won't catch much of a tan or want to jump in the icy Pacific, but the views and the sunsets here are so beautiful you won't find yourself minding much!
San Onofre State Beach, California
Contributed by Ale Leon of Sea, Salt & Fog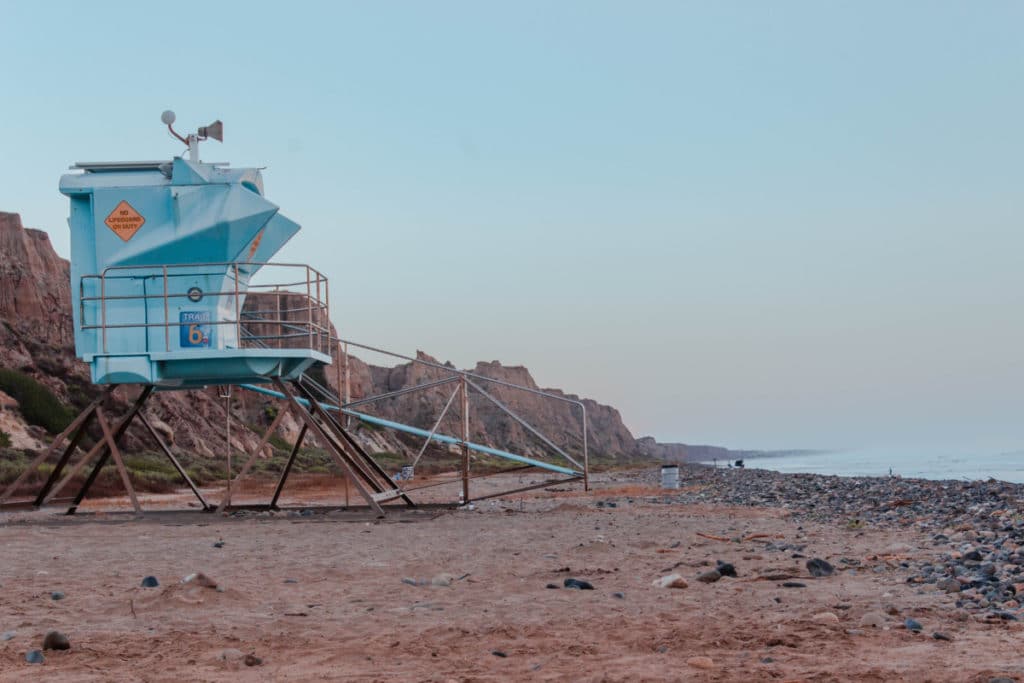 San Onofre State Beach is located about an hour to an hour and a half drive from San Diego and Los Angeles along I-5 in sunny southern California. Whether you're looking to surf, fish, play or spend an easy day at the beach, San Onofre delivers. 
The state beach is divided into several areas, but my favorite is the San Onofre Bluffs. From the bluffs you get stunning views of the Pacific Ocean, but the real beauty is once you make your way down to the beach itself. Here, you're likely to have a stretch of sand all to yourself!
Fun fact, San Onofre is one of the beaches mentioned by the beach boys in their famous Surfin' U.S.A song!
When visiting the Bluff's, there's a $15 per car day use fee, but there's plenty of parking along the many trails that lead you down to the beach. A lot of the trails are pretty rocky and steep – try trail 6 for a more mellow walk down.
Gulf of Mexico Best Beaches
Anna Maria Island
Contributed by Jacquie Hale from Flashpacking Family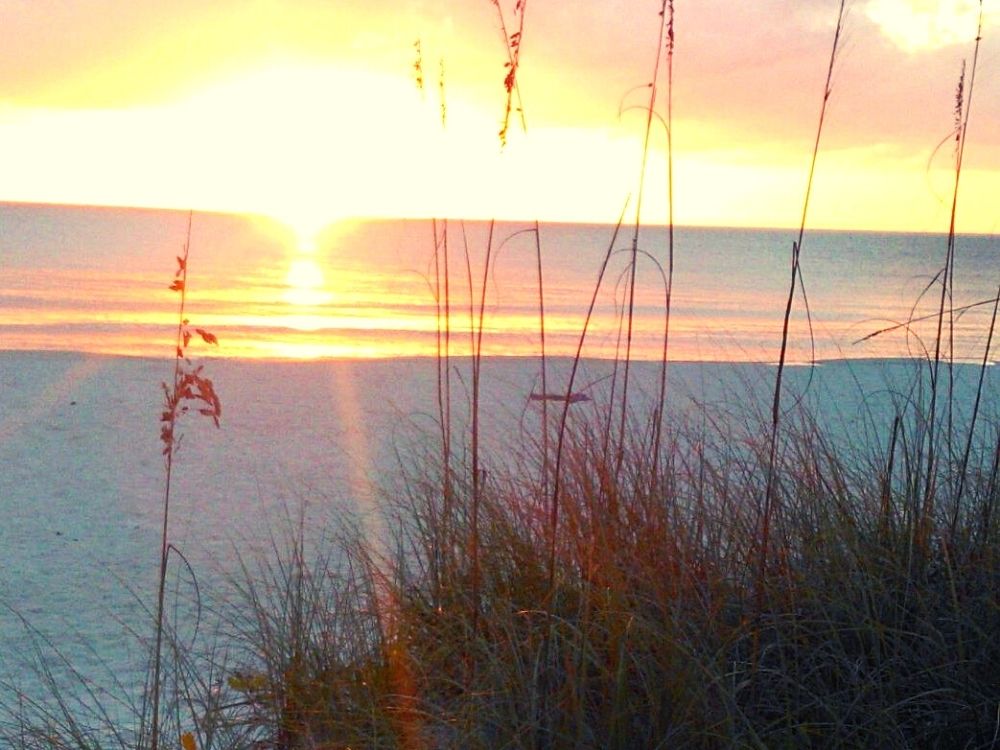 Anna Maria Island is a small, 7-mile-long barrier island that lies off the west coast of Florida close to Tampa. Until 1921 when the Cortez Bridge was built, Anna Maria Island was only accessible by boat which, in part, helped to slow down development.
Nowadays it is easy to reach the island by taking the Anna Maria Island Bridge, but it has managed to maintain a lot of its Old Florida charm thanks to strict building restrictions in place. It is the perfect vacation destination for those looking for a laid-back beach vibe.
There are several beaches along the western shore of Anna Maria Island, each with their own charm, but it is the slightly less-visited Bean Point Beach at the northern tip of the island that is the best if you are looking for a quieter beach.
To access the beach, you can park in one of the few parking spots around Fern Street/Gladiolus Street and Jacaranda Road and walk the rest of the way. There is no dedicated car park and there are no facilities, but this adds to the charm. It is the perfect spot to take a picnic and enjoy a sunset.
Sanibel Lighthouse Beach, Florida
Contributed by Lori Sorrentino from Travlin Mad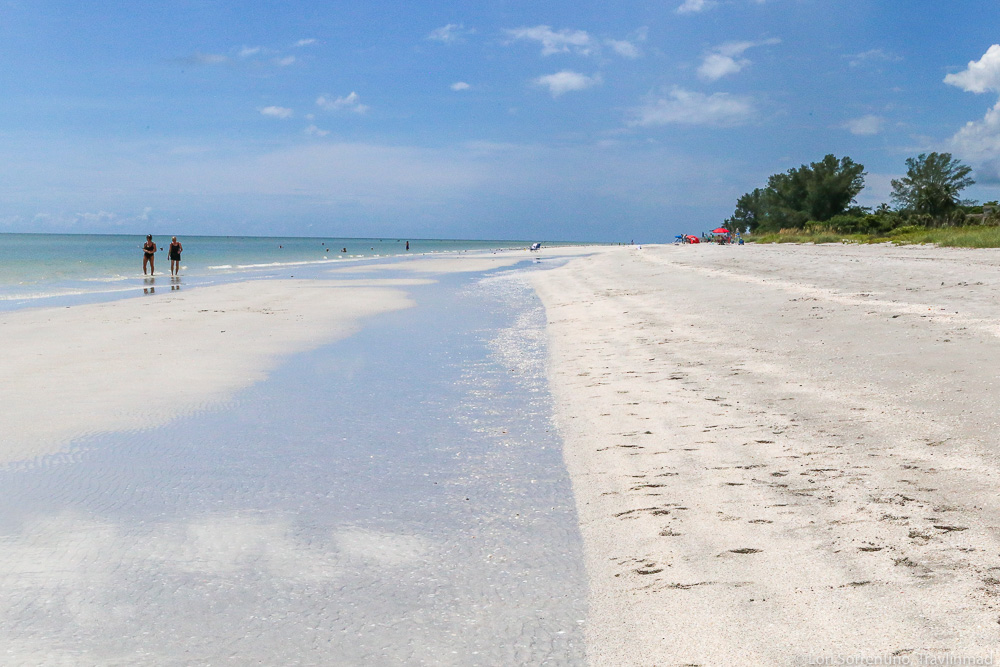 Just off the coast of Ft. Myers, Florida in the southeastern United States lies the island of Sanibel, a barrier island that was cut in two by a hurricane years ago, separating it from Captiva Island by a narrow inlet. It's the laid-back kind place that fits a sandy tropical vacation perfectly, where families can play in the sand and comb the beach for shells.
Sanibel Island beaches are lined with palm trees, not high-rise hotels, and known for their gorgeous soft white sand and calm waters, perfect for swimming. But most importantly they have some of world's best shelling. In fact, Sanibel is known as the Shelling Capital of the World for the thousands of colorful seashells that wash upon its shores each day. Bring a bucket or bag to collect all your treasures.
You'll find the best shells on Sanibel's Lighthouse Beach before the sky lights up at the end of the day with a fiery sunset. The beach wraps completely around the eastern tip of Sanibel and encompasses the charming Sanibel Island Lighthouse and a small fishing pier on the opposite side where locals fish and pets can run around. Metered parking on Sanibel beaches is $5.00 per hour and parking lots offer plenty of spaces.
Go early, do the Sanibel Stoop and scoop up handfuls of these gifts from the sea. They're the perfect souvenir to bring home.
Clearwater Beach, Florida
Contributed by Pauline Vergnet from BeeLoved City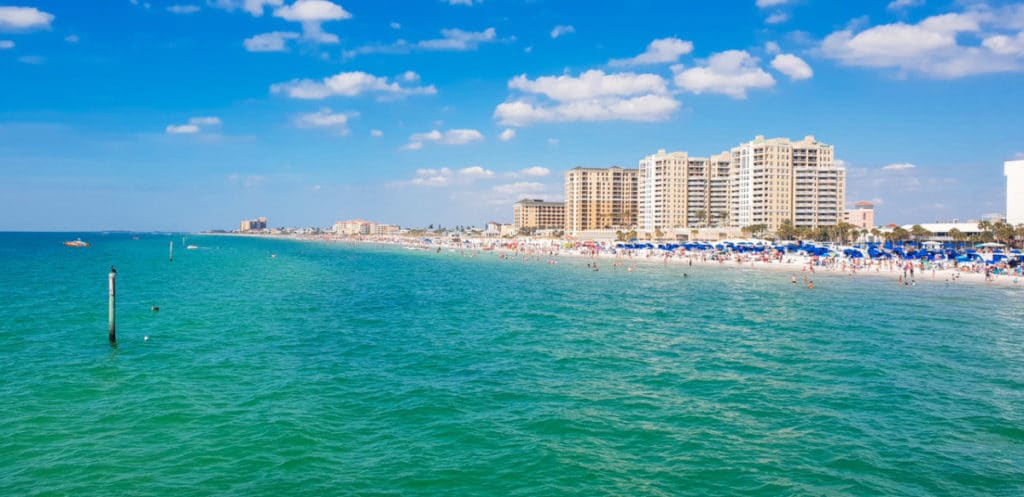 Located on the gulf of Mexico, Clearwater Beach was awarded the title of best beach in the USA by Trip Advisor, in 2019.
You can easily get there from St Petersburg or Tampa by car. It takes about 30 minutes from both locations. Once you get to Clearwater Beach, you can park in one of the parking garages. If you are on a budget, you can opt for one of the beach parking lots right by Sand key Bridge.
Although you will need to walk 20 minutes to get to the beach, it will also give you the chance to discover Sand Key Park, one of the most unique things to see in Clearwater Beach.
The beach itself is free but if you want to rent one of the tents or umbrellas, you will need to pay extra.
Clearwater Beach is incredibly beautiful. The sand is white and soft, the water shallow and blue… it looks like a postcard!
To see it from its best angle, make sure to walk up to Pier 60. From there, you will discover stunning views over the beach! It's also a popular sunset spot!
You can also walk along the promenade. It's 3 miles long and a very pleasant stroll. Right next to it, you will find loads of restaurants, bars and ice-cream parlours! Perfect for quick snacks or romantic dinners!
Siesta Key Beach, Florida
Contributed by Disha Smith from Disha Discovers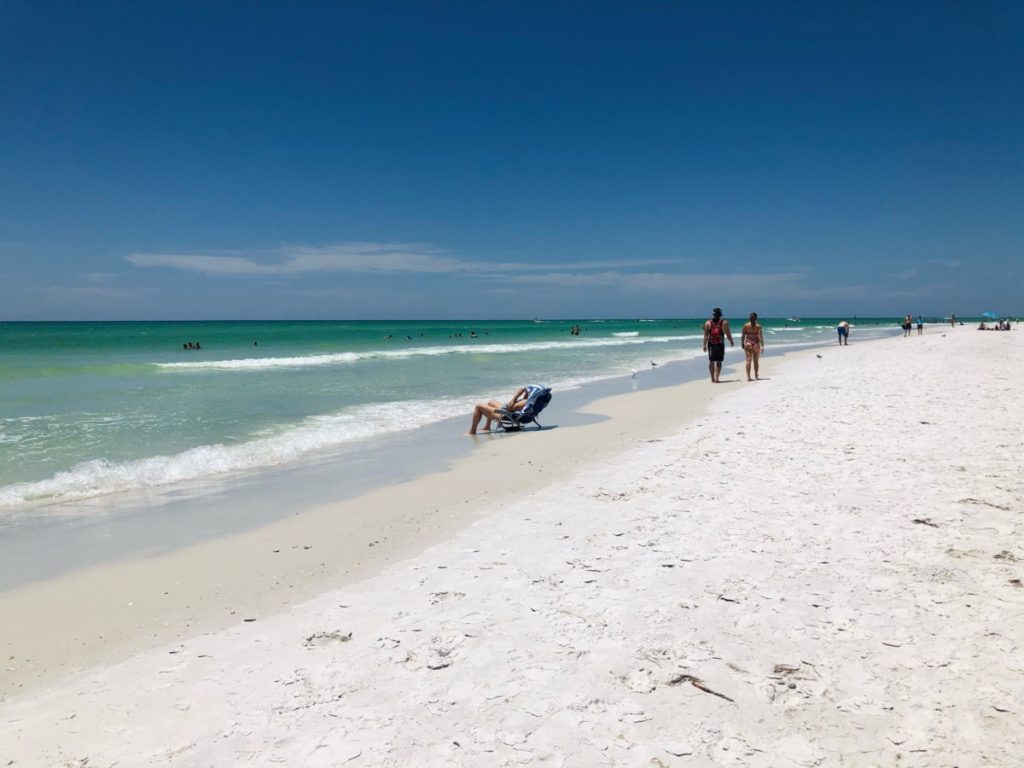 There are so many incredible beaches in the US and Siesta Key Beach is one of them. It was actually ranked the number one beach in the USA by TripAdvisor's Traveler's Choice Awards and the number eleven beach in the world by TripAdvisor as well.
The sand is a gorgeous white color and feels powdery and soft. The water is a beautiful turquoise color and is very clear. In fact, it's hard to believe that you're not in the Caribbean! Pull out your beach chair to sit and spend hours dipping your toes in the sand.
Siesta Key Beach is easily accessible from Sarasota as it's less than a 20-minute drive. You can also visit from Orlando and Tampa and it's the perfect weekend trip in Florida. The drive is a little further, but it can easily be done as a day trip.
Parking at Siesta Key Beach can be a little tricky, but you should be able to get a parking spot fairly easily if you're willing to plan things out a little. The sooner you get to the beach, the more likely you are to find parking. Parking at Siesta Key Public Beach (948 Beach Road) will be your best option as there are hundreds of parking spots available.
Parking is free and there is no fee to enter the beach.
Rockport Beach, Texas
Contributed by Bruna Venturinelli from Maps and Bags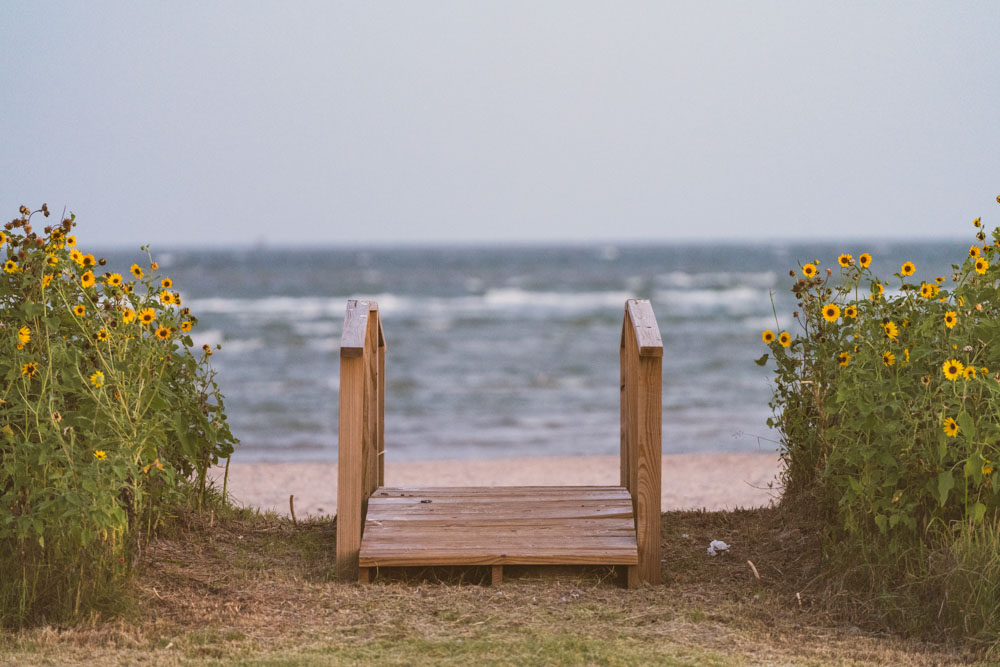 Rockport is a lovely beach town in Texas, only 3 hours drive from Austin and Houston. While Texas is not your go-to beach vacation spot, Rockport Beach is here to change that.
That's because this spot is Texas' first one-mile long Blue Wave Beach and one of the four beaches in the Gulf of Mexico with this certification. Receiving this certification means the beach is not only clean but also is responsibly managed and has a focus on social and environmental protection. Be sure to pack out anything you bring in!
If that wasn't enough, Rockport Beach is accessible to people with disabilities and has excellent facilities, such as restrooms, picnic areas, playgrounds, and more.
If you're getting there by car, you must park your vehicle in one of the designated parking areas and pay a small fee ($5 daily, or $20 annual). However, there are no fees for visitors on foot or bicycle.
Great Lakes Best Beaches
Oval Beach, Saugatuck, Michigan
Contributed by Jen Rigley from Flourishing Over Fifty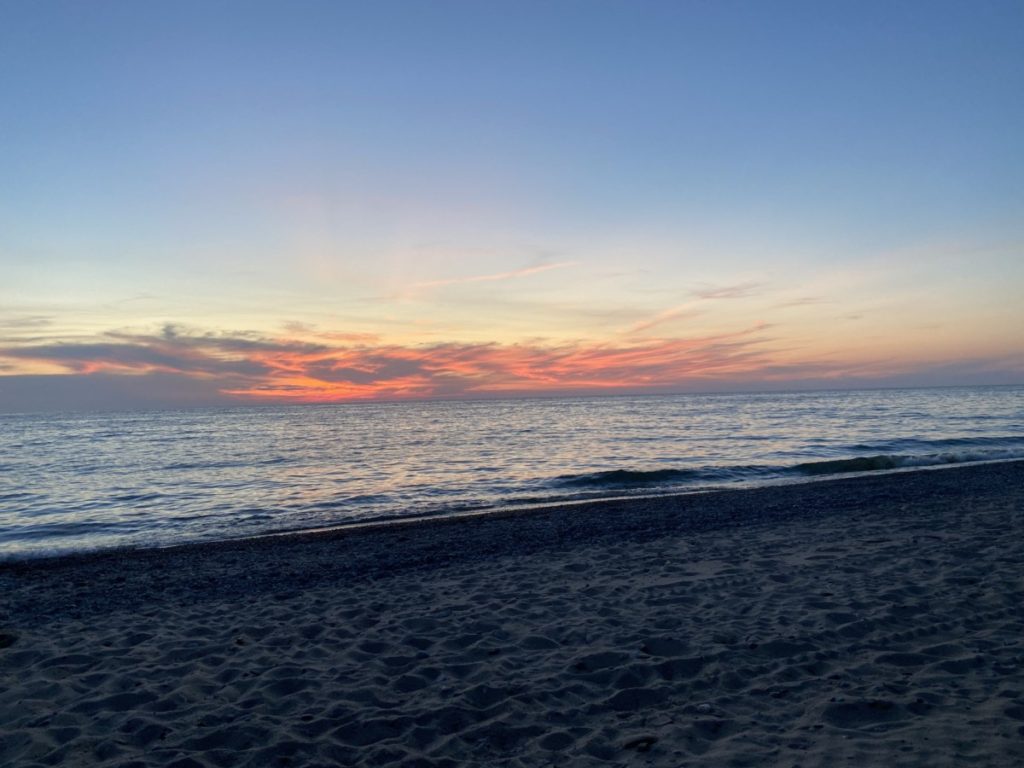 Not many people expect to think of Michigan when they are planning their next beach vacation. But it's a bit of a local secret – Oval Beach in Saugatuck, Michigan has been voted as one of the top beaches in America by Conde Nast Traveler.
Oval Beach is just a short drive from downtown Saugatuck, on Perryman Rd (follow signs to beach). The beach is open year-round and parking fees are only required during the summertime ($10/day or $50 for the season). Try to arrive before noon as the beach does get crowded on summer weekends.
Once you've arrived and set out your beach blanket, there are plenty of options to explore.  On the North side of the beach you can take a long walk with the lake on one side and dune grass on the other. You can also take a more strenuous hike by walking across the parking lot to the dunes.  Another option is to rent a kayak or SUP at The Water's Edge, a unique shop right on the way to the beach (they will deliver the kayak/SUP to the beach).
With parking available right at the beach, options for swimming or hiking on the dunes, changing rooms and a concession stand, this is a must-visit beach for families.
Silver Beach, Michigan
Contributed by Sherry Collin from Travel Mi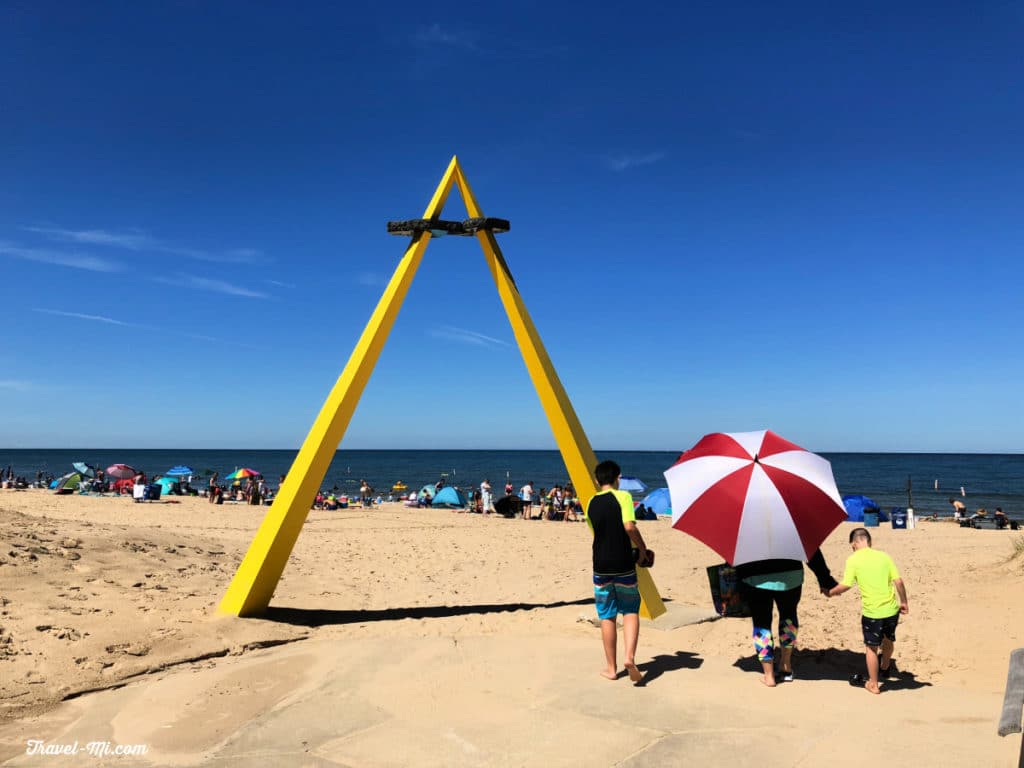 Silver Beach, located in St. Joseph, Michigan, is one of the top beaches in the Mitten State. People travel from across the state and Chicago to dig their toes in the soft sand and jump in the warm summer waves of Lake Michigan.
Visitors can park on the bluff for free and walk down the stairs to the beach. If close parking is your preferred method, be sure to arrive by 10:00 a.m. during the warm summer months as the large lot by the beach, playground and pier will be full by mid-morning. There is a fee to park in this lot but it is worth it if you have food, chairs and small children to carry to the beach.
The restrooms are clean, large and within close range of the beach. One can also walk the scenic St. Joseph pier to watch boats motor in and out of the channel while taking a break from sunbathing. Don't forget to bring our favorite sand and water-friendly easil- packable microfiber towel. Be sure to grab a slice of pizza at the nearby Silver Beach Pizza!
Silver Beach is one of the best beaches in Michigan as the salt and shark free waves make for a fantastic sunbathing and swimming experience.
Hawaii's Best Beaches
While Hawaiian beaches are a bit removed from the rest of the contiguous US, getting there is worth your while. The best beaches in the US just might be found on the Hawaiian Islands. The benefits of Hawaiian beaches are the paradise of island life, with the ease of travel within the country. Read here for more of the Best Beaches in Hawaii.
Lanikai Beach, Oahu
Contributed by Melissa Conn from The Family Voyage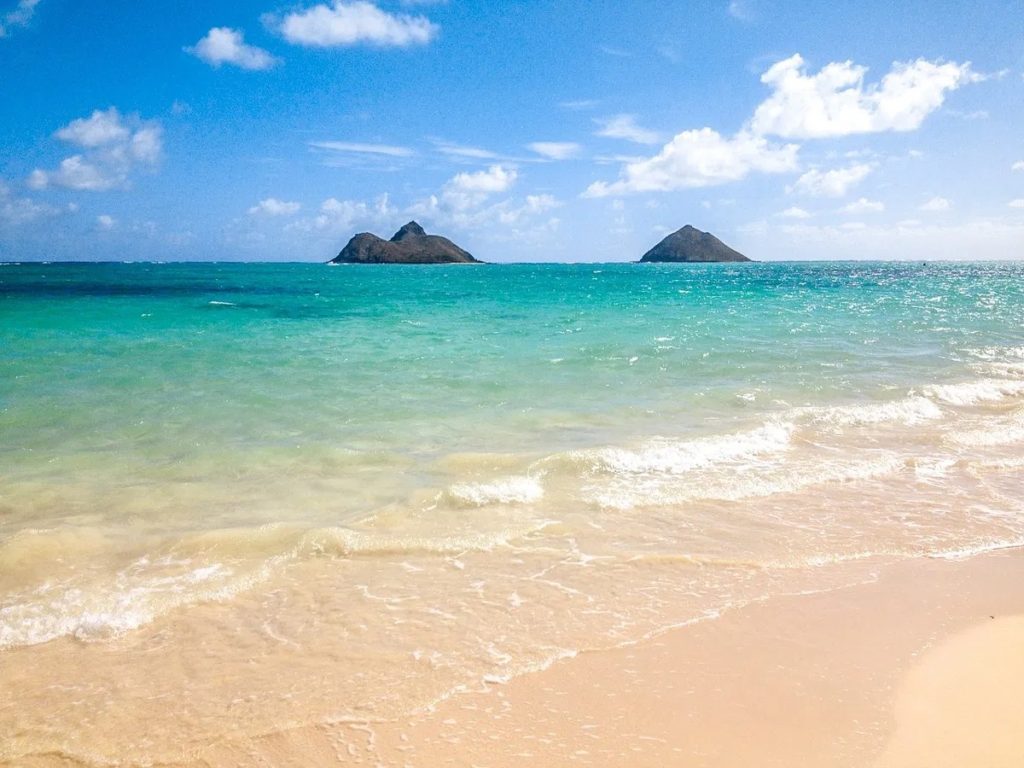 Lanikai Beach is on the Windward Coast of Oahu. There is no dedicated parking, so park in the surrounding neighborhood but please be respectful of local residents. Parking can be extremely difficult on weekends, so it's best to go on weekdays. There is no fee to access Lanikai Beach (or any other beach in Hawaii, which only has public beaches).
Lanikai is a spectacular, pristine beach, with bright white sand and beautiful turquoise water making it one of the best beaches on Oahu. It has a very shallow entry with flat water, making it a great choice for casual splashers and families with young children. But just off-shore, Lanikai has abundant coral heads that are home to brilliant colored fish and even sea turtles. Avid snorkelers can don fins to swim very far out thanks to the calm waters.
There are no services at Lanikai Beach, though you can access public restrooms and showers at nearby Kailua Beach.
Hapuna Beach, Big Island
Contributed by Jamie Harper from Fly by the Seat of Our Pants
Hapuna Beach State Recreation Area is the beach that paradise dreams are made of. The crystal clear water, soft and abundant sand and the palm trees moving in the breeze will make you stop to savor every moment.
Hapuna is on the west shore about 1 hour north of the airport on the Big Island of Hawaii. It is surrounded by Beach 69 (tons of climbing boulders), Puako (great snorkeling) and Mauna Kea beach (long sandy stretch of paradise).
While most of the beaches in the area are idyllic, Hapuna Beach offers restrooms and outdoor showers for cleaning up available. You'll find snorkel, boogie boards and beach rentals and a snack bar at Three Frogs Cafe. The landscape around the beach is groomed and the path to the beach paved for easy access for all.
The calm seas at Hapuna are the perfect place to practice your snorkeling. Try going to the rocky sides to find more fish and coral. Bring your own snorkel set (and our favorite snorkel mask for kids!)or rent at the top of the beach.
Hapuna Beach is a State run recreation area. It costs $10 per car for non-residents (free for residents) to park in the abundant parking area. It may fill up on weekends so come early.
Red Sand Beach, Maui
Contributed by Sophie and Adam of We Dream of Travel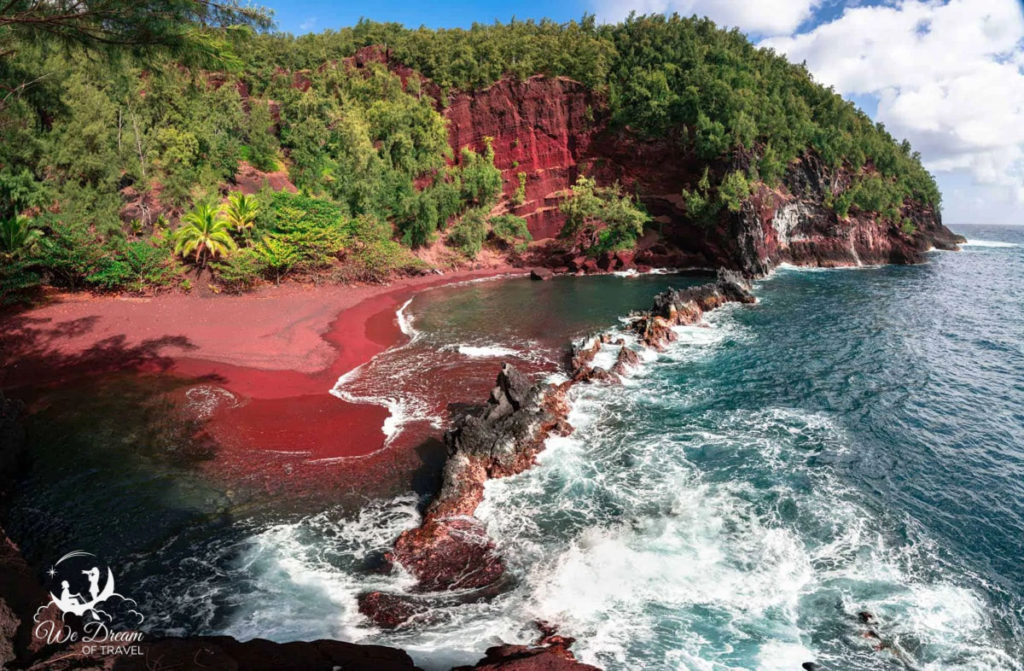 A visit to Red Sand Beach in Maui feels like stepping onto another planet.  As the name suggests, this spectacular beach is made up of vibrant red sand.  Add to this verdant green vegetation and azure waters and you'll soon see why Kaihululu Beach, as it's locally known, is one of the best beaches in the USA.
It was once a local secret, however it is pretty well known nowadays and is one of the best photo locations in Maui.  You can find it's exact location on Google maps but reaching this natural wonder can still be a bit tricky!  To get to the Red Sand Beach, you'll need to follow a dirt trail from nearby street parking next to the community center.  It is a short 10 minute walk to reach the beach and if you arrive early enough you'll likely have it to yourself!  Make sure to have Maui Revealed guide book to find this hidden gem. It is worth noting though that clothing seems to be optional here.
Best Beaches in the US
With so much sun, sand and sea to choose from in America, where will you take your next vacation?