Our trip to Arches National Park with kids quickly became one of our favorite Parks to visit! Why?
There are so many arches in one small location.
Arches is so accessible from Moab which is a city with tons of accommodations, activities and food options.
The Arches are unique and awe-inspiring
Short and simple hikes made the best sights easily accessible for our young family
The kids love climbing on rocks not just prescribed trails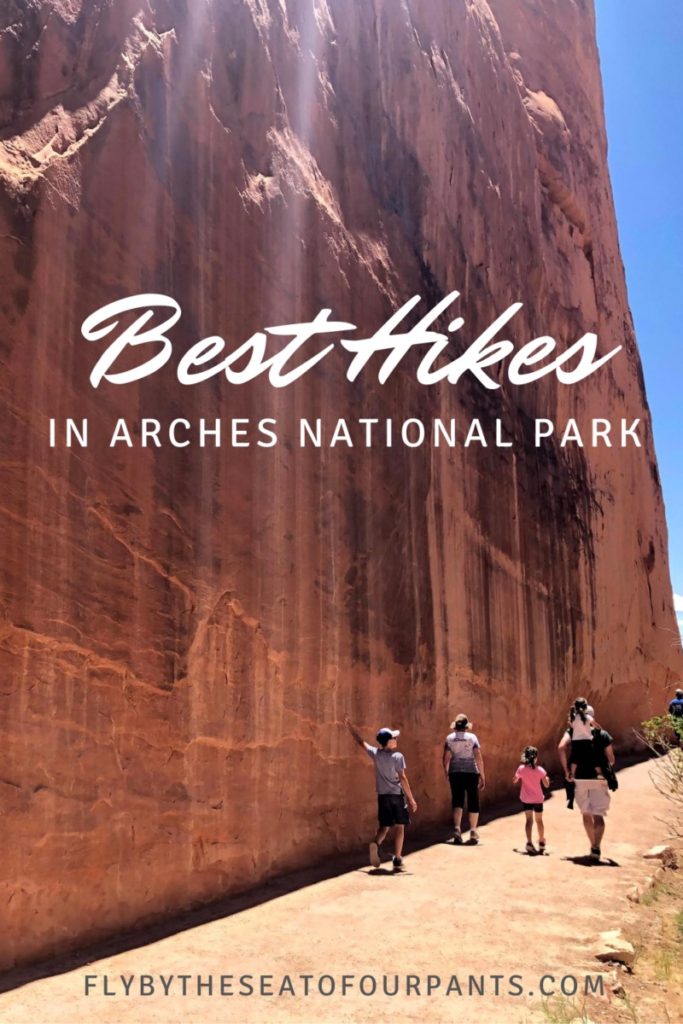 Our top favorite hikes in arches so you can prioritize. This is written in our order of favorites, so work your way through the list from the top to get the best Arches.
1. Double Arch (1/2 mile RT)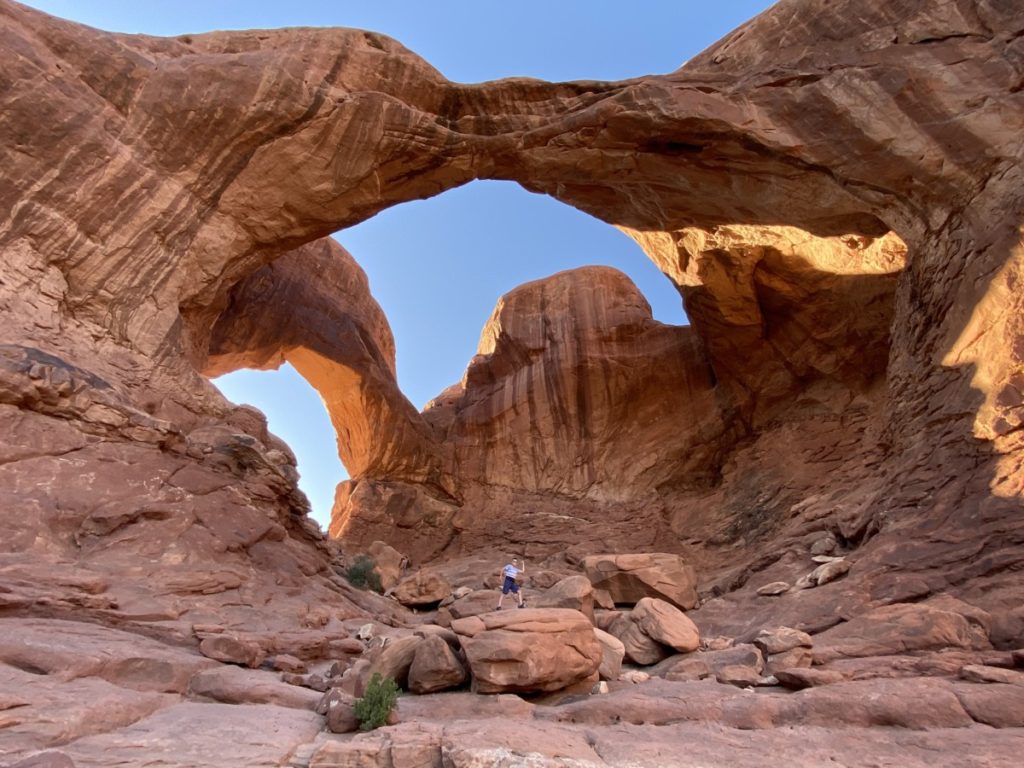 If you only see one arch in the National Park, make sure it is this incredible double rainbow. Located in the 'windows' section of Arches, you can easily access the parking lot and trail head. Even just driving in the parking lot you can see the two arches. Since, it is easily viewed it from the parking lot, the hike is super short – only 1/2 mile round trip. The kids didn't even realize we were 'hiking' as they ran toward the rock-bow .
Once you hike right under, on and inside this arch, you will be enamored. This was the highlight of our Arches tour. We saved it for last, but I would make sure to not miss it!
While you are seeing Double Arch, look to the on the other side of the parking lot. There you can see Turret Arch and the North Window. If you hike out .7 mile, you will also be privy to South Window as well as the view of North and South window together from turret window. We loved climbing in and through all 3 of these massive arches. Hiking the loop to the Windows is a mile round trip.
One Parking lot- 5 arches. You will be so happy you stopped here!
2. Delicate Arch (3 miles RT)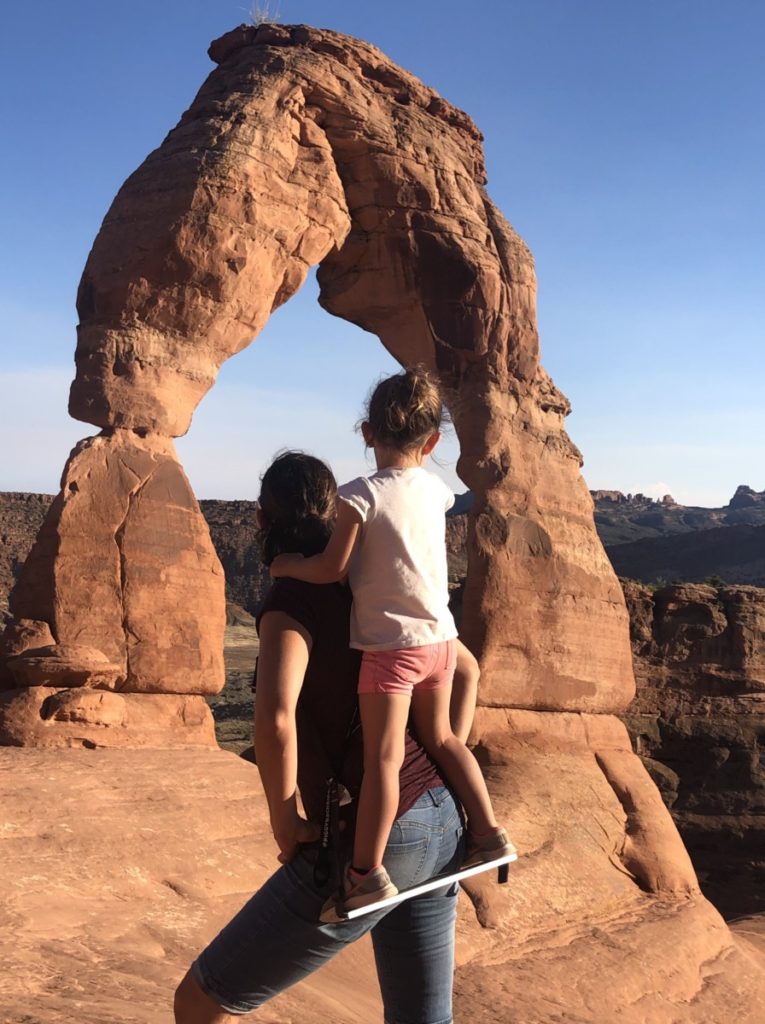 This is the classic Utah Arch. It is the state symbol and you'll even find it on the license plates. And for good reason! It is spectacular.
You can view the arch from a short 1/4 trail in the Upper Parking lot. However, from this view point, you cannot access the arch. And in my opinion, you REALLY want to get right up, under and inside Delicate Arch.
The entire hike, you can't ever get a glimpse of Delicate Arch. You'll hike right next to a mountain side and suddenly the arch appears and you are so close to it.
Delicate Arch stands alone on a steep precipice with a steep valley surround it. With one arm of the arch looking like it will snap in half with the slightest breeze you will be amazed.
You can walk right out to get a photo under the arch (or to propose like we witnessed!)
Besides the amazing Arch at the end of this hike, the actual trail is super engaging and fun. My kids didn't complain about this hike at all. You start on gravel trail and walk by ancient hieroglyphs on the Rock Art Wall. After the gravel the trail opens up to a slick rock terrain. My kids loved finding the cairns, exploring different rocks, ravines and trails.
This is a hike with very little shade or protection from the sun. We started the hike at 7 pm to avoid the heat of the day and the relentless rays of the sun. We were treated to a beautiful sunset as we hiked down. I know many people take photos of the moon rise behind the arch, but our kids couldn't stay out that late.
3. Corona Arch (1.7 miles RT)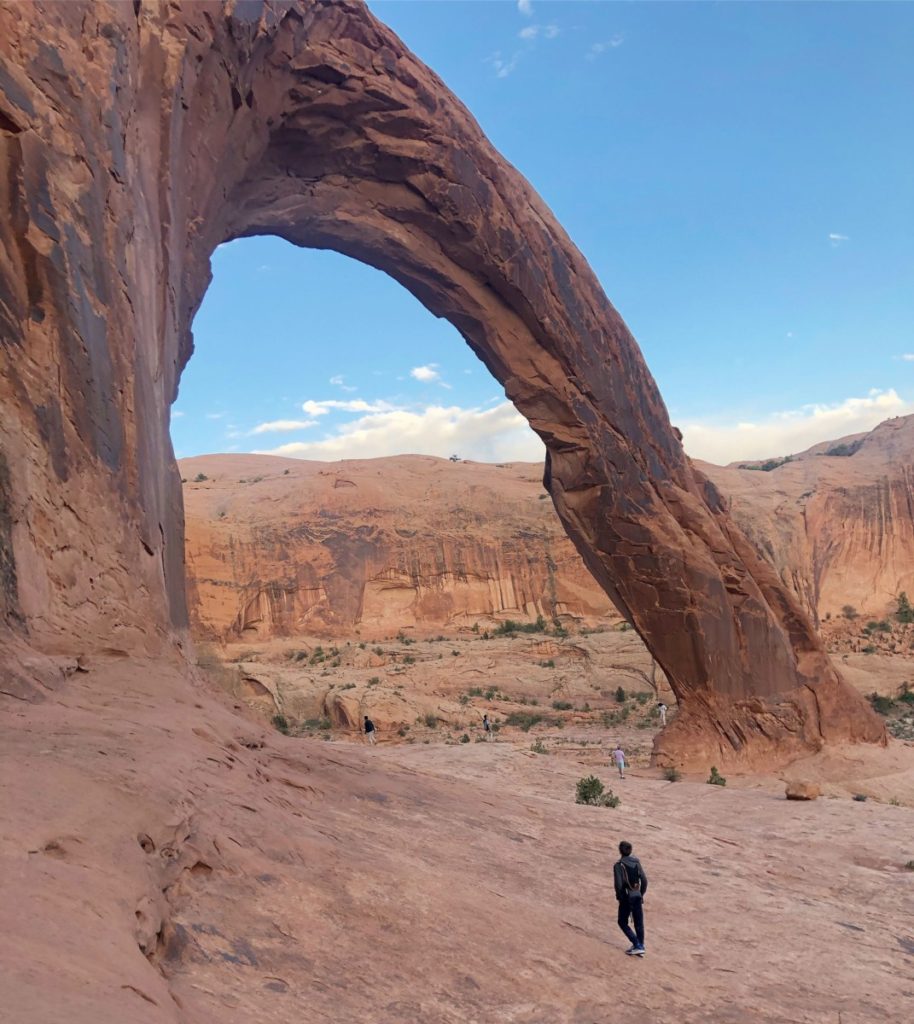 Corona Arch is not actually in Arches NP, so not as many people hike or view this. But it is definitely worth the small detour to see this magnificent Rainbow.
It worked out perfectly for us, when COVID shut down the national park, to still get outside and hike. Corona arch trail head starts 20 minutes outside of Moab, 10 miles down highway 279 (also called Potash Road). It is across the road from Gold Bar group campground. If you are at the campground you missed it. You'll find outdoor toilets at the trail head.
Corona Arch does have a small section of hiking with a rope and a short ladder. I was a bit worried about our kids capability to hike this and if they would be safe. I did not need to worry! The rope and the ladder just add to the fun of the hike and are not actually necessary to climb the rock. Even our 3-year-old was able to easily hike up the slick rock with out the use of the rope or short ladder, but they did love finding the ladder and trying to use it.
As you approach the massive Corona Arch, you will see Bowtie Arch. You'll be amazed by this incredible circular hole in the rock.
Once we reached Corona Arch, we loved walking right under the arch and enjoying the view from the other side of the arch as well. This short hike has a massive payout.
There isn't much shade, so if it is summer I suggest early morning or evening.
I did see some people on top of Corona Arch, so you can continue to hike up. However, I would never allow my kids on top of it, so we didn't consider that.
4. Landscape Arch (1.8 Miles RT)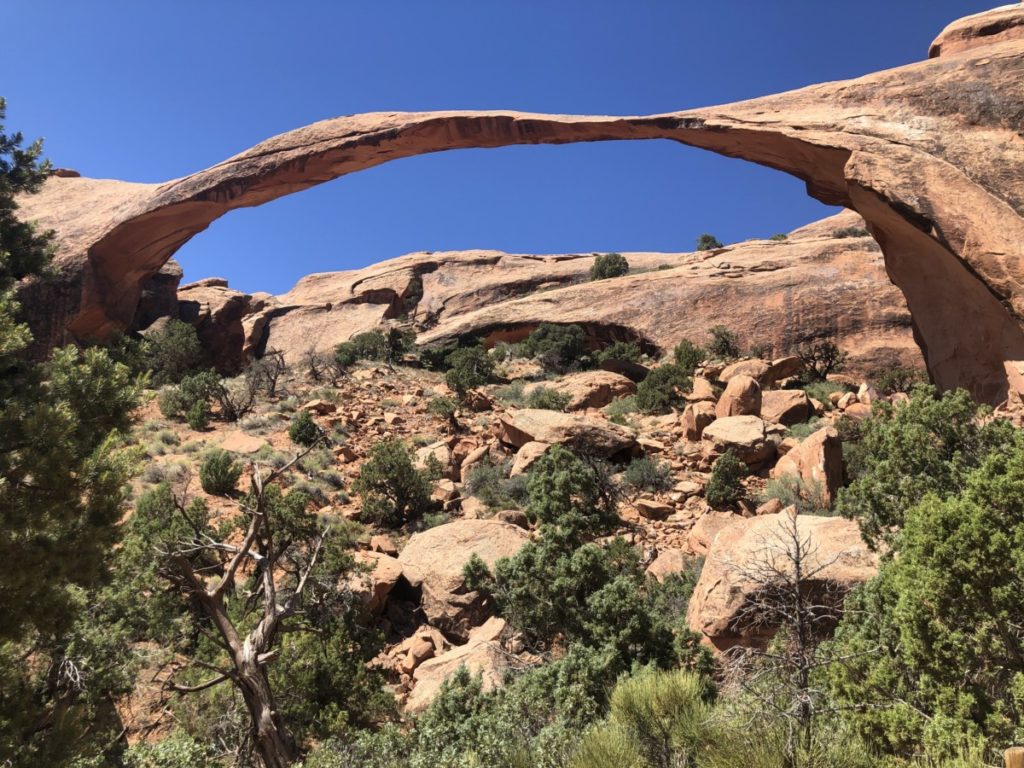 The trail to Landscape Arch in Devil's Garden Trails has interesting rock wall, sandy pits and rocky climbs. It is very well marked while a large parking lot.
Within the last 50 years, this arch had a large piece break off (as people were sitting under the arch!!!) So now it looks even more delicate (and no one is allowed under the arch).

I'm guessing this arch will collapse in the near future, so get out there and see it before it is gone forever.
The Landscape Arch Trail has several short off shoots that take you to Pine Tree and Tunnel arch. We loved playing under Pine Tree arch and highly suggest the short detour to see this.

5. Sand Dune Arch (.3 mile)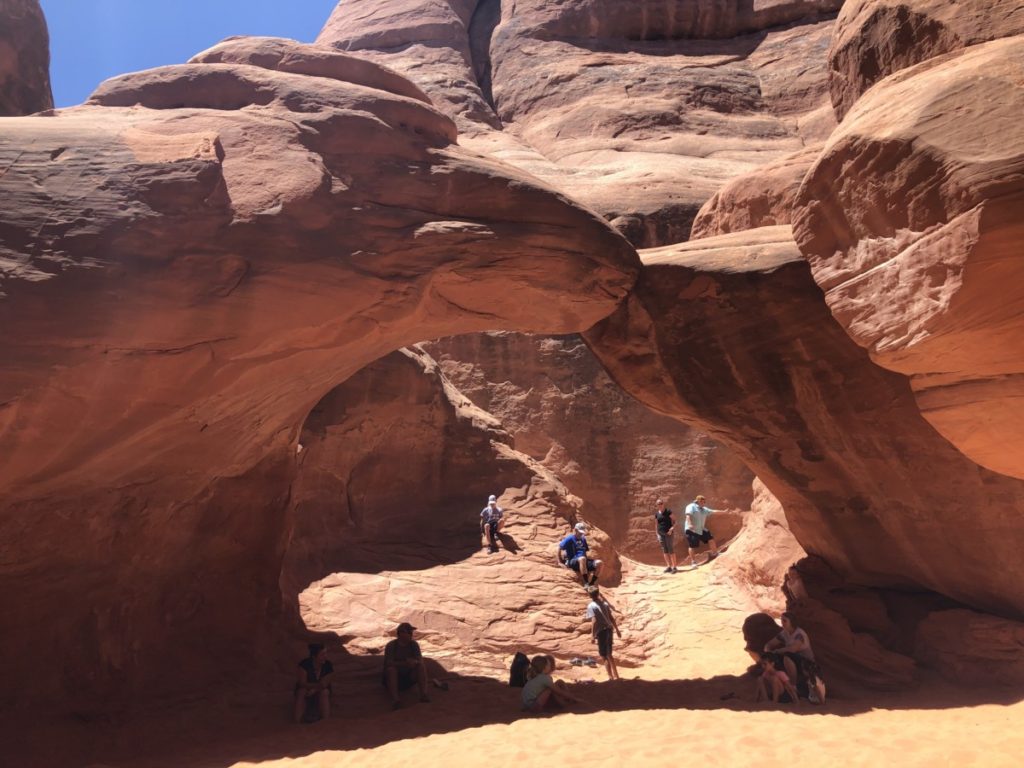 Sand Dune arch is still my kids favorite arch. Why? Sand Dune arch is a Sand box under the shade of this arch. There are climbing slick rocks for my big boy, and a plethora of cool sand for the kids to play in. My girls spent an hour just running their hands through the same as we took in the views.
While you can't see the arch from the parking lot, it is just a short .3 mile walk around a large stone wall. Hiking through the sand can be tricky and sluggish. If its cool enough, just go barefoot, it feels amazing. This is a super short and unique trail. Perfect for kids of all ages.
6. Broken Arch (1.2 RT)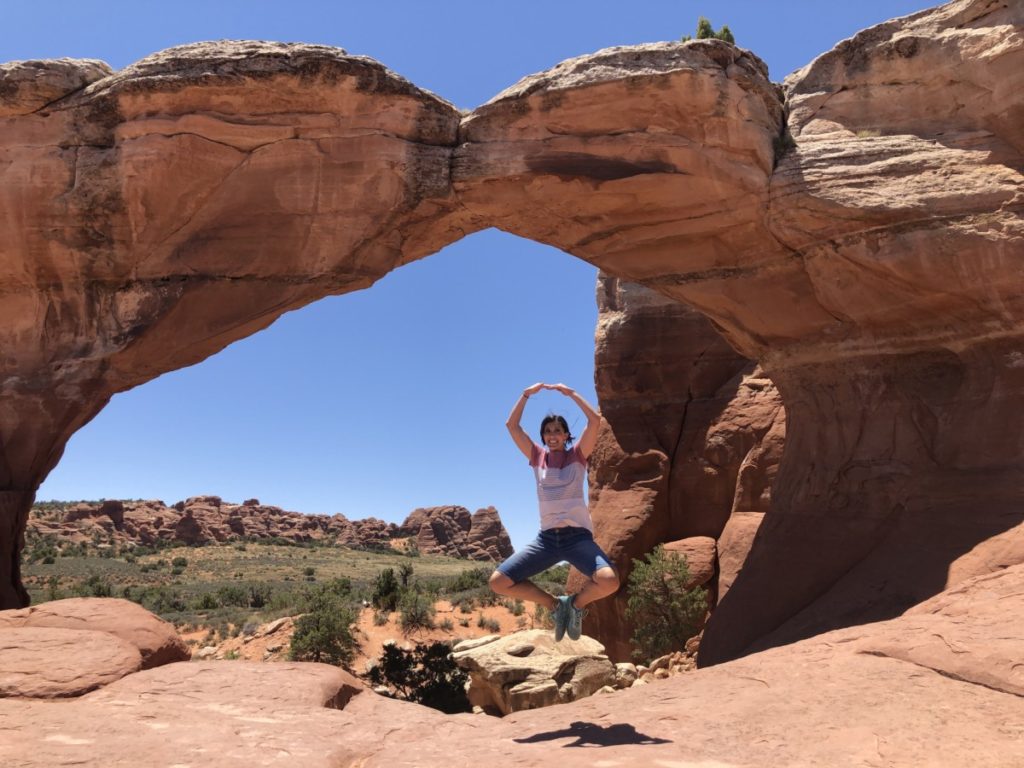 Broken Arch Trail is accessed from the same parking lot and trail head as Sand Dune Arch. Instead of going right to Sand Dune Trail, you'll head left. You'll see Broken Arch from the parking lot, so you'll know exactly where you are headed.
This hike has no shade as you are walking through a wide open desert field. You can see the arch from pretty far away – even from the parking lot. If the kids are tired, seeing this from a distance is fine. But, if they can make it, this arch is incredible to hike under and around.
You'll see exactly how it got its name when you get up to it.
Skyline arch, although its a short hike, isn't really worth your time. It's better from right outside your car near the road. when you hike up to it, you can barely see the arch.
7. Park Avenue (1 Mile)
Ok, ok, so this isn't actually an Arch. Plus, I didn't give you the round trip distance, for a reason. If you are traveling with someone else, you can park one car at Park avenue and another at the Courthouse tower.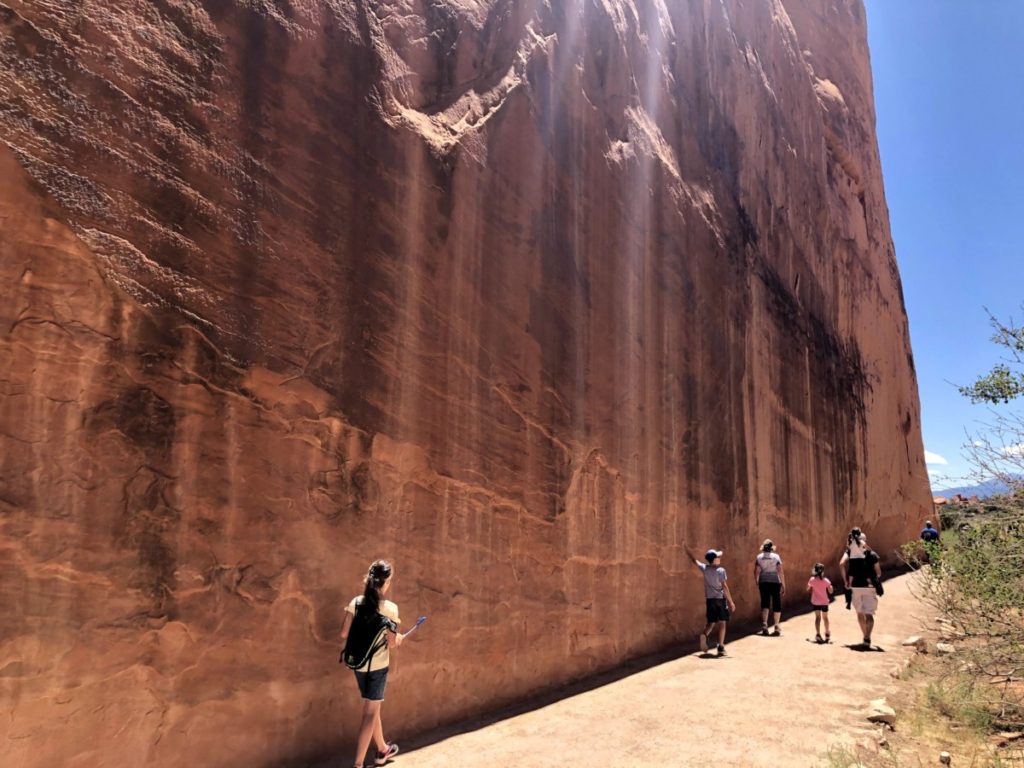 Make sure to start at Park avenue, as the trail drops hundreds of stairs from here and hiking down is much easier!
The massive structures right at the beginning of the park are awe-inspiring. from flat ground, sheer and steep rocks seem to shoot straight up out of the ground. Find the Three gossips, the organ and the Tower of Babel as you drive through.
We ran out of time and didn't actually get to hike this. But my husband and I did go to the park at midnight and saw the incredible night sky from here. If you get the chance to see the heavens from this location, I highly recommend it.
If you are interested in Short Hikes in Utah, check out this book.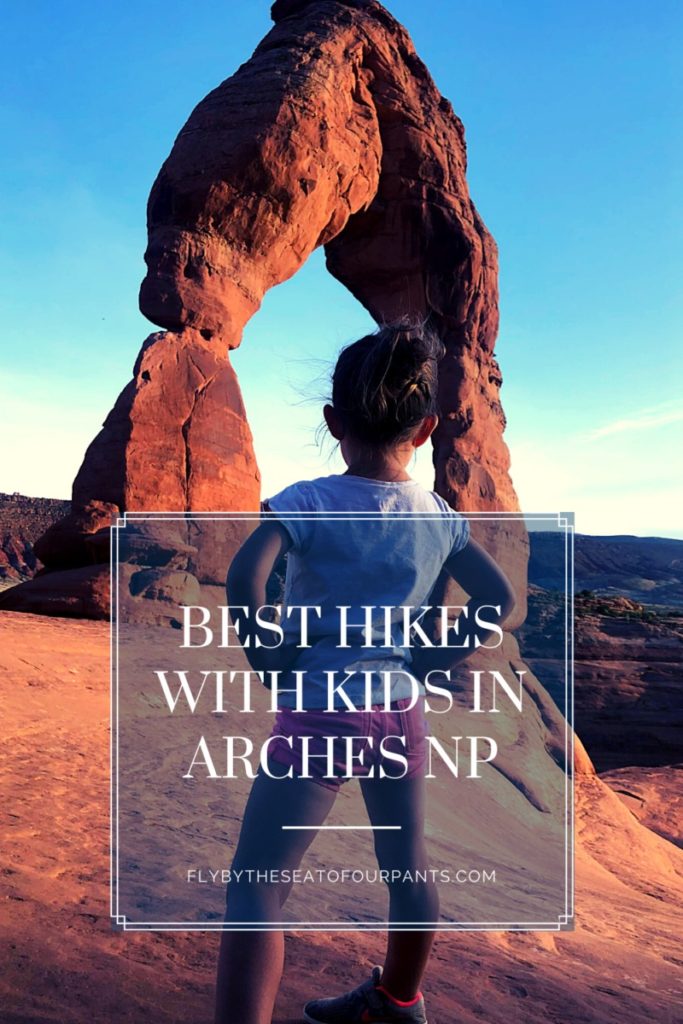 Where to stay near Arches
We found an affordable and perfect option for a family-friendly hotel at the Hyatt Place only 10 minutes from Arches.
What adventures to have near Arches NP
If you have more time after all the arches, make sure to take a Hummer Safari Tour through Moab Adventure Center.