**Hyatt Place Moab hosted our stay with kids in Moab in exchange for this blog post review. All opinions are our own.
We travel quite a bit and have tried nearly every hotel brand out there. One of our family favorite is Hyatt Hotels. Our recent stay with kids in Moab provides a perfect family-friendly vacation because of Hyatt Place. The Hyatt gave us the relaxation and luxury feel during our family vacation to the Utah National Parks.
Where to Stay with Kids in Moab?
When we went to Moab, we looked into several options for hotels. As soon as we found a Hyatt there we booked it! We love so many things about Hyatt Place and the Hyatt Place in Moab blew us away with all the family-friendly amenities.
What We Love about Hyatt Place
Free Breakfast
Many hotels offer free breakfast and our kids won't even consider it a hotel if it doesn't! But the Hyatt Place breakfasts are unique and delicious! They offer all the basics of continental breakfasts like cereal, oatmeal, pastries and fruit. On top of that, they have hot freshly cooked eggs, bacon, potatoes. They have so many varieties and toppings. Our kids feel like they are in heaven when we eat the buffet breakfast at the Hyatt Place.
During our stay with kids in Moab, despite COVID challenges, we still started our day with a free breakfast that gave us energy for our daily activities. The breakfast was hand picked by an employee in gloves and mask and delivered in a to-go sack.
Beds for Six
As a family of six it is often difficult to find hotel rooms that accommodate all of us. At Hyatt Place there is always 2 queen beds and a pull-out couch. Or you can opt for the king bedroom which still includes a pull-out couch. This makes it comfortable for all 4 of my kids to have a bed they fit in.
It is so nice to have more space, another bed, plus comfy couches for watching a show together.
We loved to stay with kids in Moab at the Hyatt Place. The openness of the room and 3 double beds make it the perfect family-friendly hotel.
Cleanliness and Quality
Hyatt hotels are always well maintained and very clean. The rooms are predictable and even if we are staying in a Hyatt in California or Rhode Island, they are familiar to our kids.
When we book at Hyatt, I know that we are going to have a dark and quiet night in clean and comfortable beds. I feel confident when staying at Hyatt that we will have a high-quality experience.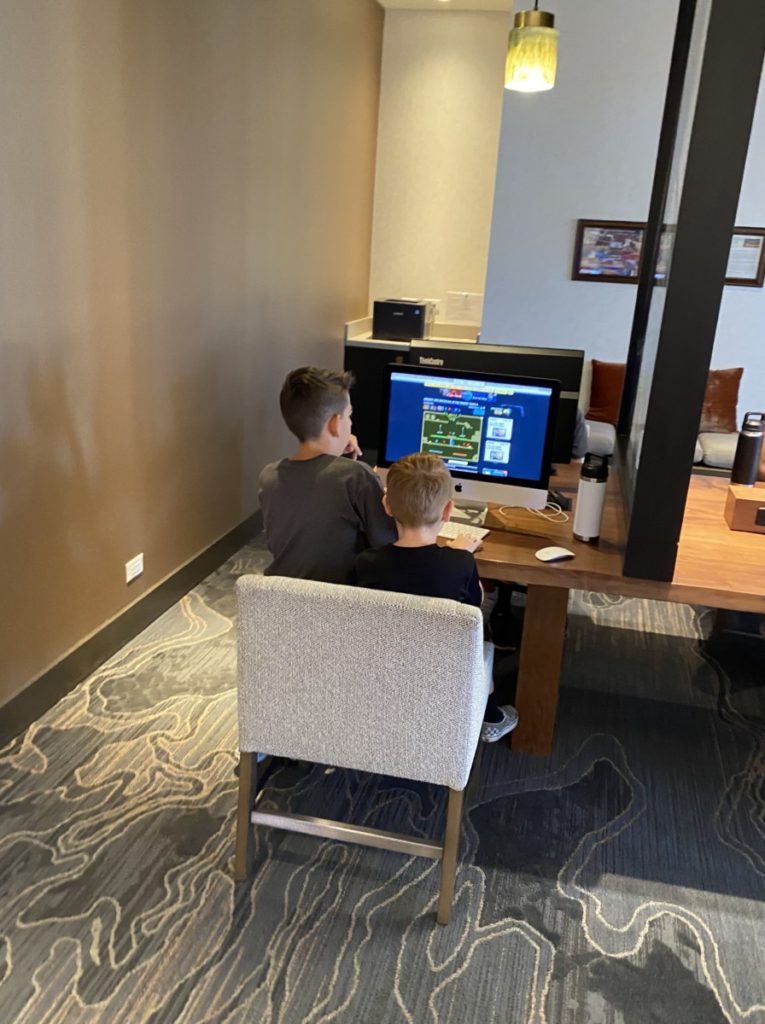 Hyatt Membership Benefits and Credit Card
We originally signed up for our Hyatt Credit Card just for the opening bonus (50,000 bonus points after you spend $3000). This was enough for us to stay in our local Hyatt Place for free for 10 nights!! (5000 points per night).
After we got our opening bonus and loved our first few nights in a Hyatt we continued to use the card exclusively. We earn a free night every 2-3 months.
Of all the hotel credit cards and loyalty point systems out there, the Hyatt is the best! The easiest and quickest way to earn free stays. Plus, the points per stay is the lowest of any loyalty program.
Every year, we also receive a certificate for a free night stay in a category 1-4 hotel which more than makes up for the $75 annual fee on the card.
Plus, I can earn another free night when I spend $15,000 per year. We put our carpet purchase on our credit card and easily earned another free night.
Sign up for a Hyatt Credit card here.
The Hyatt Place Moab is 8000 points per night. If you sign up now, use your card for your everyday gas, grocery and bills and in 3 months (or less) you will have 50,000 bonus points. This means that you can stay at Hyatt Place Moab for nearly a week for free (7 nights =56,000 bonus points)!
I can just imagine the adventures you will have on your next vacation in Moab. With all the money you will save on your hotel accommodations, you'll be able to afford more adventures like this Hummer Safari Tour!
Along with all the features we love at every Hyatt Place, the Hyatt Place Moab has unique and incredible features.
Pool Fun in Moab
The pool area is right in the middle of gorgeous red rock views on every side.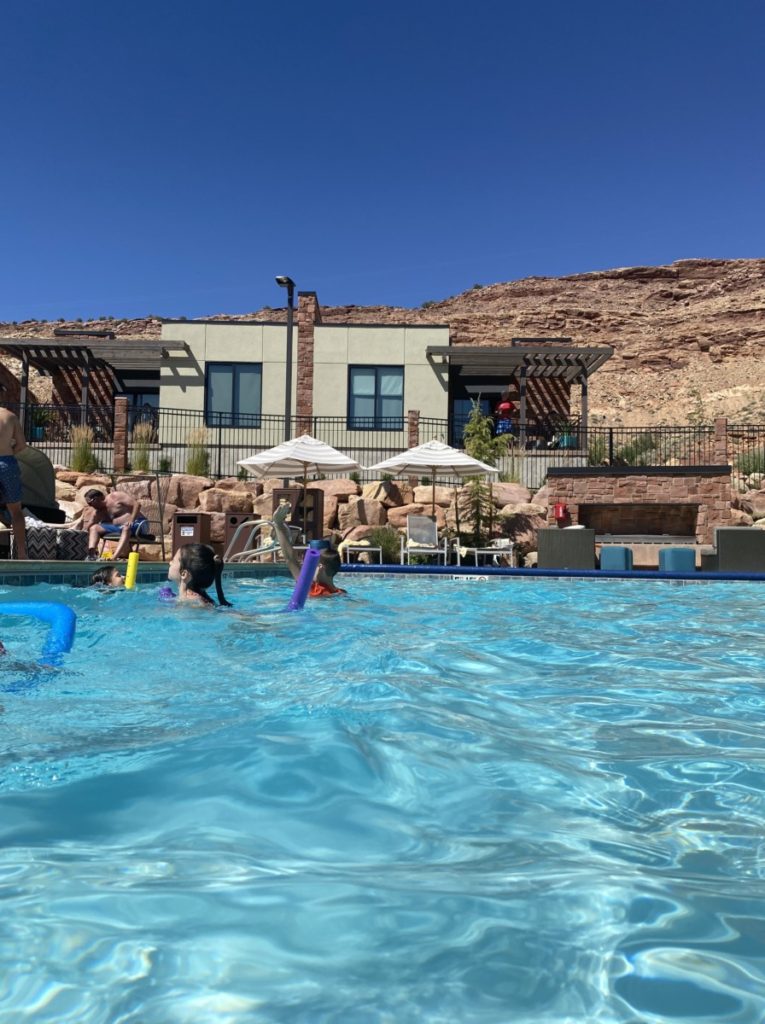 To enter the pool there are several long entry steps almost like the beach entry but with a step every few feet. This provided a huge space for toddlers and kids to play in a safe and shallow area. Not to mention a great place for moms to relax in the cool wataer while the kids play.
The first time we stay at the Hyatt the kids were so excited to go to the pool but it was only 70 degrees. However, the pool water was warm and inviting. We didn't feel the chill as we entered the heated water.
But if the pool isn't warm enough there is a large hot tub, big enough for several groups of people.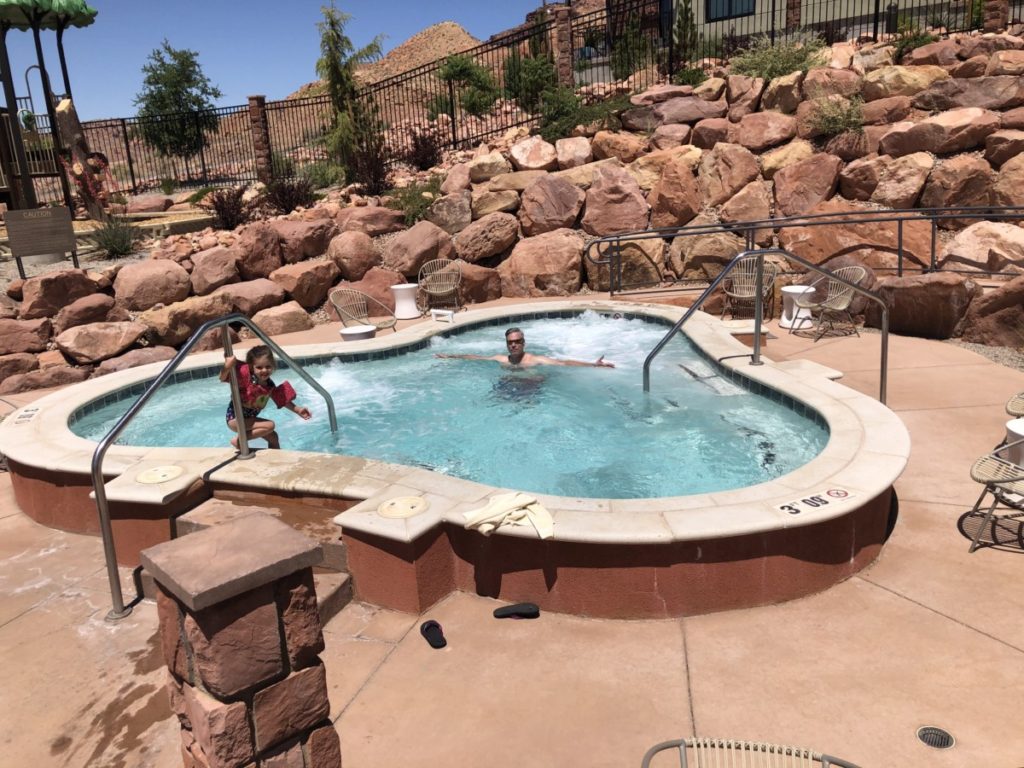 The splash pad at the Hyatt Place Moab is a unique feature inviting kids to run through the sprays of water.
When the kids want to dry out and play, there is a small playground right next to the pool.
This outdoor arena is a kid's heaven. On top of all the kid-friendly options, you'll also find a fireplace sitting area, large lounge chairs and covered cabanas. Any age will find they love being in the pool area.
Casita – Little House on the Hill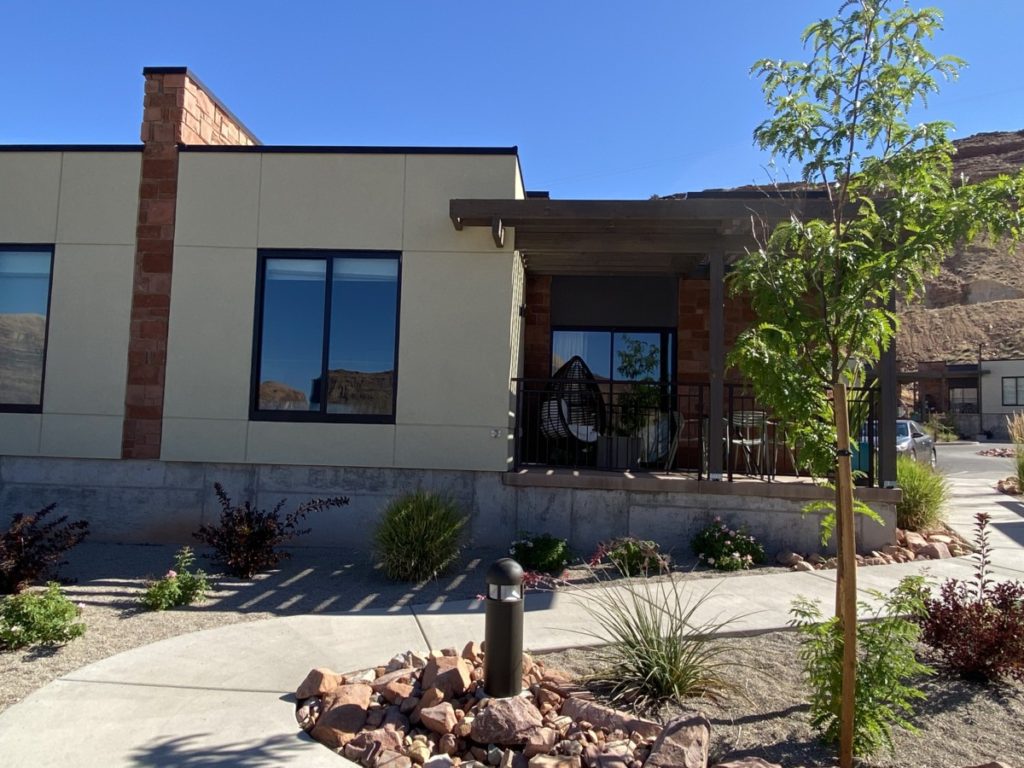 Did you know they Hyatt Place Moab offers 'Casita' rooms? These rooms area located just off the main building and up the hill behind the pool area.
When you arrive, you will be treated to a private parking area right outside the door of your small home.
The casita has 2 bedrooms and 2 bathrooms. One bedroom has a king bed, the other has 2 queen beds. Plus, there is a pull-out couch in the living area just like the main rooms offer.
On top of the two bedrooms, the casita has a kitchenette, dining area and living room. We especially loved the private patio with a table set and hanging chair overlooking the pool and red rock mountains in the distance.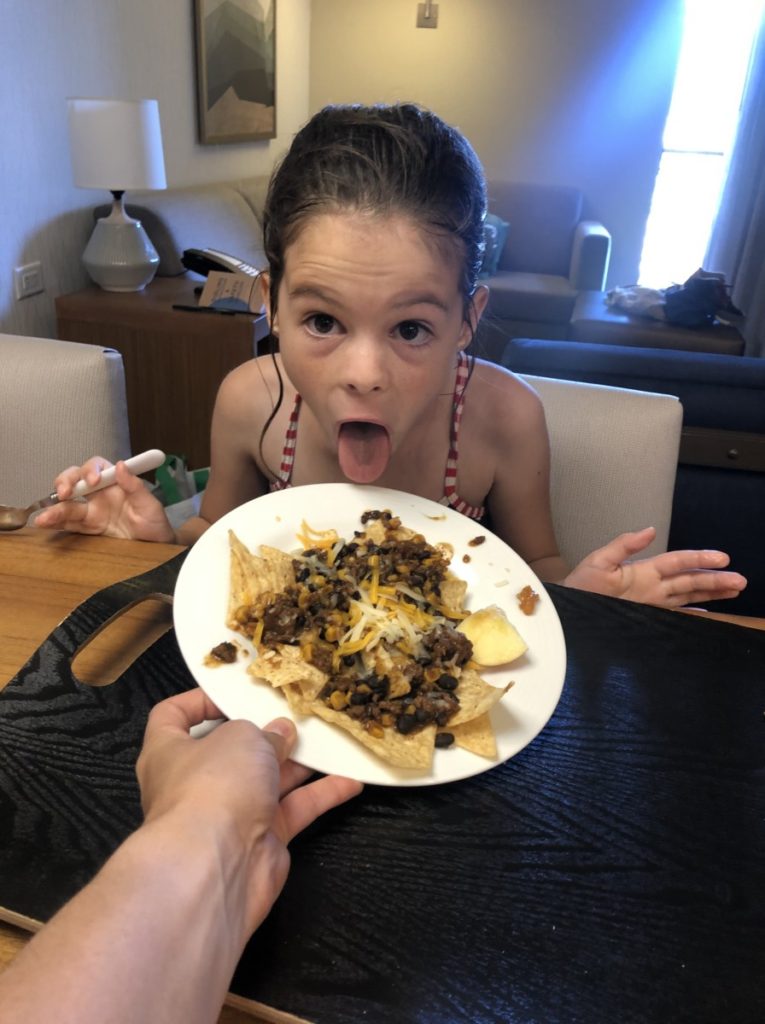 We loved having a kitchenette and a dining area with dishes. We made meals in our room. Instead of having to wait in drive-thru line or at a restaurant with hungry and cranky kids, we ate in the privacy of our home. We also saved so much money by eating in. We fed 8 people for $15 which would have cost over $50 even at a fast food place.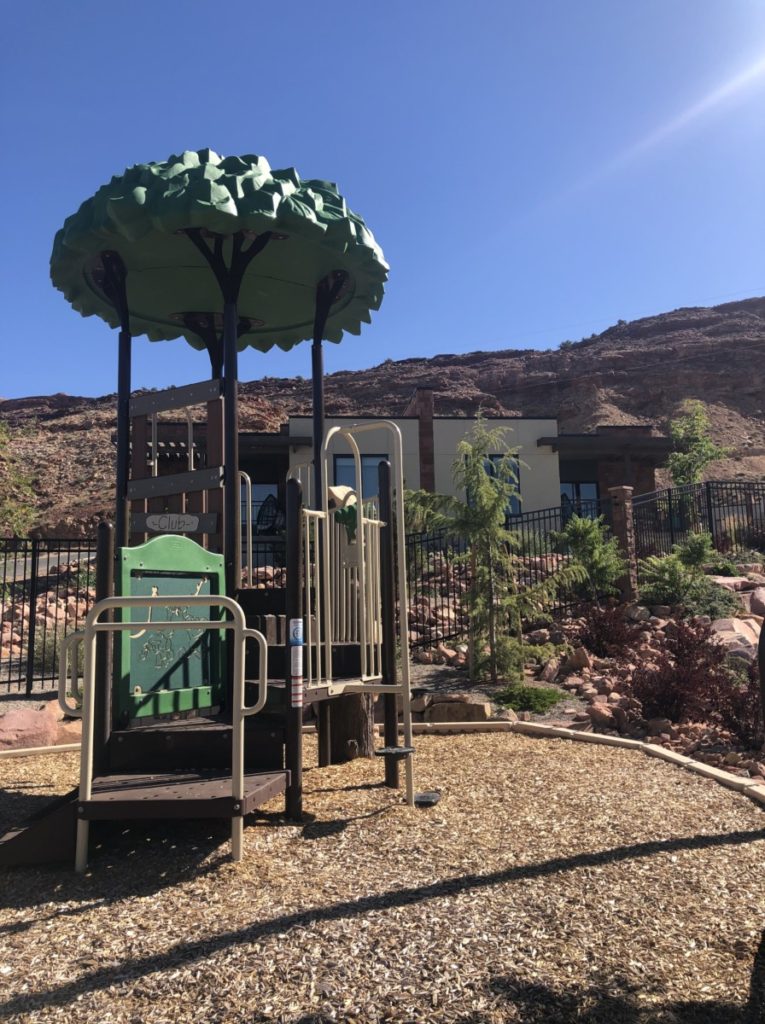 We found a TV in both bedrooms, the living room and the kitchen which allowed everyone to have exactly the show they wanted.
The Casita of Hyatt Place Moab gave us a stay of luxury, ease and relaxation. Our vacation to the National Parks was awe-inspiring, but having a nice place to go home to made the trip perfect.
*The Casitas are not available to reserve with points.
Hyatt Place Moab Bike Room
Moab is famous for the adventures to be had on mountain bikes. The Hyatt Place in Moab has a giant room to leave bikes overnight as you relax by the pool.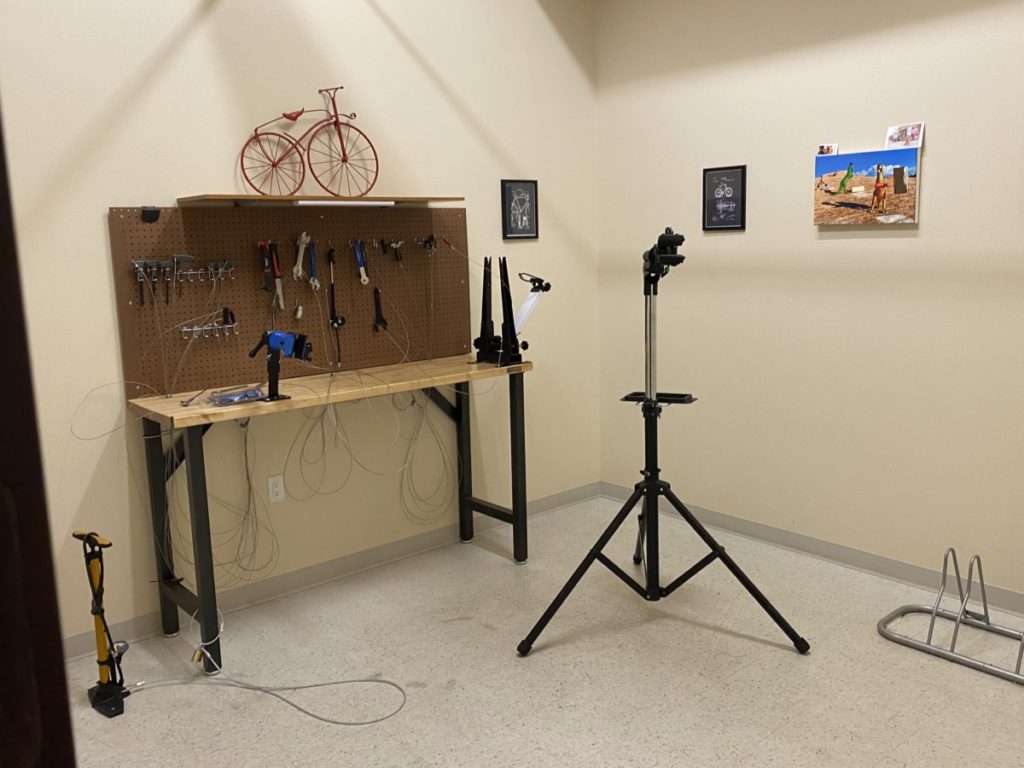 As if this wasn't a big enough appeal, they also have a room dedicated to bike repair. You'll find every tool imaginable to fix your bike up if you need it. Whether you bring your own bike or rent one, you will be able to ride late at night or early in the cool morning hours with a bike storage option.
My friend's brought a jeep with a bike rack on it. The Hyatt also stored their bike rack in the room so they could go jeeping through the BLM area without the rack.
COVID -19 Safeguards at the Hyatt Place Moab
In the lobby of the Hyatt Place in Moab, guests are asked to wear masks. All employees wear masks at all times. The check-in desk has a shield to protect guests and employees.
While we love the hot breakfast during pre-COVID times, Hyatt Place is still passing out breakfasts for travelers. This was done by a worker in the buffet area grabbing everything you ask for (in to-go packages). The breakfast included a breakfast burrito, oatmeal or cereal, a pastry, juice or milk and a fruit. Taking it on the go was convenient as we wanted to get on the trails early to beat the heat.
We felt safe and well protected during our stay at the Hyatt.
Location, Location, Location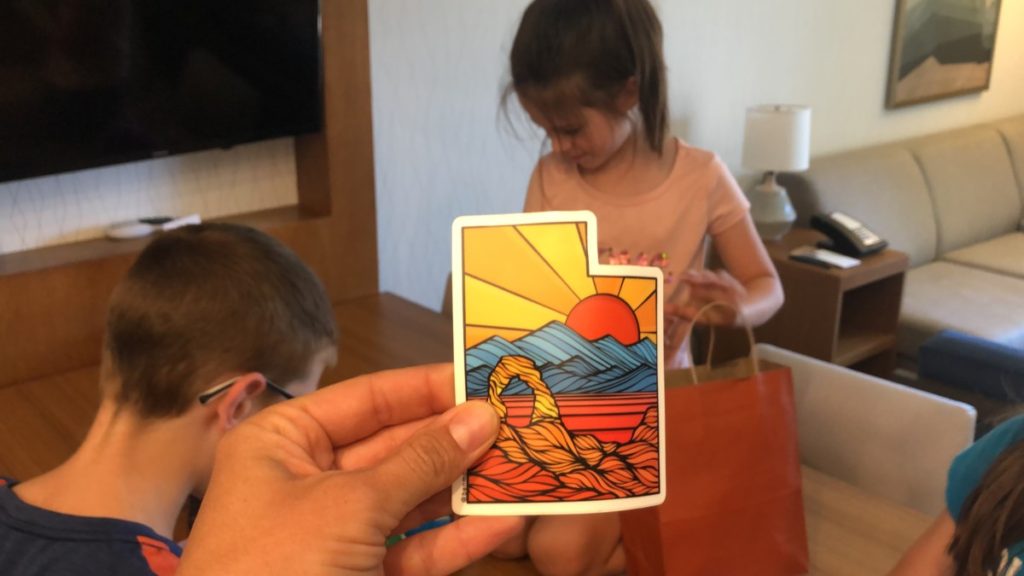 The Hyatt Place Moab is centrally located on Main street in Moab. You can easily access any adventure attraction and food place within Moab. But I especially loved that it was one of the closest hotels to the National Parks.
The Hyatt Place in Moab was only 10 minutes from the entrance of Arches National Park. This made it easy to get a rest at the hotel and go out for more fun.
To beat the heat outside, we spent the early morning and the evening hiking in Arches. We spent the hot afternoons relaxing and cooling off in the pool. We were so close to the National Park, we even drove back to Arches at midnight for spectacular Star Gazing.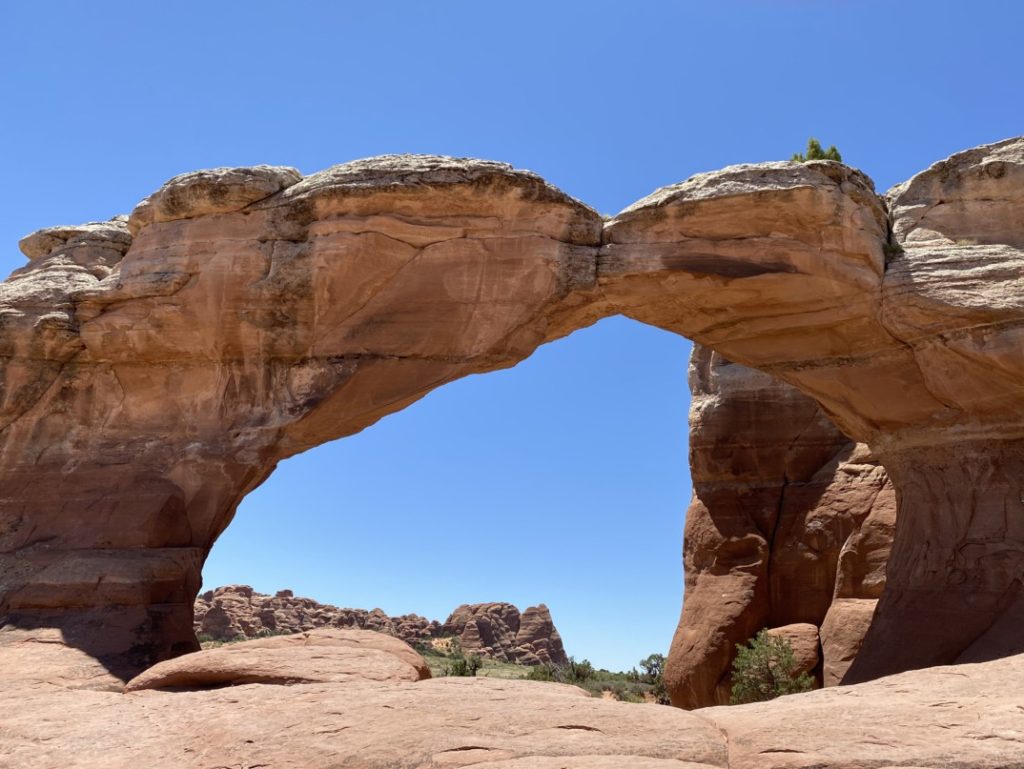 If you are wondering where to stay with kids in Moab, look no further than the Hyatt Place in Moab. It will blow you away, for a price that doesn't.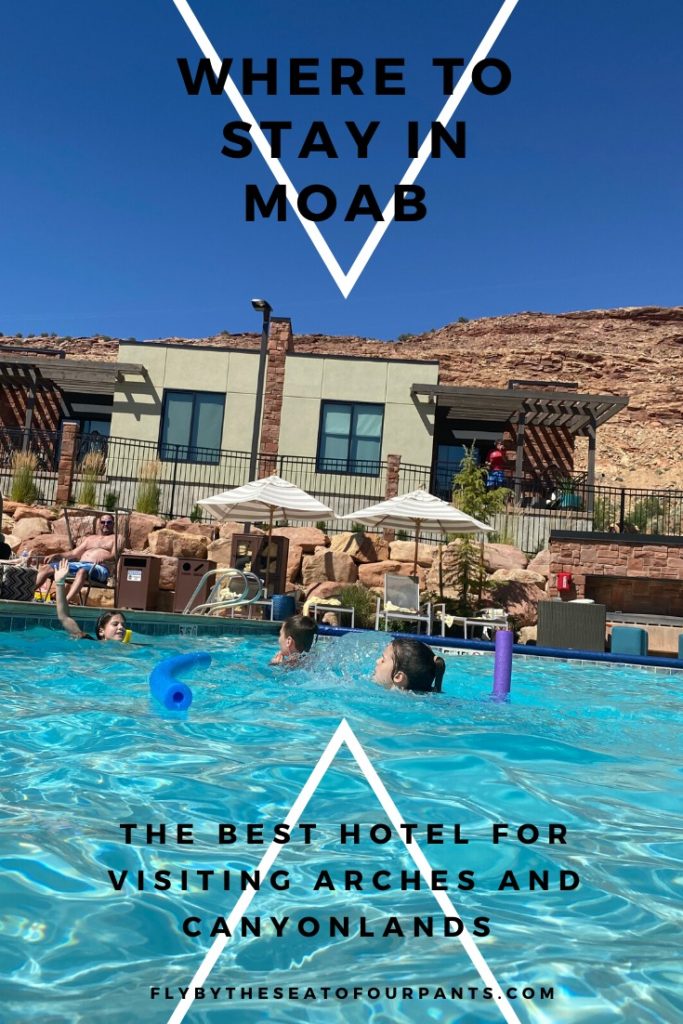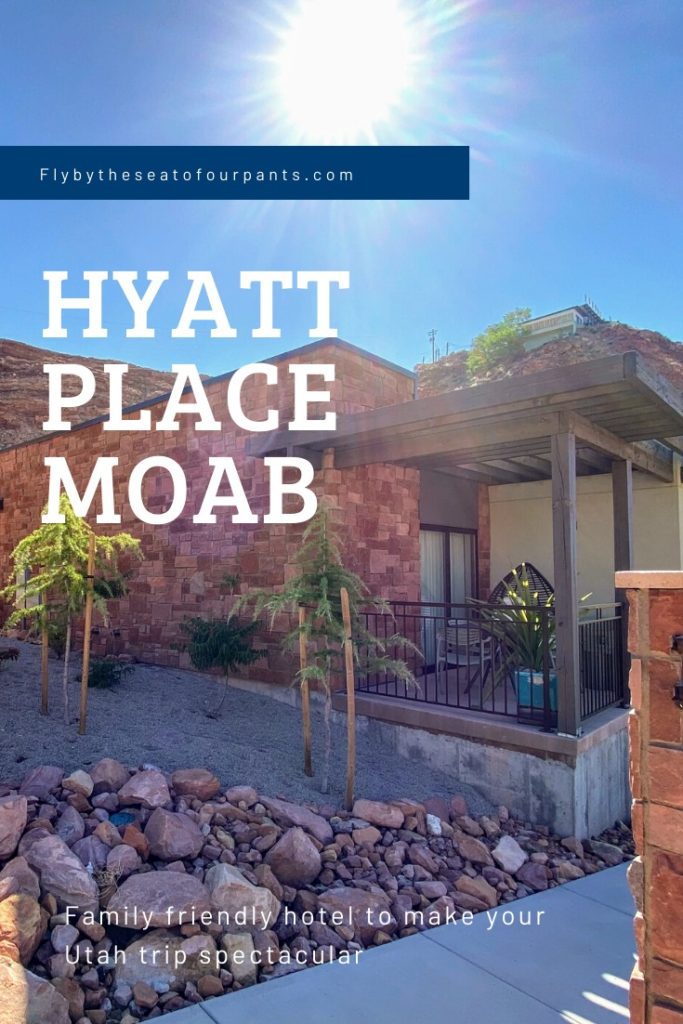 Reserve your next stay at Hyatt Place Moab here
Fly by the Seat of our Pants contains affiliate links. When you buy through the links it helps keep this website running, at no extra cost to you.