**Moab Adventure Center tours hosted our family in exchange for this blog post review. All opinions are our own.
Moab is full of exciting adventure opportunities. From river-rafting to rock climbing to jeeping, there are so many ways to experience the unique area surrounding Moab. Moab Adventure Center tours will get you up-close and personal with the beauty and excitement in the area.
Our family wanted to make the most of our time in the area, so we booked a Moab Adventure Center tour. The Slickrock Hummer Safari tour (2 hours) was perfect for us because it included our 3-year-old. Some of the other adventures require kids to be 5 or 8. We will definitely be back for more adventures as our kids grow up!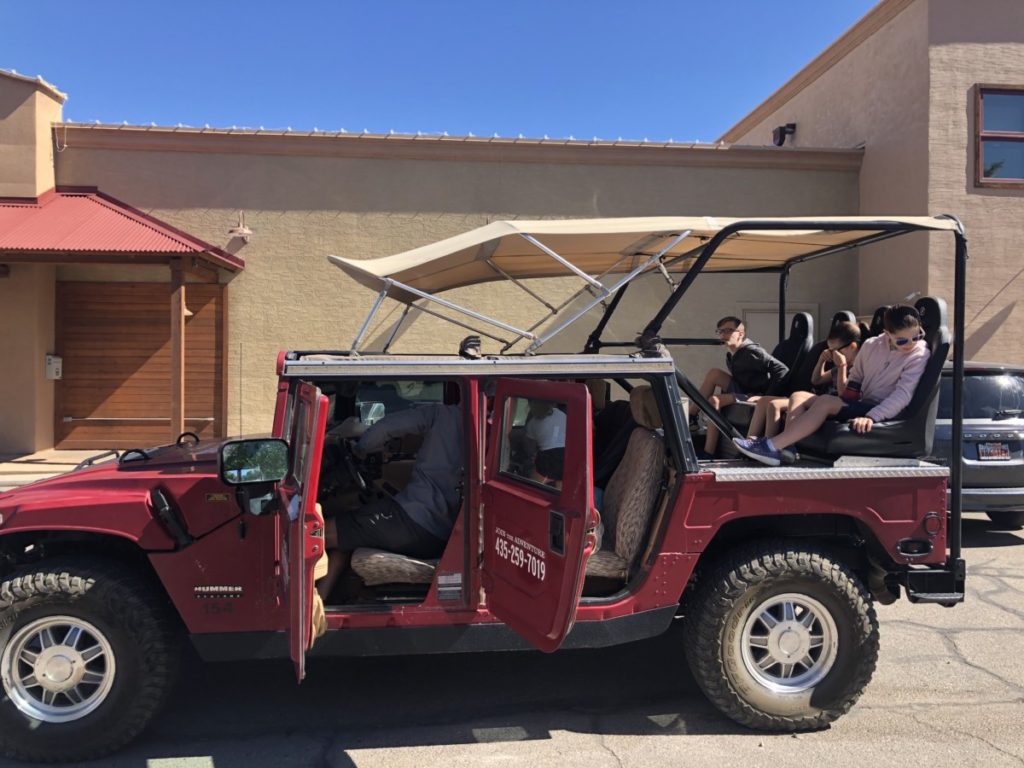 What Tours do Moab Adventure Center offer?
Moab Adventure Center tours offer a multitude of options for optimal fun and excitement. We experienced the Hummer Safari Tour, but I've listed all options available at Moab Adventure Center for your family fun.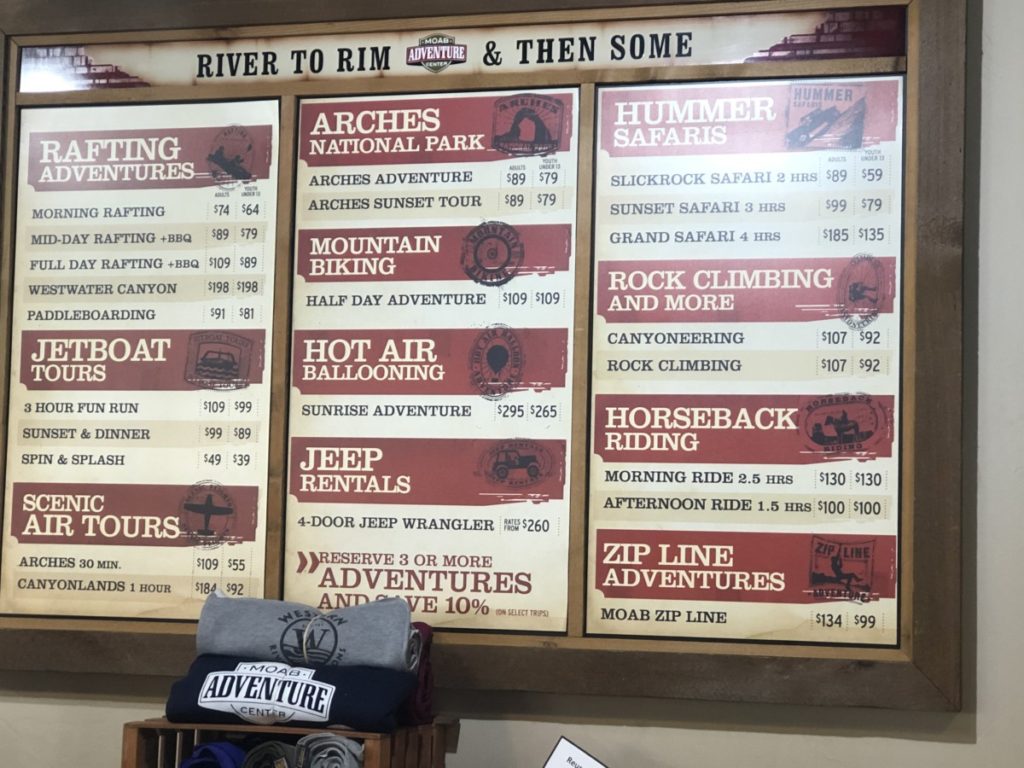 Rafting Adventure
Jetboat Tours
Scenic Air Tour
Arches National Park tour
Mountain Bike Tours
Jeep Rental
Hummer Safari
Rock Climbing and Canyoneering
Horseback Riding
Zipline Adventures
Hot Air ballooning (Sunrise Adventure)
With so many varied experiences offered, your family is sure to find the perfect unique experience. I'm eager to get back for a mountain Bike and rafting tour for our family. I've never experienced a Hot Air Balloon or a horseback tour so that would be really exciting.
Why Moab Adventure Center?
Since our family was on a cross country road trip, we didn't have capacity to bring equipment for climbing or biking or rafting for fun adventures. Luckily, at Moab Adventure Center tours, everything you need is included with the tour. Just showed up and they provided the adventure.
The Hydroflask waterbottle for each person on the tour is a great souvenir for our trip and Moab experience. Plus, they provide a snack during the middle of the adventure. This kept the kids happy for the full 2-hour tour.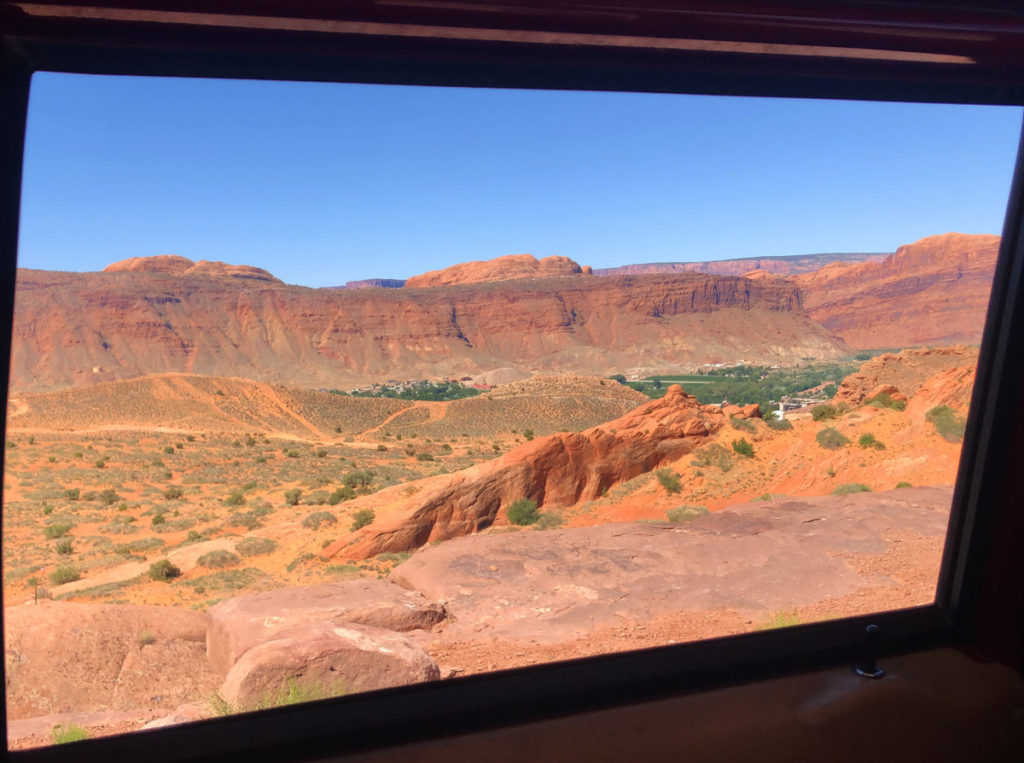 What to expect on the Hummer Safari Tour on Hell's Revenge Trail?
When we booked the Hummer Safari Tour, I was picturing a fun little ride on a hummer to soak in the incredible view of the red rock area. My image of a slow-paced, casual viewing tour is so far from what this thrilling adventure gave us!
The moment the hummer hit the BLM land, we drove straight up a 'fin' of slick rock. It was unexpected and with a sharp drop-off on both sides of the hummer, everyone in the vehicle immediately knew we were in for the ride of our life.
The 2-hour Hummer Tour followed the well marked trail called "Hell's Revenge". As the name indicates, this is a thrilling and adventurous tour.
This ride was exhilarating, but felt safe and exciting. Along with the thrills, the scenery was stunningly beautiful.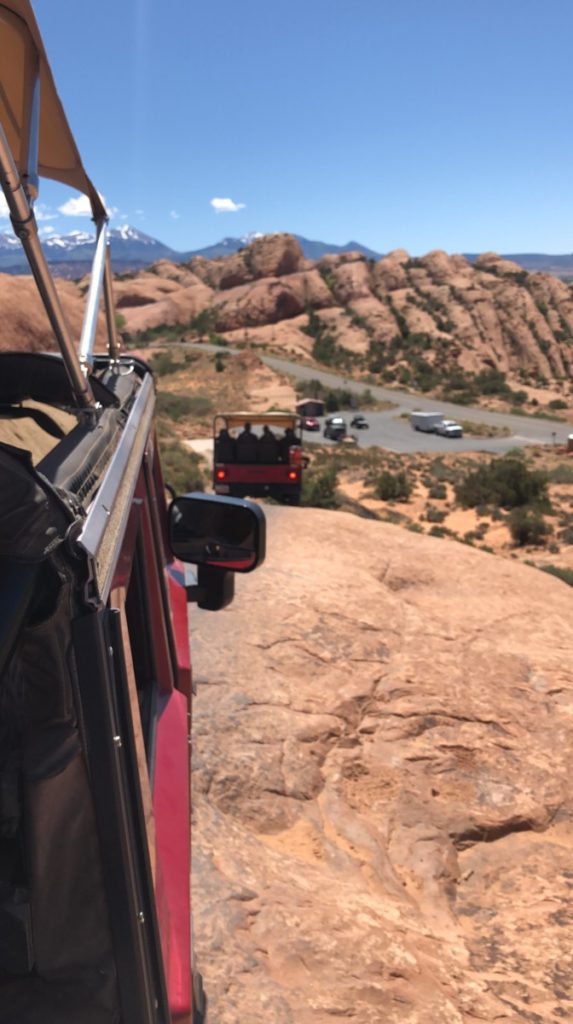 What my Kids Loved on the Hummer Safari Tour?
Although my kids were yelling "We're going to die!!" their giggles and happy smiles told another story.
Our tour guide was funny and engaging. Although he sounded serious, he let us know that most of his comments were sarcastic, just to get the kids a little worried. He told us it was his first time with paying customers (He had been working for 8 years). Then, he pretended the brakes went out as we inched down a steep incline. I could tell he was very experienced and we had nothing to fear as he drove us around.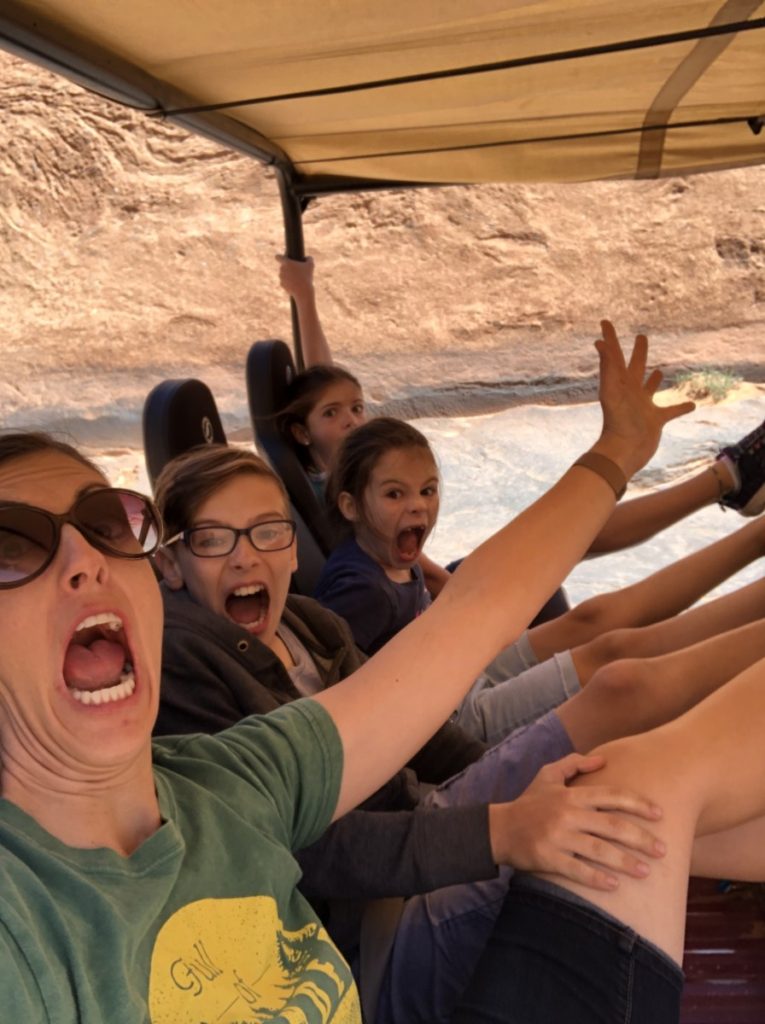 Our tour guide loved the squeals of our children and seemed to enjoy making them happy. As the mom, I was glad they could be exactly who they are and I didn't have to try to censor their excitement during the tour.
While the straight up and down climbs on the rock was exciting, their favorite part was zipping through the sandy parts of the trail as fast as we could. Our driver was the best at hitting all the turns and sliding around the soft sand. While the kids started out being scared, it quickly turned to chanting for the fast-paced sprints.
As a parent, watching my kid's love every minute of the tour made mes so happy. While we do love traveling for our own pleasure, watching our kids enjoy a new experience doubles our enjoyment.
How is Moab Adventure Center accommodating safe practices during the COVID pandemic?
While the world is opening up after the pandemic, Moab Adventure Center tours is providing all the adventures with safe protocol. Reservations are made online. As we checked in the workers were in masks and gloves in the gift shop. They provided a plethora of sanitizer, hand wash, and masks for purchase. Each person received a personalized water bottle marked with their names.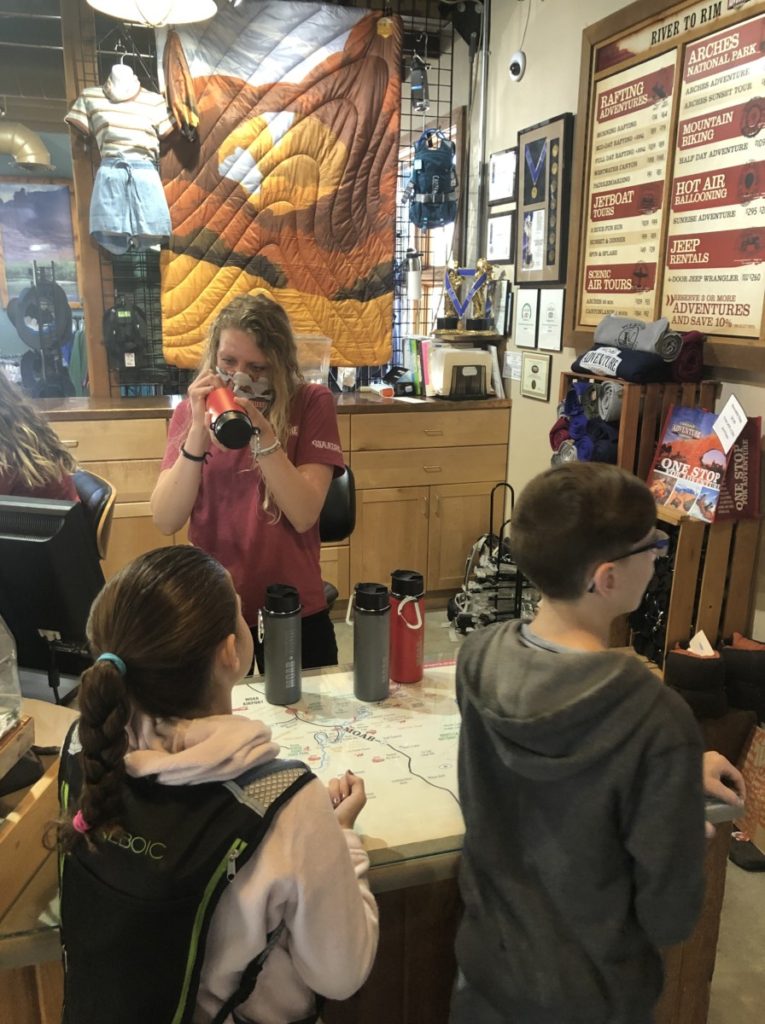 Tours are limited to family groups. So basically, you will receive a private or semi-private tour to keep everyone safe from spreading the virus.
The hummer was wiped down after each use. We rode in the open air with no interaction with other people. As the ride took our breath away, I'm confident there was no chance of exposure to germs.
Moab Adventure Center is practicing safe protocol to ensure the safety of those experiencing their tour.
Memories from the Hummer Safari Tour
When we remember our summer of 2020 we will always put our Hummer tour through the red rock fins of Moab at the top of our list. As a family we gasped, clung to each other, giggled and laughed through the thrills of this experience.
We travel for the memories and the way it brings our family closer. Moab Adventure Center tours provided a unique, exciting experience we will treasure.
Book your family tour through Moab Adventure Center.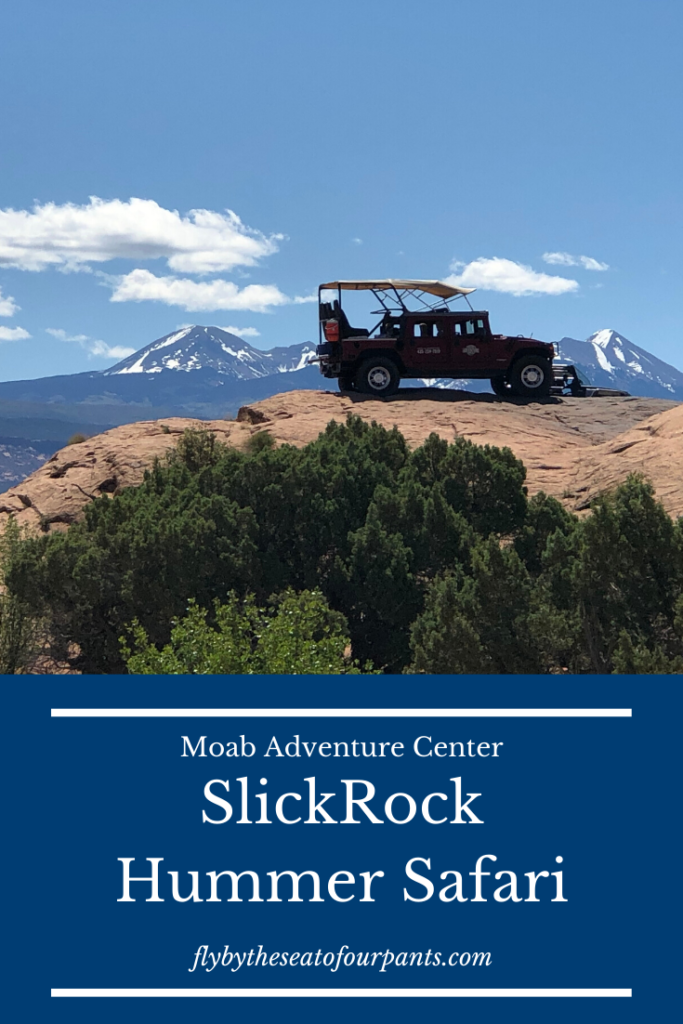 Want to make this summer memorable? Try this Summer Bucketlist for Kids
Fly by the Seat of our Pants contains affiliate links. When you buy through the links it helps keep this website running, at no extra cost to you.