Going to Cuyahoga Valley National Park with kids is the perfect place to find fall! Unlike many of the national parks, this one is easily access from many different roads.
It is only 20-30 mins from the Cleveland airport, making this easy for the traveler to enjoy.

Because there are many access points, there is no entrance fee(which was good for us since we no longer have a 4th grader you get us in for free😢) Find how to get a free National Parks Season Pass here.

In this park you'll find multiple waterfalls, forests, ledges hikes, covered bridges and even a farmers market. There are homes and stores throughout the park so it is a bit different from parks in the west. But it makes it easily accessible for all. Plus, you can find food, amenities and fun right within the boundaries of the park.
Boston Mill Visitors Center
Its always a good idea to start your tour of a National Park at a visitors centers. There are a few throughout this park, but they are very small and during COVID, were not open. When going to Cuyahoga Valley National Park with kids, the Boston Mill Visitors Center is where the rangers can give the kids a Junior Ranger program to complete during your visit.
There is a very small store and an even smaller topographical map and exhibit area. But the surrounding area is beautiful.
This visitors center is located in front of one of the railroad stops. During COVID the railroad wasn't running, but this would be an easy stop if you were on a tracks journey.
Its also the trailhead for Blue Hen Falls (3 miles) if you choose to hike that.
Hike Around the Ledges (and Pine Grove)
The Ledges Hike in Cuyahoga Valley National Park is one of the most popular hikes. And with good reason! It is 2.6 mile loop trail, kid- friendly with so many unique landscapes you will venture through.
The trail starts in a brightly colored tree area. You venture into the woods and it quickly turns into a dense and shaded pine-tree area. The colors completely disappeared! It was cool to be in the 'dark' during mid-day.
You'll start to see the rock ledges with many cool features, cracks, and mossy rock crags to explore.
Unfortunately, our family missed the turnoff to complete the loop! We only saw a small portion of the Ledges and then ventured onto a different trail. We were slightly disappointed, but we did get a fantastic hike anyway! WE found the Ledges overlook which was spectacular. Don't miss the overlook!
We also ended up on part of the Pine grove trail, which was beaming with yellow and orange leaves. Perfect for being fully surrounded by Autumn.
I suggest you take a photo of the Ledge areamap, as well as the topographical map at the ledges trailhead. There are quite a few trails in the area and they are linked. Luckily, they all surround the parking lot, so you'll never get too far gone.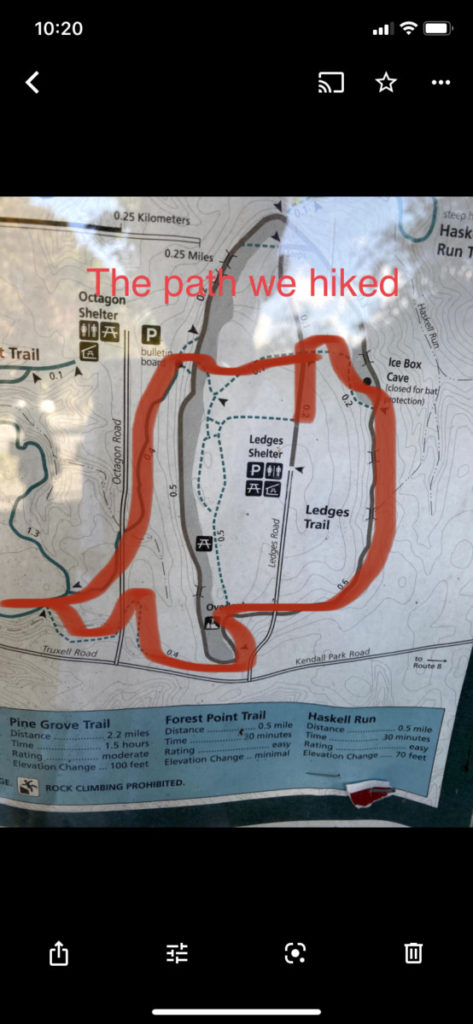 We will need a second trip to Cuyahoga Valley National Park with kids to see the full glory of the LEDGES.
Szalay's Farm
Unlike other national Parks where you can't find food, lodging or entertainment, Cuyahoga Valley National Park has homes, farms and fun scattered throughout. During our stay we stopped at Szalay's farm for a fun Corn Maze and Pumpkin shopping.
Here you'll find a store full of farmer markets goodies and decor, pumpkins, kids activities and swinging picnic benches. Our kids loved the walkway through the dark spinning tunnel.
Then we headed into the Maze. Bring cash or your ATM card as they only accept cash. Bring a map because this maze can be difficult. Enjoy multiple different Halloween display and photo ops. The kids will love all the themed props.
Brandywine Falls
When you go to Cuyahoga Valley National Park with kids you have to stop by the tallest waterfall. Brandywine Falls is the easiest to access waterfall. There is a large parking lot with restrooms. The trail is less than a quarter mile on a board walk. If you want to get to the lower lookout of the falls, you will need to head down several steps.
We loved the shade of the fall trees and the yellow-and orange leaves all along the trail.
Everett Covered Bridge
We almost didn't make it to this bridge. We saw several in our driving tour through Ashtabula County and didn't think another covered bridge would entertain the kids. Boy, were we wrong!
Everett Covered Bridge and the small stream below was was our favorite stop in all the park! We spent an hour skipping rocks and playing in the water under the gorgeous red covered bridge.
Ohio and Erie Canal Tow Path Trail
The Ohio and Erie Canal Tow Path is a 90 mile trail starting at Lake Erie. Part of this trail goes all the way through Cuyahoga Valley National Park.
This path is wide enough to run, walk or bike. It mostly follows the road and has several paths that intersect for further adventures.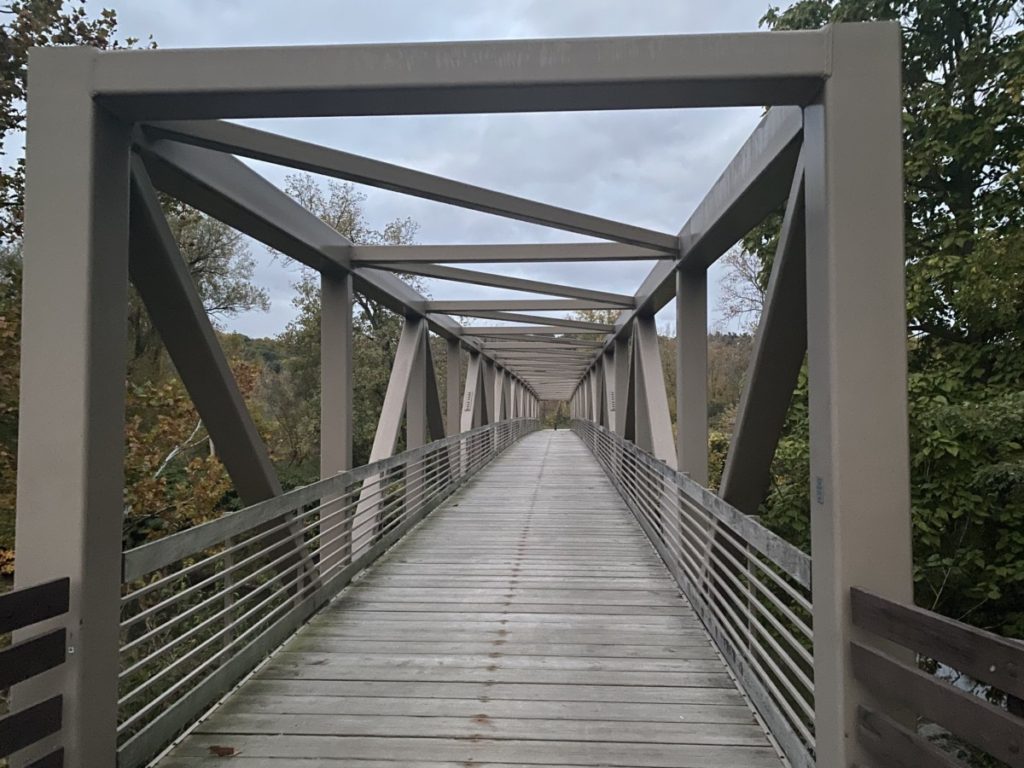 Hemlock Trail
I originally planned to run along the Ohio and Erie Canal Tow path. Although the path is protected and removed from the main road, you still see and hear cars and distractions. So when I ran into an off shoot for the Hemlock Trail, I took a good look at the map and headed into the woods. This is not a trail for the faint of heart as it climbs quite steadily. But the shaded, leaf-covered path was gorgeous! I crossed several bridges and even ran into 2 deer out for a breakfast.
Like I mentioned, this trail does gain elevation and has a steep grade of 7-9 in places. However, the beauty it offers is worth it!
Biking in Cuyahoga National Park
If I could go to this park again, I would opt to rent bikes and ride up and down the Cuyahoga Valley. Since it follows along a river, there are many bridges and beauties to be seen throughout this National Park.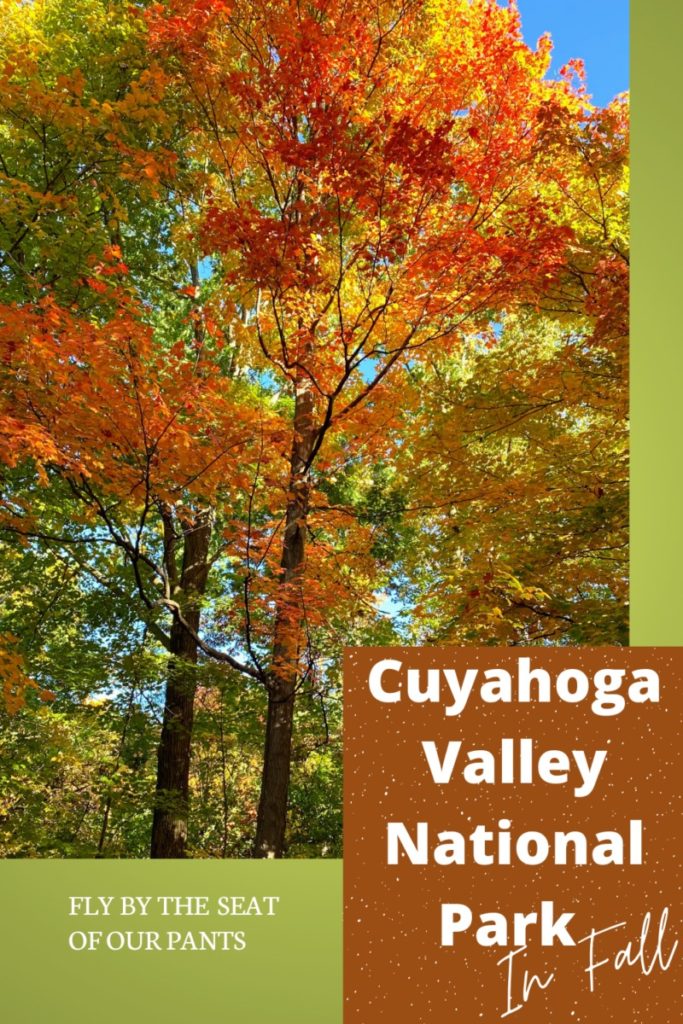 If you are in the Ohio area you need to stop at Holden Arboretum to see the autumn splendor.
If you loved this National Park, don't miss Glacier National Park!
Fly by the Seat of our Pants contains affiliate links. When you buy through the links it helps keep this website running, at no extra cost to you.